LCD Monitor Arm Industry Prospective:
The global LCD monitor arm market size was worth around USD 987.63 million in 2022 and is predicted to grow to around USD 1329.67 million by 2030 with a compound annual growth rate (CAGR) of roughly 3.76% between 2023 and 2030.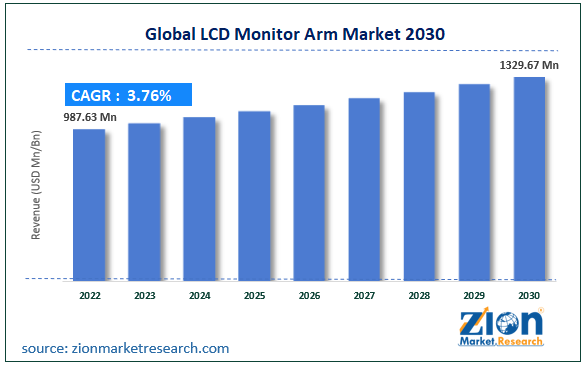 Request Free Sample
LCD Monitor Arm Market: Overview
An LCD (Liquid Crystal Display) monitor arm is a mechanical system that allows the creation of an ergonomic monitor setup. The industry deals specifically with monitor arms that are used for accurate positioning and provide support to LCD screens that are display panels using liquid crystals for operational purposes. Contemporary applications of LCD screens have grown multifold and analysts consider the leap from light-emitting diode (LED) screens to LCD screens as a crucial transition that created a better viewing experience for customers. LCD screens are slicker than traditional cathode-ray tube (CRT) powered screens and they also consume less energy than other variants. These factors among other reasons directly contribute to the growing consumption of LCD monitor arms. The LCD monitor arm market players have been undertaking several research and development (R&D) activities to provide LCD monitor screens with superior attributes and this trend could act as an excellent opportunity ground for companies manufacturing and supplying LCD monitor arms.
Key Insights:
As per the analysis shared by our research analyst, the global LCD monitor arm market is estimated to grow annually at a CAGR of around 3.76% over the forecast period (2023-2030)
In terms of revenue, the global LCD monitor arm market size was valued at around USD 987.63 million in 2022 and is projected to reach USD 1329.67 million, by 2030.
The LCD monitor arm market is projected to grow at a significant rate due to the growing use of LCD screens in the healthcare sector
Based on application segmentation, consumer electronics was predicted to show maximum market share in the year 2022
Based on type segmentation, wall handing was the leading type in 2022
On the basis of region, North America was the leading revenue generator in 2022
LCD Monitor Arm Market: Growth Drivers
Growing use of LCD screens in the healthcare sector to drive market growth
The global LCD monitor arm market is expected to grow at a steady pace due to the increasing use of LCD screens in healthcare sectors. These display units are extensively used in hospitals and clinics for several purposes including monitoring patient condition, diagnostic imaging, picture archiving & communication systems (PACS), and telemedicine. Medical-grade LCD screens are specially designed as they have to meet specific and stringent quality standards propelling the demand for flexible and strong LCD monitor arms that can bear the weight of the screen and allow greater flexibility in terms of use by medical professionals. LCD screens are a common sight in a medical facility. They are placed in all important areas of a clinic or a hospital including operating rooms, diagnosis areas, wards, waiting rooms, and as a digital navigation tool.
For instance, inwards, LCD screens are attached to patient beds to display information related to the vital signs of the patient. It helps doctors and nurses to take quick actions when needed. The increasing launch of new medical-grade LCD monitors is expected to further push demand for modern LCD monitors arms. For instance, in November 2022, Portwell Technology, Inc., a wholly owned subsidiary of Portwell, Inc., announced the launch of a new range of medical all-in-one touch computers and medical touch monitors. The company is offering LCD monitors with widescreen options of 27", 23.8", 21.5",19", and 15.6". The new range of medical-grade display screens is lightweight and exhibits easy installation using the Flat Display Mounting Interface (FDMI) also known as VESA mount. They can also be mounted using a desktop stand.
LCD Monitor Arm Market: Restraints
Compatibility issues between LCD monitors and supporting arms may restrict market growth
The global LCD monitor arm market growth is expected to be restricted due to the issues surrounding compatibility between LCD monitors and the supporting arm. LCD monitor arms, especially the ones used for larger or more expensive screens, are also high in cost and slight compatibility issues can lead to damage to either of the products. In addition to this, the industry for LCD monitor arms is not well regulated as there are several low-cost and poor-quality LCS monitor arms available in the market. Poor quality products do not have a longer shelf life and may lead to loss of potential customers in the future.
LCD Monitor Arm Market: Opportunities
Increasing R&D in monitor arm technology may create growth opportunities
The LCD monitor arm industry is projected to come across several growth opportunities as market players continue to invest in developing superior-grade monitor arms with wider applications thus improving the cost-efficiency of the tool. For instance, in April 2023, INOVATIV, a specialized tools provider focusing on improving workflow efficiency, showcased its latest offerings at the National Association of Broadcasters 2023. The product range included an extremely versatile segment of offerings in the form of all-new Monitor Arm Systems. The company products are VESA compatible and have been claimed as a game changer for studio and workstation desktops. The range includes options such as Desktop Monitor Arm System and Workstation Monitor Arm System that can support around 55 lb of weight and hence are compatible with a wide range of computer monitors. These devices offer 360° rotation, smooth tilt, and pan. They can be adjusted for a smooth viewing experience. Furthermore, apart from investing in technologies employed for comprehensive operational attributes, companies are also focusing on the use of environmentally friendly and sustainable material that allows the device to have a longer shelf life.
LCD Monitor Arm Market: Challenges
Fragmented market for display systems may challenge market expansion
The global LCD monitor arm market growth trend is projected to be restrained or challenged due to the extreme market fragmentation in terms of display technology that is used by end-user verticals. For instance, as of 2023, the market for LED screens is significantly huge leading to a division between the number of customers for LCD monitor arms. Furthermore, there is a growing demand for portable devices such as laptops, tablets, and other electronic products reducing the consumption of heavy-mounted products thus completely eliminating the need for monitor arms at least for consumers preferring miniaturized electronic equipment.
LCD Monitor Arm Market: Segmentation
The global LCD monitor arm market is segmented based on application, distribution channel, type, monitor size, and region.
Based on application, the global market segments are industrial, financial, consumer electronics, government, education, and others. In 2022, the highest growth was observed in the consumer electronics segment due to higher sales of LCD televisions and monitors. The increasing market penetration in emerging economies and a growing number of new products launched at affordable prices, availability of financial assistance, and changing lifestyles are some of the drivers for segmental expansion. By 2030, the global consumer electronics industry is expected to cross more than USD 1064 billion in revenue. The education sector is growing at a rapid rate as educational centers are increasingly adopting digital methods of conducting classes and imparting knowledge.
Based on distribution channel, the LCD monitor arm industry divisions are online and offline.
Based on type, the global market segments are wall hanging, fixture, keyhole, and others. The leading segment in 2022 was wall hanging since LCD screens mounted on walls are known to be more space efficient as they can clear desk space. Additionally, medical centers and educational units typically work with wall-mounted LCD screens. They provide excellent viewing experience especially when a large group of audience is being dealt with such as in the case of a school or hospital room. High-grade LCD monitor arms can cost as much as USD 200.
Based on monitor size, the LCD monitor arm industry divisions are large, medium, and small.
LCD Monitor Arm Market: Report Scope
Report Attributes
Report Details
Report Name
LCD Monitor Arm Market
Market Size in 2022
USD 987.63 Million
Market Forecast in 2030
USD 1329.67 Million
Growth Rate
CAGR of 3.76%
Number of Pages
229
Key Companies Covered
Humanscale, Ergotron, AmazonBasics, Chief Manufacturing, Ergotech Group Inc., Peerless-AV, North Bayou, 3M, Dell, Fleximounts, Loctek, Atdec, Ergotech, VIVO, HUANUO, and others.
Segments Covered
By Application, By Distribution Channel, By Type, By Monitor Size, and By Region
Regions Covered
North America, Europe, Asia Pacific (APAC), Latin America, Middle East, and Africa (MEA)
Base Year
2022
Historical Year
2017 to 2021
Forecast Year
2023 - 2030
Customization Scope
Avail customized purchase options to meet your exact research needs. Request For Customization
LCD Monitor Arm Market: Regional Analysis
North America to register the highest growth rate during the forecast period
The global LCD monitor arm market is projected to be led by North America during the forecast period due to the extensive use of LCD screens across sectors including education, healthcare, personal use, industrial, and commercial. The increasing investments in new medical facilities in addition to the existence of an extensive and well-equipped healthcare infrastructure along with a rising number of monitor arm players investing in R&D could trigger high regional growth. In addition to this, countries such as the US are increasingly witnessing remote work culture resulting in higher sales of workstations placed in home offices which contributed to higher regional market sales after COVID-19. The North American population has a higher awareness about the importance of better ergonomics and it is one of the reasons for increasing consumption of devices that improve work setup especially when working remotely.
Asia-Pacific is a crucial market for global revenue. The presence of a high consumer group and a rising number of affordable LCD monitor arm manufacturers especially in countries such as China and South Korea will create higher growth momentum.
LCD Monitor Arm Market: Competitive Analysis
The global LCD monitor arm market is led by players like:
Humanscale
Ergotron
AmazonBasics
Chief Manufacturing
Ergotech Group Inc.
Peerless-AV
North Bayou
3M
Dell
Fleximounts
Loctek
Atdec
Ergotech
VIVO
HUANUO
The global LCD monitor arm market is segmented as follows:
By Application
Industrial
Financial
Consumer Electronics
Government
Education
Others
By Distribution Channel
By Type
Wall Hanging
Fixture
Keyhole
Others
By Monitor Size
By Region
North America
Europe

France
The UK
Spain
Germany
Italy
Rest of Europe

Asia Pacific

China
Japan
India
South Korea
Southeast Asia
Rest of Asia Pacific

Latin America

Brazil
Mexico
Rest of Latin America

Middle East & Africa

GCC
South Africa
Rest of Middle East & Africa