KVM Switches Industry Prospective:
The global KVM switches market size was worth around USD 290.46 million in 2022 and is predicted to grow to around USD 447.18 million by 2030 with a compound annual growth rate (CAGR) of roughly 5.60% between 2023 and 2030.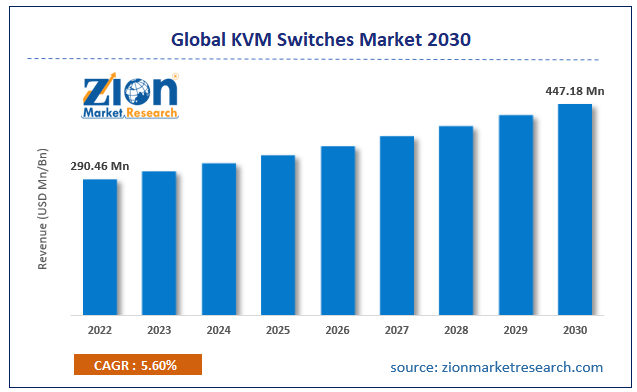 Request Free Sample
KVM Switches Market: Overview
A keyboard, Video (Monitor), and Mouse (KVM) switch are used for controlling multiple servers or personal computers (PCs) using a single monitor, keyboard, and mouse. The entire KVM unit is also known as a console. The most basic definition of KVM explains that it is a hardware device with the physical appearance of a box. It connects one set of KVM to two or more personal computers. The connection is such that the PCs are connected to the KVM switch from one side of the box while the other side is connected to a keyboard, monitor, and mouse. KVM switches have become a common sight in companies working with IT systems such as laptops and computers. They are also widely used at remote workstations where employees are required to work with multiple computers. KVM switches offer several advantages and some of the prominent benefits are space efficiency, reduced wastage of time while changing between servers or computers, and improved work productivity. The demand for KVM switches is growing at a steady pace as the information technology (IT) industry continues to add more customers to its services.
Key Insights:
As per the analysis shared by our research analyst, the global KVM switches market is estimated to grow annually at a CAGR of around 5.60% over the forecast period (2023-2030)
In terms of revenue, the global KVM switches market size was valued at around USD 290.46 million in 2022 and is projected to reach USD 447.18 million, by 2030.
The KVM switch market is projected to grow at a significant rate due to the rapid expansion of the data center industry
Based on switch type segmentation, multi-user KVM was predicted to show maximum market share in the year 2022
Based on enterprise size segmentation, larger enterprises was the leading segment in 2022
On the basis of region, North America was the leading revenue generator in 2022
KVM Switches Market: Growth Drivers
Rapid expansion of the data center industry to drive market growth
The global KVM switches market is projected to grow due to the rapid proliferation of data centers across the globe. These units are slowly becoming the backbone of the global IT sector. A data center is defined as a highly advanced and controlled facility that stores and shares data & applications. They are home to a large number of physical and virtual servers connected externally and internally through a host of communication and networking equipment for storing, transferring, and accessing digital information. The IT sector, in the last decade, has witnessed the highest rapid expansion rate as compared to several other sectors.
The growth trend is a result of several reasons including the ease of business operations provided by digital technology. Companies that have continued to align with the changing IT ecosystem have managed to survive even the harshest challenges in the global economy. The growing number of information technology adoption across small, medium, and large-scale enterprises has resulted in a greater need for effective and efficient management of the vast volume of digital data or information produced by firms using computer technology. In February 2023, Iron Mountain Data Centers (IMDC) and Web Works announced that the companies would open a new greenfield data center in Mumbai, India in a joint venture (JV). Such announcements are not limited to one country but have a global presence resulting in higher demand for KVM switches used by employees and IT professionals managing these units.
It is practically and humanly impossible for a particular employee to manage multiple servers using a mouse, keyboard, or monitor for each server. Such a connection would lead to a loss of time and an increased rate of human error. KVM switches allow employees to use one set of peripheral devices to monitor and manage multiple servers with a click of a button.
KVM Switches Market: Restraints
Distortion of image or video quality may restrict market growth
The global KVM switch market growth trend is projected to be restricted due to one of the most widely witnessed drawbacks of using KVM switches. These devices tend to distort video or image quality because the digital image is shared through a multi-computer switch. Although error mitigation methods exist, it takes some time and more investment to identify the switch variant that best meets user requirements, especially when bought by people for personal use without the guidance of experienced professionals.
KVM Switches Market: Opportunities
Growing use in media and content provider segment to create growth opportunities
The demand for KVM switches is likely to be pushed by the increasing use of the hardware in media houses such as television broadcasters, new rooms, and other television networks. These units work with multiple monitors and servers to provide efficient content to the viewers and have to continuously switch between several personal computers to ensure uninterrupted broadcasting. The growing number of news channels and media houses is likely to push for higher demand for KVM switches during the forecast period, especially in today's time when global order is rapidly changing. In May 2023, India's leading television media company New Delhi Television (NDTV) announced that it will open 9 brand new news channels in different languages in the following months. On the other hand, May 2023 also witnessed the launch of a newly curated channel by CNN called CNN Fast especially focusing on short-form videos in the European market.
KVM Switches Market: Challenges
Quality control and growing sale of poor grade KVM switches to challenge market expansion
The KVM switch industry growth is projected to be challenged by the lack of quality control measures in several countries regulating the production and sale of poor-grade KVM switches. These options are highly unreliable and pose a significant performance threat to the servers or PCs. Moreover, buying KVM switches from unreliable sources may lead to security risks. Managing and curbing the sale of poor-quality KVM switches will help businesses earn better results during the projection period.
KVM Switches Market: Segmentation
The global KVM switches market is segmented based on switch type, component, enterprise size, end-user vertical, and region.
Based on switch type, the global market is divided into multi-user KVM and single-user KVM. The demand for multi-user KVM switches is projected to grow at a faster rate during the forecast period. These units are most suited for larger corporations since multiple users are required to access the same set of larger numbers of servers and personal computers. The ongoing research and innovation for multi-user KVM switch performance improvement is projected to push segmental revenue. These devices are more expensive and are mostly used in server rooms or data centers. The demand for single-user KVM switches is predominantly in small organizations or individual workstations with 2 or more PCs.
Based on component, the KVM switch industry divisions are KVM-over-IP, high performance, in-rack KVN, standard desktop, and others.
Based on enterprise size, the global market demands are small & medium enterprises (SMEs) and larger enterprises. In 2022, the demand for KVMs was the highest in the latter segment due to increasing investments in the construction of large data centers and server rooms. SMEs typically work with single-user KVM since they are more cost-effective and meet performance requirements. For instance, MasterConsole CAT MCCAT18 is a single-user tool and can connect up to 8 servers, as per company information.
Based on end-user vertical, the KVM switches industry segments are BFSI, IT & telecom, government & public sector, industrial, media & content provider, and others.
KVM Switches Market: Report Scope
Report Attributes
Report Details
Report Name
KVM Switches Market
Market Size in 2022
USD 290.46 Million
Market Forecast in 2030
USD 447.18 Million
Growth Rate
CAGR of 5.60%
Number of Pages
231
Key Companies Covered
Belkin International, Vertiv, Aten Technology, Dell, IBM, Tripp Lite, Hewlett Packard Enterprise (HPE), StarTech.com, Adder Technology, Raritan, D-Link, IOGEAR, Avocent, Cisco Systems, Black Box, and others.
Segments Covered
By Switch Type, By Component, By Enterprise Size, By End-User Vertical, and By Region
Regions Covered
North America, Europe, Asia Pacific (APAC), Latin America, Middle East, and Africa (MEA)
Base Year
2022
Historical Year
2017 to 2021
Forecast Year
2023 - 2030
Customization Scope
Avail customized purchase options to meet your exact research needs. Request For Customization
KVM Switches Market: Regional Analysis
North America to witness the highest growth rate during the assessment period
The global KVM switches market will witness the highest growth rate in North America driven by the presence of a robust IT and telecommunication infrastructure. Technology giants such as Microsoft, Amazon, and Google are increasingly investing in building data centers and server rooms to accommodate the needs of their clients and customers. For instance, in June 2023, SBA Communications, a leading regional tower firm, announced the launch of a new Edge data center in Texas in the form of a state-of-the-art facility. In January 2023, it was reported that Amazon Web Services will be investing USD 35 billion for building new data centers across Virginia, USA. In February 2022, Black Box Corporation received NIAP PP 4.0 certification for its KVM switches.
Europe is anticipated to grow at a tremendous pace driven by the launch of new and innovative KVM switches by European manufacturers. For instance, German firm Adder launched a new range of NIAP PP 4.0 certified KVM switches with an intuitive E-Paper display and improved usability. Growth in Asia-Pacific to be driven by rising investments in the IT sector. A growing number of media houses will play an equal role.
KVM Switches Market: Competitive Analysis
The global KVM switches market is led by players like:
Belkin International
Vertiv
Aten Technology
Dell
IBM
Tripp Lite
Hewlett Packard Enterprise (HPE)
StarTech.com
Adder Technology
Raritan
D-Link
IOGEAR
Avocent
Cisco Systems
Black Box
The global KVM switches market is segmented as follows:
By Switch Type
Multi-User KVM
Single-User KVM
By Component
KVM-Over-IP
High Performance
In-Rack KVM
Standard Desktop
Others
By Enterprise Size
Small & Medium Enterprises (SMEs)
Large Enterprises
By End-User Vertical
BFSI
IT & Telecom
Government & Public Sector
Industrial
Media & Content Provider
Others
By Region
North America
Europe

France
The UK
Spain
Germany
Italy
Rest of Europe

Asia Pacific

China
Japan
India
South Korea
Southeast Asia
Rest of Asia Pacific

Latin America

Brazil
Mexico
Rest of Latin America

Middle East & Africa

GCC
South Africa
Rest of Middle East & Africa