Industry Prospective:
The global intelligent network market was valued at approximately USD 1.25 billion in 2021 and is expected to grow to approximately USD 3.32 billion by 2028, at a compound annual growth rate (CAGR) of approximately 15.4 percent over the forecast period.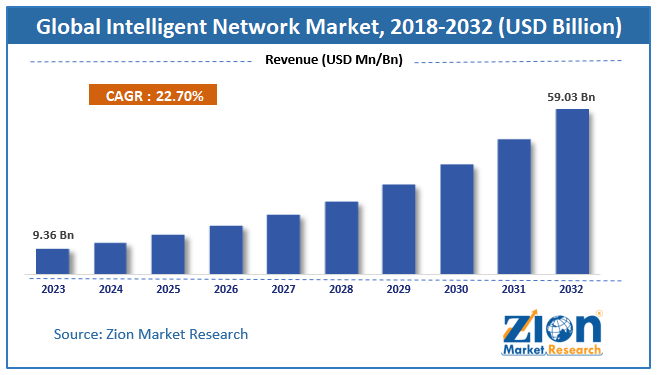 Request Free Sample
The report analyses the intelligent network market's drivers, restraints, and challenges and the effect they have on the demands during the projection period. In addition, the report explores emerging opportunities in the intelligent network market.
Intelligent Network Market: Overview
A telephone network design that gives precise technological abilities or services outside of the predicted network standard spectrum is known as an intelligent network. The telecom's revolutionary phone call functionality is frequently used to link it to the telecoms network. Additional technologies, including a service management system and service control point, are integrated to support services such as call filtering or call waiting, caller ID, variable costing, and overseas messaging. Furthermore, an intelligent system enables performance to be dispersed flexibly among many nodes on and off the network, enabling infrastructure changes to govern the service.
COVID-19 Impact:
The COVID-19 impact on the overall market growth was observed low to moderate. Demand for intelligent networks increased exponentially during the pandemic period due to increased demand for IoT and cloud networks. Most enterprises started investing in the intelligent network during the pandemic period to streamline their business. Along with these increasing complexities in the network forced to implement intelligent networks during the pandemic period.
Intelligent Network Market: Growth Drivers
Benefits of the intelligent network over a conventional network are expected to drive the market growth.
Intelligent Networks (IN) rely on processing that takes place within the public network architecture. They allow PTTs and other service providers to provide clients with services that would be impossible to deliver through a private network. The potential to offer new and upgraded amenities is one of the primary advantages of intelligent networks in service offering. All employees inside an organization can have equal access to services, regardless of the branch they work in. It makes it easier to subcontract operational services. It offers service flexibility and the opportunity to swiftly switch between the numerous subscription services.
Intelligent Network Market: Restraints
Financial constraints among small enterprises may hamper the growth of the market
Along with the several advantages, intelligent network has some downsides concerning cost, maintenance, and security. The cost of network cabling and file servers may add up significantly; also managing a big network is difficult, involves training, and typically necessitates the hiring of a network manager. Along with that, the files on the file server become unavailable if the file server fails. If email is stored on a different server, it may still operate as the computers remain functional even if they are isolated. Moreover, viruses can travel from one machine to another through a network which can make hacking a possibility, especially with wide-area networks. To avoid such misuse, security mechanisms are required which add up the additional cost. Such operating cost is difficult to manage for small organizations hence restricting the adoption of intelligent networks.
Intelligent Network Market: Opportunities
The emergence of intelligent cloud networks is likely to offer better growth opportunities for market expansion.
With a rising number of companies searching for better insights to produce more business value, it's becoming clear that the Intelligent Cloud age has begun. C-suite executives are increasingly interested in going beyond the descriptive analytics that most existing business intelligence tools already provide. Intelligent Cloud is allowing them to extract more insights from a wider range of data sources and successfully bridge the gap across prescriptive, predictive, and cognitive analytics as it grows. As a result, it facilitates improved decision-making and, as a result, improves business outcomes. These facts are expected to increase the use of intelligent networks over the forecast period.
Intelligent Network Market: Challenges.
Security and privacy challenges with IoT and intelligent networks may hamper the market growth.
The Internet of Things (IoT) has exploded in importance, potential, and growth with the introduction of smart homes, smart cities, and smart everything. Hundreds of billions of intelligent IoT devices integrated with software, electronics, actuators, sensors, and network connectivity gather data via wireless technology and can communicate with one another using existing internet infrastructure. However, the widespread use of the Internet of Things with an intelligent network is raising serious security problems. On the one side, most intelligent IoT devices are simple to hack and compromise since their computational, storage, and network capacities are often restricted, making them more vulnerable to assaults than some other consumer devices like tablets, smartphones, or laptops. Additionally, in the midst of people's private lives, the more invisible, dense, and ubiquitous collecting, processing, and distribution of data raise severe security and privacy problems.
Intelligent Network Market: Segmentation
The global intelligent network market is categorized based on deployment, application, end-user, organization size, industry verticals, and region. Based on deployment, the market is bifurcated into the cloud and on-premises. The application area of the market covers traffic prediction & classification, information cognition, resource management & network adoption, and performance prediction & configuration extrapolation. The end-user segment of the market is divided into cloud service providers, managed network service providers, telecom service providers, and others. By organization size, the market is segregated into small & medium-sized enterprises (SMEs) and large enterprises. Industry verticals covered in the market include healthcare & life sciences, BFSI, telecommunications & IT, government & public sector, aerospace & defense, consumer goods & retail, manufacturing, media & entertainment, and others.
Report Scope:
Recent Developments
Intelligent Network Market: Regional Landscape
North America to lead the global intelligent network market during the forecast period.
North America will have the biggest market share in the intelligent network industry during the projected period. Due to the advancement of novel technologies such as network virtualization, analytics, and deep learning, intelligent network solutions are becoming more popular in North American countries such as the United States and Canada. The United States and Canada are pioneering the way for technology advancements and the growing usage of cloud-based services. Cisco Systems, Juniper Networks, Aruba Networks, Netcracker Inc., and others are experts in the industry of intelligent networks in the United States. These businesses are bolstering creative technical design while also providing data security. On the other side, with increasing usage of IoT and the migration of SMEs & large organizations to the cloud, Asia Pacific is expected to be the fastest-growing market in the next years. China, India, and Japan are the most significant countries in the region because of their vast client bases.
Intelligent Network Market: Competitive Landscape
Major players operating in the global intelligent network market include Major players analyzed in the market include Cisco Systems Inc., Aruba Networks, Colt Technology Services, Huawei Technologies Corporation Ltd., ExtraHop Networks, Netcracker Technology Corporation, Juniper Networks, Inc., Nokia Corporation, Telefonaktiebolaget LM Ericsson, and Nitro Mobile Solutions LLC.
Global intelligent network market is segmented as follows:
By Deployment
By Application
Information Cognition
Traffic Prediction & Classification
Resource Management & Network Adoption
Performance prediction & Configuration Extrapolation
By End-User
Telecom Service Providers
Cloud Service Providers
Managed Network Service Providers
Other
By Organization Size
Small and Medium-sized Enterprises (SMEs)
Large Enterprises
By Industry Verticals
BFSI
Healthcare & Life Sciences
Telecommunications & IT
Government & Public Sector
Manufacturing
Aerospace & defense
Consumer Goods & Retail
Media & Entertainment
Others
By Region
North America
Europe

France
The UK
Spain
Germany
Italy
Rest of Europe

Asia Pacific

China
Japan
India
South Korea
Southeast Asia
Rest of Asia Pacific

Latin America

Brazil
Mexico
Rest of Latin America

Middle East & Africa

GCC
South Africa
Rest of Middle East & Africa