Industrial Magnetrons Market Size & Overview
The global Industrial Magnetrons market size is set to record the CAGR of nearly over 5.6% over the period from 2020 to 2026. The report offers assessment and analysis of the Industrial Magnetrons market on a global and regional level. The study offers a comprehensive assessment of the market competition, constraints, sales estimates, opportunities, evolving trends, and industry-validated data. The report offers historical data from 2017 to 2019 along with a forecast from 2020 to 2026 based on revenue (USD Million).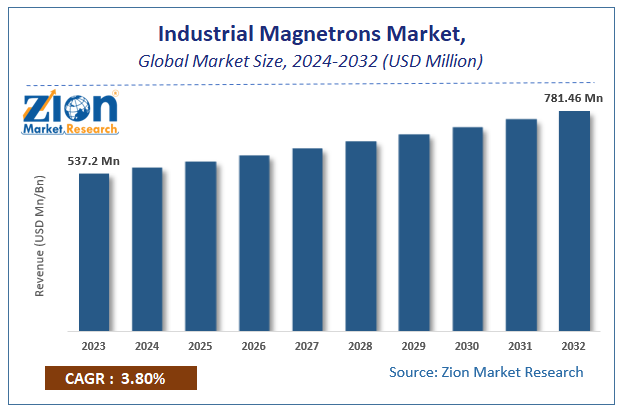 Request Free Sample
Introduction
Though magnetron finds extensive usage in heating procedures, plasma generation, and drying processes, its application in industrial sector has gained traction in the recent years. Apparently, industrial magnetron helps in reducing operating costs and this has prompted the firms in launching of new device, thereby enhancing the popularity of industrial magnetrons globally. In addition to this, industrial magnetrons find large-scale applications in radar transmitters.
Moreover, crossed as well as electron magnetic fields are generally used in magnetron device in order to produce high-power output required in radars. In addition to this, magnetron is usually a high powered vacuum tube operating as a self-activated microwave oscillator.
Market Growth Dynamics
Processing of constant flow of substances in the industrial set up will generate humungous need for incessant wave magnetrons, thereby driving market trends. In addition to this, water cooled magnetrons and air cooled magnetrons are extensively deployed in industries. Apparently, air-cooled magnetrons are likely to gain more popularity across myriad sectors in the near future owing to their cost-efficiency.
Furthermore, large-scale utility of magnetrons in heating & drying procedures in industries will amplify the growth of the market in the years to come. However, with solid state power oscillators emerging as a best alternative for industrial magnetrons due to low electricity supply bias currents, it is likely to pose a big threat to the market demand over the forthcoming years.
Asia Pacific Market To Accrue Huge Returns Over 2020-2026
The growth of the market in the Asia Pacific zone over 2020-2026 can be attributed to massive product demand in various sectors in countries like India and China. In addition to this, large-scale funding of various industries in these countries is one of the key factors that will influence the growth of the business in Asia Pacific over the coming years.
Key Market Players & Competitive Landscape
Key players leveraging the industry growth are
Sharp Corporation
MUEGGE GmbH
Panasonic Corporation
Richardson Electronics Ltd.
Haier Group Corporation
CPI International Inc.
MDP Components
Bosch GMBH
L3 Technologies Inc.
Toshiba International Corporation
Hitachi Ltd.
STT International Limited
Teledyne E2V Limited.
The global industrial magnetrons market is segmented as follows:
By product:
By operating frequency:
C Band
L Band
S Band
X Band
Ku & Ka Band
By cooling type:
By application:
Medical Application
Industrial Heating Equipment
Others
By Region
North America
Europe

France
The UK
Spain
Germany
Italy
Rest of Europe

Asia Pacific

China
Japan
India
South Korea
Southeast Asia
Rest of Asia Pacific

Latin America

Brazil
Mexico
Rest of Latin America

Middle East & Africa

GCC
South Africa
Rest of Middle East & Africa