The report encloses a forecast and current estimate of the industrial floor coatings market on a global and regional level. The study provides historical data for 2016, 2017, and 2018 and a forecast from 2019 to 2025 based on volume (Kilotons) and revenue (USD Billion). The study also provides the impact and descriptive analysis of major drivers, restraints, and opportunities in the global industrial floor coatings market.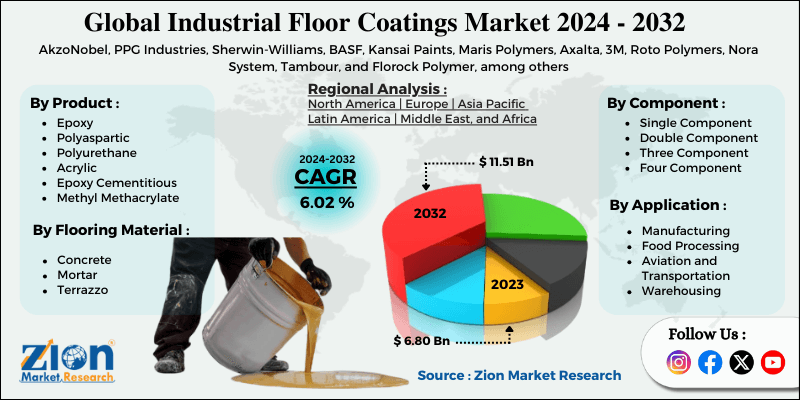 Request Free Sample
The study also offers the market attractiveness and the Porter's Five Forces model analysis to gauge the competitive landscape of major vendors of the global industrial floor coatings market. This comprehensive study also provides a detailed analysis and overview of each segment included in the study.
The report segments the global industrial floor coatings market majorly based on product, component, flooring material, source, application, and region. All the segments have been analyzed based on present and future trends and the market is estimated from 2019 to 2025. The regional segment includes the historic and forecast demand for North America, Europe, Asia Pacific, Latin America, and the Middle East and Africa.
Some key players operating in the global industrial floor coatings market are AkzoNobel, PPG Industries, Sherwin-Williams, BASF, Kansai Paints, Maris Polymers, Axalta, 3M, Roto Polymers, Nora System, Tambour, and Florock Polymer.
This report segments the global industrial floor coatings market into:
Global Industrial Floor Coatings Market: Product Analysis
Epoxy
Polyaspartic
Polyurethane
Acrylic
Epoxy Cementitious
Methyl Methacrylate
Global Industrial Floor Coatings Market: Component Analysis
Single Component
Double Component
Three Component
Four Component
Global Industrial Floor Coatings Market: Flooring Material Analysis
Global Industrial Floor Coatings Market: Application Analysis
Manufacturing
Food Processing
Aviation and Transportation
Warehousing
Global Industrial Floor Coatings Market: Regional Analysis
North America
Europe
Asia Pacific
Latin America
Middle East and Africa