The Global Pigmentation Disorder Treatment Market Size was worth around USD 6.01 Billion in 2021 and is predicted to grow to around USD 8.90 Billion by 2028 with a compound annual growth rate (CAGR) of roughly 5.75% between 2019 and 2025.
This report discusses market research on the pigmentation disorder treatment market, its market growth factors, and its challenges. The report also talks about the opportunities available to stakeholders, researchers, and potential investors for the pigmentation disorder treatment market, discussing the recent changes due to the pandemic.
Pigmentation Disorder Treatment Market: Overview
Pigmentation is a skin condition caused by high quantities of melanin, a pigment produced by melanocytes. The amino acid tyrosine is oxidized, resulting in the formation of melanin. Melanin is carried by keratinocytes and, while it is innocuous, it dulls the skin. It mostly affects the face, although it could also impact various regions of the body. Whenever melanocytes are harmed, the body's melanin synthesis varies. The skin blackens or lightens as a result of this condition. The formation of melanin causes the skin to darken, while reduced synthesis of melanin causes the skin to lighten.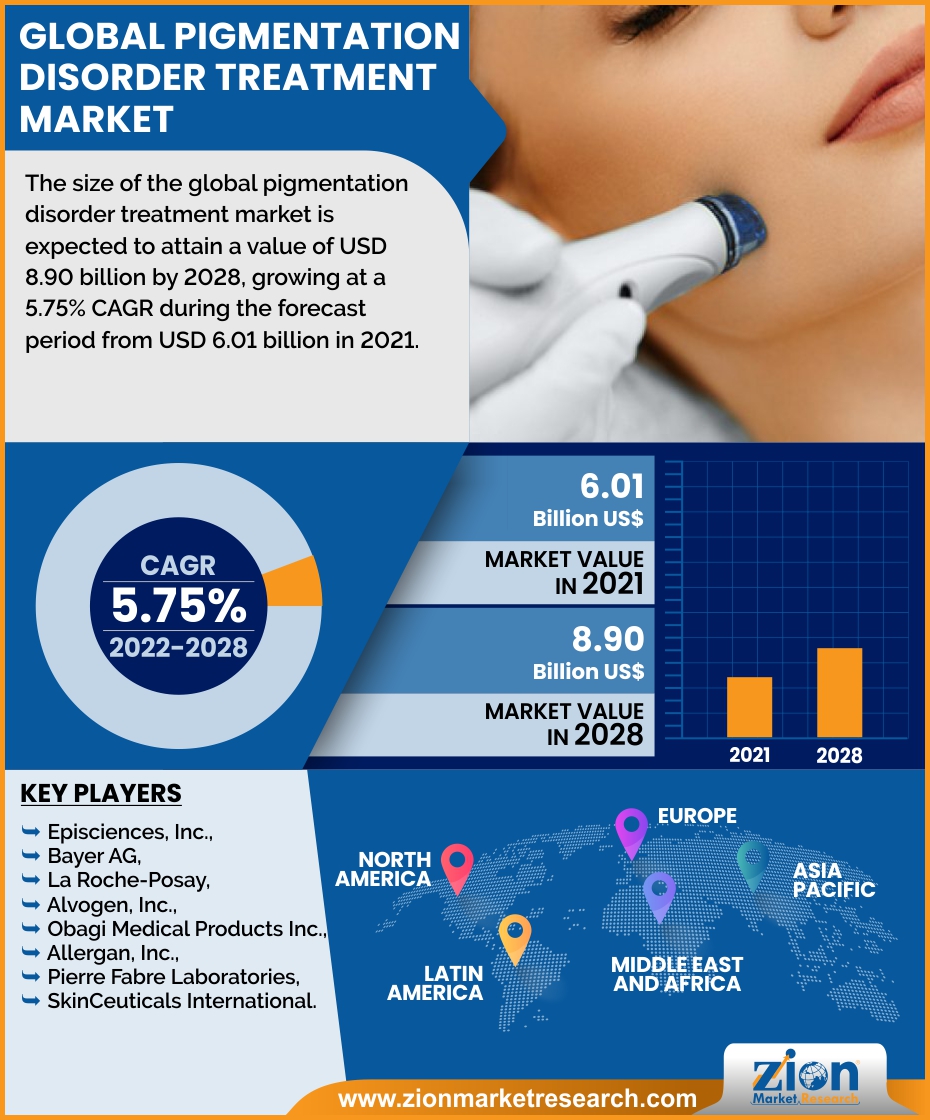 Request Free Sample
COVID-19 Impact:
The COVID-19 has had an influence on the market for pigmentation problem treatments. As per a poll done by Hamilton Fraser Cosmetic Insurance in the UK in 2020 to analyze the effect of the epidemic, 99.78 percent of doctors believed the epidemic has impacted their profession. During the COVID-19 crisis, people must be categorized to avoid needless admissions due to mild trauma and other diseases. Also there is a necessity to avoid sending patients to the hospital for routine check-ups, non-essential treatments, and minor concerns as much as feasible. Because most cosmetic operations are considered non-essential, the global market has been severely impacted.
Recent Developments
In 2019, a brand from Singapore named Dermatix, launched Dermatic Acne Star, that helps reduce post-acne skin pigmentation spots. It is very beneficial in treatment of dark spots and hyperpigmentation that is very common among individuals with acne. The product was also in affordable ranges and consisted of Vitamin B3, hyaluronic acid, and snail slime extract.
In 2020, dermatological treatment pathways were boosted due to acquisition of Dermira by Eli Lilly, increasing the market of pigmentation disorder treatments in North America.
Pigmentation Disorder Treatment Market: Growth Drivers
Increase in skin pigmentation disorders to drive the market growth
Dark-skinned individuals have a high frequency of pigmentary diseases. Pigmentary dermatomes are also the second and fifth most frequent dermatomes among Blacks and Hispanics, correspondingly. Increased sun exposure, rise in global warming, and the increased incidence of harmful sun rays due to environmental degradation are contributing factors to rise in pigmentary disorders. As a result, the global pigmentation disorder treatment market is predicted to grow due to the increased frequency of pigmentation disorders.
Pigmentation Disorder Treatment Market: Restraints
Lack of reimbursement policies for pigmentation treatment to affect the market negatively
In general case, insurance, or reimbursement is provided for medical expenses and treatments. But in the case of pigmentation disorders and its treatments, it is not covered under any policy. Only individuals from the higher economic segment of the society can afford such procedures, without any support of insurance. As a result, this causes a restraint for the growth of global pigmentation disorder treatment market.
Pigmentation Disorder Treatment Market: Opportunities
Improvements in tissue engineering to open avenues for new procedures
Developments such as artificial skin drafts and engineered skin have evolved in the market. This not only helps in pigmentation disorders but also helps in wound healing. These skins are made out of artificial and natural materials, such as xenogenic, synthetic, allograft or autologous sources. This opens up new avenues for pigmentation treatments, given more research is conducted. This provides new opportunities for the global market.
Pigmentation Disorder Treatment Market: Challenges
High cost of cosmetic treatments poses a challenge for the market
Though tremendous development in the pigmentation treatment market boosted the market opportunities, the cost of these procedures are expensive. The only affordable treatment for the masses is OTC or tropical medications. But the efficiency of these treatments is very less in comparison to other alternatives. High prices pose a threat to the global pigmentation disorder treatment market growth.
Pigmentation Disorder Treatment Market: Segmentation Analysis
The market is divided on the basis of treatment, end-user, and region. By treatment, the market is segregated into chemical peels, microdermabrasion, topical drugs, phototherapy, laser therapy, skin grafting, drugs, & others. Due to the better clinical studies in individuals with pigmentation disorders, the topical therapy category dominates the overall market. Azelaic acid, L-ascorbic acid, hydroquinone, and other topical medicines are the most commonly recommended worldwide. Topical therapy involves administering lotions, serums, creams, and ointments to the skin, which are prepared with various active components to treat specific pigmentation problems.
The market, by end user, is classified as dermatology centers, hospitals, & aesthetic clinics. In the end user segment, inclination towards aesthetic procedures is expected to increase the market of aesthetic or cosmetic institutions. On the other hand, due to affordability, people are also expected to opt for OTC medications for home treatments.
COVID-19 Drug Delivery Devices Market: Report Scope
Report Attributes
Report Details
Report Name
Pigmentation Disorder Treatment Market Research Report
Market Size in 2021
USD 6.01 Billion
Market Forecast in 2028
USD 8.90 Billion
Growth Rate
CAGR of 5.75%
Number of Pages
160
Key Companies Covered
Episciences, Inc., Bayer AG, La Roche-Posay, Alvogen, Inc., Obagi Medical Products Inc., Allergan, Inc., Pierre Fabre Laboratories, & SkinCeuticals International. amongst others.
Segments Covered
By Treatment, By End User, And By Region
Regions Covered
North America, Europe, Asia Pacific (APAC), Latin America, Middle East, and Africa (MEA)
Base Year
2021
Historical Year
2016 to 2021
Forecast Year
2019 - 2028
Customization Scope
Avail customized purchase options to meet your exact research needs. Request For Customization
Pigmentation Disorder Treatment Market: Regional Landscape
Because of the increased prevalence of pigmentation issues, North America leads the global pigmentation disorder treatment market. In North America, there are well established medical structure and large market companies that provide efficient treatment choices for individuals with post-inflammatory hyperpigmentation.
Given the cultural preference for spotless and clear skin, Asian countries such as South Korea, China, Japan, and others, have an established market for pigmentation disorder treatment. Though given the prominence of several existing companies, the competition is tough in these regions.
Some of the leading players in the global market include
Episciences Inc.
Bayer AG
La Roche-Posay
Alvogen Inc.
Obagi Medical Products Inc.
Allergan Inc.
Pierre Fabre Laboratories
SkinCeuticals International.
The global pigmentation disorder treatment market is segmented as follows:
By Treatment Analysis
Chemical Peels
Microdermabrasion
Phototherapy
Laser Therapy
Skin Grafting
Others
By End User Analysis
By Region Analysis
North America
Europe

France
The UK
Spain
Germany
Italy
Rest of Europe

Asia Pacific

China
Japan
India
South Korea
Southeast Asia
Rest of Asia Pacific

Latin America

Brazil
Mexico
Rest of Latin America

Middle East & Africa

GCC
South Africa
Rest of Middle East & Africa