According to the report, the global Human Vaccines Market was valued at USD 41.70 Billion in 2019 and is expected to reach over USD 69.8 Billion by 2026, growing at a CAGR of around 7.5% during the forecast period from 2020 to 2026.
The demand for Human Vaccines Market is increasing significantly due to high prevalence of infectious diseases in majorly developing and least developed countries, and increased spending by government agencies on healthcare. Furthermore, advancements in research and development has led to the growth of personalized medicine which will further boost the demand for human vaccines worldwide.
Global Human Vaccines Market: Overview
Vaccination is always been promoted as a very important public health intercession across the world for decades. According to the (WHO) World Health Organization, vaccination has decreased the worldwide burden of contagious disease/syndrome to a great extent. An exceptionally low risk of severe and deadly side effects related to vaccines and increasing understanding related to vaccination by different government and non-profit associations are the most important factors fuelling the global human vaccines market.
Global Human Vaccines Market: Growth Factors
The global human vaccines market is expected to witness tremendous expansion rate, due to the growing awareness about the benefits of vaccines as compared to other modes of medicine/drug administrations. As vaccines show a considerably less risk of severe side-effects as compared to other anticipated products there is an increasing popularity of the human vaccines market. On the other hand, the growing number of awareness/knowledge programs by different governments and non-profit organizations as well as private associations also anticipates supporting the development and expansion of this market in the coming future.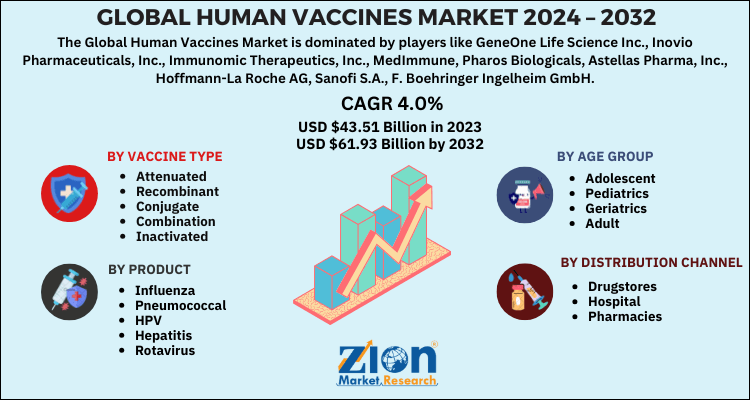 Request Free Sample
The global market for human vaccines is projected to increase and develop at a rapid rate in the future. However, the existence of strict regulatory rules is expected to create obstacles to the growth of this market. Besides, the rapid increase in the cost of these vaccines, along with the handling, transportation, and storage, is also likely to act as a major restraint for the global market in the coming years.
Global Human Vaccines Market: Segmentation
The global human vaccines market has been classified based on products, vaccine type, distribution channel, age group, and geography. In terms of vaccine type, the market is categorized into attenuated, recombinant, conjugate, combination, inactivated, and others. Similarly, based on the product, the human vaccines market is divided into influenza, pneumococcal, HPV, hepatitis, rotavirus, meningococcal, mumps, measles, typhoid, and others. Based on age group, the market is classified into adolescent, pediatrics, geriatrics, and adult. Based on distribution channel, the human vaccines market is categorized into drugstores, hospital, pharmacies, and others.
Global Human Vaccines Market: Regional Analysis
Geographically, the human vaccines market is classified into Europe, North America, the Middle East and Africa, and Asia-Pacific. North America is anticipated to hold the leading position, due to the accessibility of improved healthcare facilities in the region. North America is followed by Europe.
The Middle East & Africa offer huge opportunities and potential for the global human vaccines market. Other factors that are fuelling the market growth in other regions are the policies of international bodies, for instance, World health organization (WHO), growing funds from philanthropy associations such as Melinda Gates and Bill foundation, manufacturing of new vaccines, increasing knowledge of vaccination, development of manufacturing low price vaccines particularly in developing countries. The entrance of China in the human vaccines market affects positively the Asia Pacific region.
Global Human Vaccines Market: Competitive Players
Some of the most important market players in the human vaccines market are GeneOne Life Science Inc., Inovio Pharmaceuticals, Inc., Immunomic Therapeutics, Inc., MedImmune, Pharos Biologicals, Astellas Pharma, Inc., Hoffmann-La Roche AG, Sanofi S.A., F. Boehringer Ingelheim GmbH., and CureVac, among others.
Global Human Vaccines Market: Regional Segment Analysis
North America
Europe
The Asia Pacific
Latin America
The Middle East and Africa
What Reports Provides
Full in-depth analysis of the parent market
Important changes in market dynamics
Segmentation details of the market
Former, on-going, and projected market analysis in terms of volume and value
Assessment of niche industry developments
Market share analysis
Key strategies of major players
Emerging segments and regional markets
Testimonials to companies in order to fortify their foothold in the market.