Heating Pad Industry Prospective:
The global heating pad market size was worth around USD 49.02 billion in 2022 and is predicted to grow to around USD 73.61 billion by 2030 with a compound annual growth rate (CAGR) of roughly 5.19% between 2023 and 2030.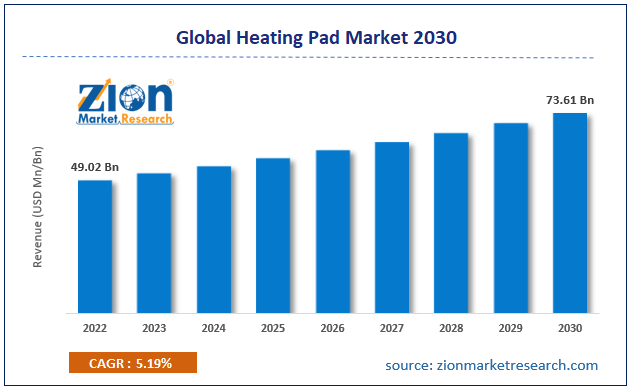 Request Free Sample
The report delves deeper into several crucial aspects of the global heating pad market. It includes a detailed discussion of existing growth factors and restraints. Future growth opportunities and challenges that impact the heating pad industry are comprehensively addressed in the report.
Heating Pad Market: Overview
Heating pads are simple tools that use heat therapy to relieve pain, muscle stiffness, cramps, and any other form of aches. They assist in promoting consistent blood circulation throughout the body, thus relieving the use of any associated pain. During an injury, using heat pads can aid in muscle pain reduction. If a person is suffering from mild to severe pain, infrared heating pads can prove to be highly beneficial. There are several other factors that are responsible for the high demand for heating pads in the commercial market. This includes portability and convenient use. For instance, battery-powered heating pads can be easily carried and easily used anywhere without worrying about the supply of hot water or an electricity source. Additionally, all the other versions of the pads have specific benefits. However, there are conditions in which the use of heating pads is not recommended. Nonetheless, the market for heating pads is steadily growing and will continue the same trend during the forecast period.
Key Insights:
As per the analysis shared by our research analyst, the global heating pad market is estimated to grow annually at a CAGR of around 5.19% over the forecast period (2023-2030)
In terms of revenue, the global heating pad market size was valued at around USD 49.02 billion in 2022 and is projected to reach USD 73.61 billion, by 2030.
The heating pad market is projected to grow at a significant rate due to the growing demand for sustainable packaging
Based on end-use segmentation, the hospital was predicted to show maximum market share in the year 2022
Based on product segmentation, electrical was the leading product in 2022
On the basis of region, Europe was the leading revenue generator in 2022
Heating Pad Market: Growth Drivers
Rising use by the female population as a period-induced pain reliever to drive market growth
The global heating pad market is expected to grow at a high rate during the projection period owing to the increasing use of these pads by the female population as a means to relieve period-induced pain or cramps. As per a study conducted by Women's Health Concern, nearly 80% of the female population suffers from varied intensities of period pain at some stage in their lives. Out of this pool, 5% to 10% are reported to suffer from intense or severe pain. Research shows that taking a hot bath or placing heating pads on the lower abdomen can reduce period-induced pain. It functions by relaxing uterus muscles and increasing blood flow to reduce pain. The growing awareness rate among the population about the benefits of heating pads along with the availability of these pads across price ranges in addition to urbanization are some of the factors responsible for higher production adoption. In addition to this, the e-commerce segment has played a crucial role in reaching remote markets
Rising geriatric population to further assist in the growth trajectory
The demand for heating pads may be subject to further boosts led by the growing geriatric population across the globe. Knee pain is one of the most common health concerns faced by the older population. Several reasons can cause knee pain which is especially evident during the winter season. As per research-based indications, around 69.9% of the adult population suffers from some form of joint pain. Heating pads can be effective in treating mild knee pain in older adults since it can loosen tight muscles. There are other conditions as well that can be managed using heating pads although in case of severe pain, undergoing doctor consultation is recommended.
Heating Pad Market: Restraints
Risk of heating pad malfunction to restrict the market growth
Heating pads, although considered safe to use, can sometimes prove to be dangerous, especially in case of irresponsible or negligent handling. Some of the most common risks associated with the use of heating pads include skin burns, fire, and exposure to the electromagnetic field. For instance, if a user sleeps through the night using a heating pad, the chances of skin burn rises. Additionally, using an electric heating pad for a prolonged period can lead to skin tissue inflammation which is highly possible for a patient with diabetes. Moreover, it is crucial to maintain heating pads with superior care. Hence, they must be regularly checked for any leakage or other forms of wear and tear. In February 2021, a 74-year woman became the victim of an overheated heat pad which resulted in her death. Other such incidences have been reported worldwide.
Heating Pad Market: Opportunities
Rising research and innovation to provide growth opportunities
The global heating pad industry is projected to witness intensive research and innovation which could aid the creation of higher growth avenues. This includes the use of infrared technology in heating pads that showcase deeper penetration into the muscles as compared to conventional heating pads. They function by converting electrical energy into infrared light. The research concludes that such heating pads have better healing capacity. In September 2018, Venture Heat® announced that it had received US Food & Drugs Administration (FDA) clearance for the company's new Infrared Heat Therapy Pain Relief technology using Far Infrared Rays (FIR). The tool is made of flexible neoprene rubber and allows maximum comfort to the wearer. In December 2020, Sunbeam®, a leading provider of heat therapy products, launched the portable GoHeat™ Cordless Heating Pad that delivers results within 30 minutes of use.
Heating Pad Market: Challenges
Lack of standardization and quality monitoring bodies to challenge the market expansion
Currently, there are several players in the global heating pad market. While some of them are certified as safe to use, there is a significant lack of standardization policies as well as quality control or monitoring measures. Furthermore, reports state that there is a risk of heating pad addition among regular users of the pain relief device. Electric heating pads can also cause severe damage to the muscles if used unchecked. People using these pads have to be attentive while using the tool since negligence can cause irreparable damage.
Heating Pad Market: Segmentation
The global heating pad market is segmented based on end-user, product, and region.
Based on end-user, the global market segments are hospitals, clinics, diagnostic centers, and homecare. Currently, the industry for heating pads is dominated by hospitals followed by clinics. These devices are used across departments in a hospital including emergency units to delivery rooms. They are used in several forms of therapeutic treatments along to reduce pain. Moreover, heating pads used in hospital settings undergo strict quality checks before use and are applied under the supervision of trained professionals. The homecare segment may witness growth but there are concerns over product safety. For instance, in October 2022, the US FDA recalled Mighty Bliss electric heating pads over injury risks. The company has already sold more than 50,000 units through Walmart and Amazon.
Based on product, the heating pad industry divisions are electrical, microwavable infrared, water, and others. The highest market share was owned by the electrical segment in 2022. These pads offer excellent convenience as they run on electricity. Users are provided with options to regulate the temperature and some of the pads have automatic switch-off buttons which prevent any injury or hazard. A small heating pad uses 20 watts of energy while larger pads may use up to 60 watts of power. Rising product innovation will help deliver better results in the segment.
Heating Pad Market: Report Scope
Report Attributes
Report Details
Report Name
Heating Pad Market
Market Size in 2022
USD 49.02 Billion
Market Forecast in 2030
USD 73.61 Billion
Growth Rate
CAGR of 5.19%
Number of Pages
223
Key Companies Covered
BodyMed, Sunbeam Products Inc., Beurer, Kaz Inc. (Honeywell), SoftHeat, Pure Enrichment, Drive DeVilbiss Healthcare, Thermedic, Battle Creek Equipment, Conair Corporation, HealthSmart, Walgreens, Mighty Bliss, Chattanooga Group, GENIANI, HotHands, BRIGENIUS, Carex Health Brands, Bremed, Belmint, MaxKare, PROALLER, Sunvalley Brands, iTeknic, and Tech Love.
Segments Covered
By End-Use, By Product, and By Region
Regions Covered
North America, Europe, Asia Pacific (APAC), Latin America, Middle East, and Africa (MEA)
Base Year
2022
Historical Year
2017 to 2021
Forecast Year
2023 - 2030
Customization Scope
Avail customized purchase options to meet your exact research needs. Request For Customization
Heating Pad Market: Regional Analysis
Europe to continue its dominant streak in the upcoming period
The global heating pad market is currently dominated by Europe and trends indicate that the region will continue its growth streak during the forecast period. The rising elderly population along with extensive use of heating pads in hospital units along with homecare settings will be the main driving force toward regional growth. In 2020, more than 20.1% of Europe's population was over the age of 65 years. As per reports, Monaco is home to the world's largest population of people over 65 years. The percentage is over 36.1% while Germany's rate of older citizens is 22.1%. Furthermore, the region has excellent medical infrastructure and the region is witnessing extensive research in therapeutic treatments for several conditions including physiotherapy for physical pain or discomfort caused by other medical illnesses or accidents. A recent report by the National Library of Medicine concludes that nearly 19% of Europeans are prone to moderate to severe forms of chronic pain. Factors such as growing adoption in home care settings, rising product innovation, and the presence of safety-ensuring measures will promote regional growth.
Heating Pad Market: Competitive Analysis
The global heating pad market is led by players like:
BodyMed
Sunbeam Products Inc.
Beurer
Kaz Inc. (Honeywell)
SoftHeat
Pure Enrichment
Drive DeVilbiss Healthcare
Thermedic
Battle Creek Equipment
Conair Corporation
HealthSmart
Walgreens
Mighty Bliss
Chattanooga Group
GENIANI
HotHands
BRIGENIUS
Carex Health Brands
Bremed
Belmint
MaxKare
PROALLER
Sunvalley Brands
iTeknic
Tech Love.
The global heating pad market is segmented as follows:
By End-Use
Hospital
Clinics
Diagnostic Centers
Homecare
By Product
Electrical
Microwavable
Infrared
Water
Others
By Region
North America
Europe

France
The UK
Spain
Germany
Italy
Rest of Europe

Asia Pacific

China
Japan
India
South Korea
Southeast Asia
Rest of Asia Pacific

Latin America

Brazil
Mexico
Rest of Latin America

Middle East & Africa

GCC
South Africa
Rest of Middle East & Africa