Gel Implants Market Size And Forecast
The global gel implants market size was worth around USD 1.35 billion in 2021 and is predicted to grow to around USD 1.87 billion by 2028 with a compound annual growth rate (CAGR) of roughly 3.35% between 2022 and 2028. The report analyzes the global gel implants market's drivers, restraints/challenges, and the effect they have on the demands during the projection period. In addition, the report explores emerging opportunities in the gel implants market.
Gel Implants Market: Overview
Gel implants are medical units that are used in breast augmentation by implanting them beneath the breast or chest muscle. Their application also involves replacing any breast tissue that was removed owing to medical conditions like cancer or trauma, or even any other breast tissue that has failed to develop properly. Gel implants are also used during revision surgeries, in case the original surgery failed to provide the expected results.
Even though gel implants are highly coveted amongst the female population, medical procedures may also bring along multiple health conditions. Some of the reported outcomes of using gel implants include complications like breast pain, changes in breast sensation, etc. Even if the procedure is successfully carried out, the consumers have to follow a strict protocol to not cause any unwanted reactions like rupture and deflation of the implants. Most of the cases where gel implants are used will necessitate additional medical procedures which may be either related to the removal of the implants or enhance their lifespan.
Since the global market cap has gained traction in the last couple of years, the US Food and Drug Administration has laid down some guidelines to provide correct communication to users. FDA suggests that all implants should follow certain labeling processes like providing boxed warnings, a checklist with patients' decisions, implant rupture screening recommendations, information related to material or devices along with details like the type and quantity of the chemical or heavy metals that are used.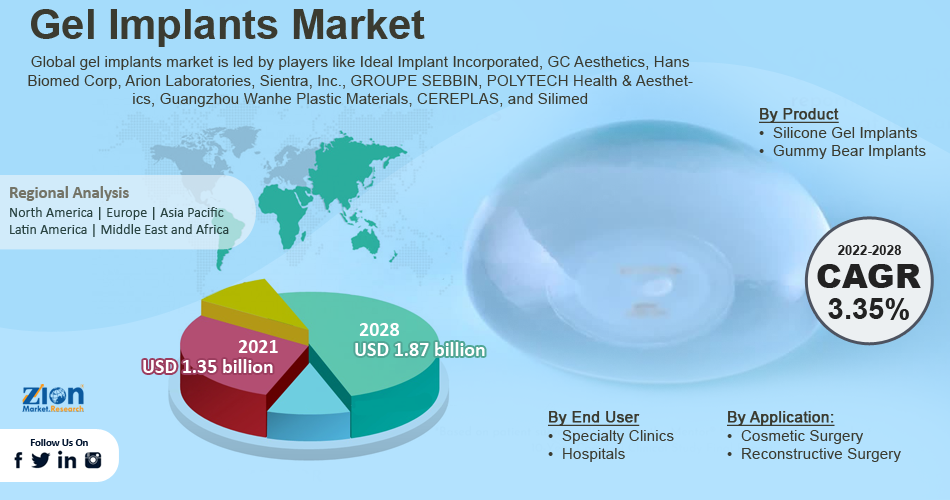 Request Free Sample
Key Insights
As per the analysis shared by our research analyst, the global gel implants market is estimated to grow annually at a CAGR of around 3.35% over the forecast period (2022-2028).
In terms of revenue, the global gel implants market size was valued at around USD 1.35 billion in 2021 and is projected to reach USD 1.87 billion, by 2028. Due to a variety of driving factors, the market is predicted to rise at a significant rate.
Based on product segmentation, silicone gel implants were predicted to show maximum market share in the year 2021
Based on end-user segmentation, hospitals were the leading revenue-generating end-users in 2021.
On the basis of region, North America was the leading revenue generator in 2021.
Covid-19 Impact:
The global market size had a moderate impact due to Covid-19 which was majorly driven by the closure of medical facilities deemed nonessential. In 2020, almost the entire healthcare sector focused on containing the virus or reducing its spread rate. Operational activities related to non-life-threatening medical conditions were halted during this phase. This was also prolled by the general hesitancy amongst the population towards health facility visits thus reducing the overall demand for the products.
Gel Implants Market: Growth Drivers
Social media content to drive market growth
The global gel implants market growth is propelled by the rising use of social media especially by the sector of the population either dealing with or using gel implants. In today's time, social media has turned out to be an excellent marketing tool that does not require huge investments. As per official reports, more than 93% of firms that deal with marketing & advertising use social media for business purposes.
The online mode of advertisements is highly effective and driven by the massive utilization amongst online consumers where more than 97% of e-consumers are estimated to use social media at least once a month. Around 67% of consumers are more attracted to brands that have some form of social media presence. A huge section of gel implant providers are now trying to reach the larger population with the help of social media, there is a considerable rise in awareness about the availability of such procedures which may aid growth in the global market cap.
The world market is also witnessing a rising trend of higher acceptance rates related to aesthetic advancing cosmetic procedures like breast implants. More people have started talking about undergoing breast implants and the procedure has become more normal than it was a few years prior which is projected to help in global market growth.
Gel Implants Market: Restraints
Risks associated with gel implants to restrict the market growth
Gel implants come with their own set of risks that are associated with operational procedures. FDA guidelines regulating the market are extremely strict which may restrict global market expansion. Some of these risks include factors like anaplastic large cell lymphoma which is induced due to breast implants. Even though the number of gel implant providers has considerably increased, not all provide services as per standard. Some of the low costing surgeries fail to follow FDA guidelines resulting in unwanted effects on the patients. Such factors may inhibit the growth trend of the global market
Gel Implants Market: Opportunities
The emergence of multiple providers and the overall reduced cost of treatment provide lucrative growth opportunities
As per data submitted by the American Society of Plastic Surgeons, more than USD 16 billion was spent on cosmetic procedures in 2020. Since the number of surgeons or healthcare professionals providing these services has increased considerably, consumer data has subsequently grown as well. With the adoption of better and more advanced medical procedures, the global market is expected to penetrate deeply as a result of reduced hesitancy among end-consumers.
Since gel implants have gained high attention, their cost has reduced as well as compared to previous years, thus making the procedure available for moderate-income groups as well. Earlier the cost of gel implants was too high and hence there was a low affordability rate. But with technological growth, and the emergence of new players, the affordability rate has taken a positive jump.
Gel Implants Market: Challenges
High maintenance of gel implants to challenge market cap growth
Since gel implants are not lifetime products they are high in maintenance which may lead to challenges in global market growth. The longevity of gel implants depends from person to person and it is highly likely that a person will have to undergo multiple removals and re-filling processes to enhance longevity. There are instances where the implants may get ruptured. This also creates hesitation among consumers to opt for these procedures restricting global market expansion
Gel Implants Market: Segmentation
The global gel implants market is segmented based on application, product, end-user, and region.
Based on application, the global market segments are cosmetic surgery and reconstructive surgery, Reconstructive surgeries are conducted in case of patients suffering from medical conditions like breast cancer. In the USA, more than 2.6 million women and more than 2000 men report suffering from breast cancer. However, long-term exposure to gel implants may lead to relapse of breast cancer as per studies restricting segmental growth.
Based on the product, the global market segments are silicone gel implants and gummy bear implants. In 2021, silicone gel implants held a market share of over 81% owing to the natural look imparted by them while also delivering quality output
By end-user, the global market is segmented into specialty clinics and hospitals. In 2021, with more than 65% of the global market share, hospitals dominated the segment. The high admission rate for breast implants is anticipated to aid segmental growth during the forecast period.
Recent Developments:
In January 2022, The US Food & Drugs Administration approved the Mentor MemoryGel BOOST breast implant manufactured by Johnson & Johnson. Breast augmentation is only applicable to women above 22 years of age whereas women of all age groups can benefit from this product in case of breast reconstruction. Mentor MemoryGel BOOST will also combine Mentor's cohesive gel to impart the implants with qualities like stability and stable breast shape.
In December 2021, GC Aesthetics, Ltd., a private company leading the technology-driven aesthetics solution provider, reported plans of rapid market expansion for its new product portfolio termed PERLE, a smooth and opaque breast implant product. The newly launched device is a by-product of years of research toward the improvement of quality and safety in breast implant procedures.
Gel Implants Market: Report Scope
| Report Attributes | Report Details |
| --- | --- |
| Report Name | Gel Implants Market Research Report |
| Market Size in 2021 | USD 1.35 Billion |
| Market Forecast in 2028 | USD 1.87 Billion |
| Growth Rate | CAGR of 3.35% |
| Number of Pages | 188 |
| Forecast Units | Value (USD Billion), and Volume (Units) |
| Key Companies Covered | Ideal Implant Incorporated, GC Aesthetics, Hans Biomed Corp, Arion Laboratories, Sientra, Inc., GROUPE SEBBIN, POLYTECH Health & Aesthetics, Guangzhou Wanhe Plastic Materials, CEREPLAS, and Silimed |
| Segments Covered | By Application, By Product, By End-User, And By Region |
| Regions Covered | North America, Europe, Asia Pacific (APAC), Latin America, Middle East and Africa (MEA) |
| Base Year | 2021 |
| Historical Year | 2016 to 2020 |
| Forecast Year | 2022 - 2028 |
| Customization Scope | Avail customized purchase options to meet your exact research needs. Request For Customization |
Gel Implants Market: Regional Analysis
The USA to dominate North America during the forecast period
The global gel implant market was dominated by North America in 2021. The USA held 23% of the global market share majorly driven by the rising awareness and popularity of gummy bear implants and the same trend is projected during the forecast period. The technology-driven market is a hub-spot for breast augmentation processes owing to the presence of many high-income groups with sufficient funds to undergo such operational procedures. Cosmetics-related medical tourism is also high in this region which may further aid regional growth.
Latin America is also anticipated to register high growth. Brazil is projected to lead regional growth as it did in 2021 with a regional market share of 48%. Asia-Pacific is also showing signs of healthy growth owing to the rising population in the high-disposable income section in countries like Japan, China, and South Korea. The rising acceptance rate for gel implants is expected to drive regional growth.
Gel Implants Market: Competitive Analysis
The global gel implants market is led by players like
Ideal Implant Incorporated
GC Aesthetics
Hans Biomed Corp
Arion Laboratories
Sientra. Inc.
GROUPE SEBBIN
POLYTECH Health & Aesthetics
Guangzhou Wanhe Plastic Materials
CEREPLAS
Silimed
The global gel implants market is segmented as follows:
By Application:
Cosmetic Surgery
Reconstructive Surgery
By Product
Silicone Gel Implants
Gummy Bear Implants
By End User
Specialty Clinics
Hospitals
By Region
North America
Europe

France
The UK
Spain
Germany
Italy
Rest of Europe

Asia Pacific

China
Japan
India
South Korea
Southeast Asia
Rest of Asia Pacific

Latin America

Brazil
Mexico
Rest of Latin America

Middle East & Africa

GCC
South Africa
Rest of Middle East & Africa