Industry Prospective:
The global cutaneous T-cell lymphoma (CTCL) therapeutics market size was worth around USD 1.72 billion in 2021 and is predicted to grow to around USD 2.84 billion by 2028 with a compound annual growth rate (CAGR) of roughly 7.45% between 2022 and 2028. The report analyzes the global cutaneous T-cell lymphoma (CTCL) therapeutics market's drivers, restraints/challenges, and the effect they have on the demands during the projection period. In addition, the report explores emerging opportunities in the cutaneous T-cell lymphoma (CTCL) therapeutics market.
Cutaneous T-Cell Lymphoma (CTCL) Therapeutics Market: Overview
Cutaneous T-cell lymphoma (CTCL) is an extremely rare form of cancer with origins in the white blood cells called T cells or T lymphocytes. They are used to enhance the body's mechanism to fight germs by upgrading the immunity system. In the case of cutaneous T-cell lymphoma, the lymphocytes develop abnormalities causing them to attack the skin itself.
Some of the results of CTCL include skin redness like rashes and scaly or slightly raised skin patches in round forms, and some cases include skin tumors as well. Even though there are several types of CTCL the most common form is the mycosis fungoides.
The exact cause of the disease is still unknown. Some theories conclude that it is a result of exposure to carcinogens, antigen persistence, or retroviruses. Mycosis fungoides does not have any cure but with the right and timely treatment, a patient may live on for years without any symptoms. It is not as aggressive as other forms of cancer and progresses slowly.
Symptoms for CTCL include lumps formed on the skin that may break open, hair loss, enlarged lymph nodes, an intensely itchy red-skin spot, and elevated round skin patches that may itch intensely. Generally, cancer occurs as a result of mutations in the DNA. In the case of CTCL, too many mutated and abnormal T-cells led to attacking the skin.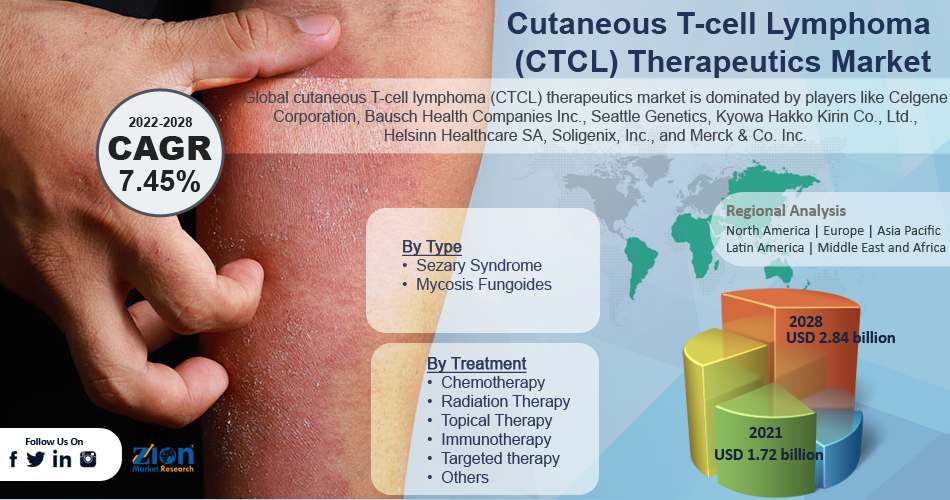 Key Insights
As per the analysis shared by our research analyst, the global cutaneous T-cell lymphoma (CTCL) therapeutics market is estimated to grow annually at a CAGR of around 7.45% over the forecast period (2022-2028).
In terms of revenue, the global cutaneous T-cell lymphoma (CTCL) therapeutics market size was valued at around USD 1.72 billion in 2021 and is projected to reach USD 2.84 billion, by 2028. Due to a variety of driving factors, the market is predicted to rise at a significant rate.
Based on type segmentation, mycosis fungoides were predicted to show maximum market share in the year 2021
Based on therapy segmentation, topical therapy was the leading revenue-generating therapy in 2021.
On the basis of region, North America was the leading revenue generator in 2021
Covid-19 Impact:
The global market cap was negatively impacted due to Covid-19 owing to a reduction in the number of services assisting patients suffering from CTCL or other diseases as the majority of the resources were used for the treatment of Covid-19 patients. The global market also witnessed delays in various clinical trials for CTCL and other cancer-related cases due to lockdowns and other restrictions laid down by governments.
Cutaneous T-Cell Lymphoma (CTCL) Therapeutics Market: Growth Drivers
Increasing number of CTCL cases to aid market growth
The global cutaneous T-cell lymphoma (CTCL) therapeutics market is projected to be driven by the rising number of cutaneous T-cell lymphoma cases across the globe. As per a 2020 study submitted by the Leukemia and Lymphoma Society, T-cell lymphoma is one of the most common forms of skin cancer.
Three out of every four skin lymphoma-related cases are diagnosed to be suffering from cutaneous T-cell lymphoma. More than 15% of non-Hodgkin lymphomas (NHLs) are T-cell lymphoma cases in the USA, as per a report by Cancer.org whereas the disease is around 1% of all kinds of lymphomas.
The concern over the disease has been increasing over the past few years since even though the doctors are aware of mutations in T-cells that make them grow with abnormalities at an uncontrollable rate, however, there is no significant data that can confirm the exact reason for these changes making the disease incurable as of 2022. Some of the reasons for CTCL include lowered immunity levels resulting from HIV or taking medications or drugs to suppress the immunity that is generally observed post organ transplant procedures.
CTCL is more commonly found in the male population with the risk rate being twice as high as in the case of females. The disease is found mostly in the geriatric population or people between the age group of 40 to 60 years. Another significant aspect is that the disease is prevalent at a higher rate in black Americans as compared to other racial groups.
Cutaneous T-Cell Lymphoma (CTCL) Therapeutics Market: Restraints
Non-availability of effective treatment to restrict the market growth
The global market cap may have restricted growth owing to the nonavailability of concrete and effective treatment for the disease. Even though CTCL is not fatal, except in rare cases, unlike other harsher forms of cancer, it deteriorates the quality of patients' life. The main reason that the scientific community has failed to obtain a sure treatment plan is that there is a lack of exact understanding of the root cause of the disease.
The global market growth may not develop high profits as a result of unawareness amongst the population about the proper detection of the symptoms. The signs of the disease may be passed along a normal skin rash in case the patient has no prior knowledge of CTCL.
Cutaneous T-Cell Lymphoma (CTCL) Therapeutics Market: Opportunities
Long line-up of clinical trials to provide market growth opportunities
Cancer and its various forms have been in existence for a long time but the healthcare, research, and pharmaceutical sectors have been unable to find a cure for the same. The number of cancer patients and subsequent deaths have increased significantly over the years. In 2020, over 5,40,000 people were diagnosed with NHLs, and the death toll was around 20,250 as per official cancer-related websites. These high numbers have propelled the need and efforts toward cancer treatments which are projected to provide global market growth opportunities.
Cutaneous T-Cell Lymphoma (CTCL) Therapeutics Market: Challenges
High cost of treatment to challenge market growth
Cancer treatment costs may go up to millions over time depending on the aggressiveness of the cancer cells. As per studies, for treating aggressive NHL, the mean initial cost is up to USD 10,000 monthly. In the secondary phase, the amount is somewhere between USD 3000 to USD 4000. These numbers indicate the high expenses patients have to bear, which may become impossible for patients in developing regions thus creating challenging situations for global market expansion.
Cutaneous T-Cell Lymphoma (CTCL) Therapeutics Market: Segmentation
The global cutaneous T-cell lymphoma (CTCL) therapeutics market is segmented based on treatment, type, and region.
Based on treatment, the global market segments are chemotherapy, radiation therapy, topical therapy, immunotherapy, targeted therapy, and others. Topical therapy may generate the highest revenues in the global market owing to the rise in several treatment approvals, research activities, and high funding received for further development.
However, chemotherapy is projected to grow at the highest CAGR because of its various applications throughout the cancer stages. The global chemotherapy market was around USD 135,400 million in 2020.
Based on type, the global market segments are Sezary syndrome and mycosis fungoides. The global market is projected to be dominated by the mycosis fungoides owing to its high prevalence as compared to the Sezary syndrome. As per the National Library of Medicine, 1 in every 100,000 to 3,50,000 people was infected by mycosis CTCL. More than 70% of T-cell lymphomas are due to this type. A lot of medicines for the treatment of both types are receiving approvals by government agencies for further use. A lot of these drugs are now called breakthrough therapy or Orphan drugs.
Recent Developments:
In June 2020, Japan-based Kyowa Kirin managed to enter the European market with the launch of Poteligeo or mogamulizumab. The drug provides efficient treatment for Sezary syndrome and mycosis fungoides, both of which lack a 100% effective treatment plan resulting in high demands for the same in the global market
In November 2021, Soligenix, In, a leading biopharmaceutical firm specializing in the development and commercialization of products used in the treatment of rare diseases, announced that the company made great financial advancements in the 3rd quarter of 2021 with exhaustive activities across public health solution and the Specialized BioTherapeutics segments. The company was working towards the development of HyBryte which can be used in the CTCL treatment process.
In November 2019, Celgene Corporation was acquired by the Bristol-Myers Squibb Company post the approval receipt from government regulatory bodies. With the acquisition, the company intends to become a global leader in the biopharmaceutical sector.
Report Scope:
| Report Attribute | Details |
| --- | --- |
| Base Year | 2020 |
| Historic Years | 2016 - 2020 |
| Forecast Years | 2021 - 2028 |
| Segments Covered | By Product Type, By Application, and By End Use |
| Forecast Units | Value (USD Billion), and Volume (Units) |
| Quantitative Units | Revenue in USD million/billion and CAGR from 2021 to 2028 |
| Regions Covered | North America, Europe, Asia Pacific, Latin America, and Middle East & Africa, and Rest of World |
| Countries Covered | U.S., Canada, Mexico, U.K., Germany, France, Italy, Spain, China, India, Japan, South Korea, Brazil, Argentina, GCC Countries, and South Africa, among others |
| Number of Companies Covered | 10 companies with scope for including additional 15 companies upon request |
| Report Coverage | Market growth drivers, restraints, opportunities, Porter's five forces analysis, PEST analysis, value chain analysis, regulatory landscape, market attractiveness analysis by segments and region, company market share analysis, and COVID-19 impact analysis. |
| Customization Scope | Avail customized purchase options to meet your exact research needs. |
Cutaneous T-Cell Lymphoma (CTCL) Therapeutics Market: Regional Analysis
North America to generate the highest revenue during the forecast period
The global cutaneous T-cell lymphoma (CTCL) therapeutics market is projected to be dominated by North America owing to the increasing reported cases of T-cell lymphoma assisted by the early adoption of advanced technologies.
The regional growth is also propelled by the already developed medical infrastructure in the USA and Canada providing state-of-the-art medical facilities along with medical reimbursements and the presence of many insurance providers thus helping patients get quality treatment.
The growing research & development sector is projected to aid the development of breakthrough medicines. As per a 2022 report by the National Science Board, the US government spent over USD 607.5 billion on research activities.
Europe is expected to garner high revenue because of the growing biopharmaceutical sector in regions like the UK, Germany, and France which are the leading biotech sectors in the EU constituting over half of the regional revenue. Growth in Asia-Pacific may be driven by the rising population of patients suffering from CTCL and the increasing number of facilities offering quality medical care.
Cutaneous T-Cell Lymphoma (CTCL) Therapeutics Market: Competitive Analysis
The global cutaneous T-cell lymphoma (CTCL) therapeutics market is dominated by players like Celgene Corporation, Bausch Health Companies Inc., Seattle Genetics, Kyowa Hakko Kirin Co., Ltd., Helsinn Healthcare SA, Soligenix, Inc., and Merck & Co. Inc.
The global cutaneous T-cell lymphoma (CTCL) therapeutics market is segmented as follows:
By Treatment
Chemotherapy
Radiation Therapy
Topical Therapy
Targeted therapy
Others
By Type
Sezary Syndrome

Mycosis Fungoides
By Region
North America
Europe

France
The UK
Spain
Germany
Italy
Rest of Europe

Asia Pacific

China
Japan
India
South Korea
Southeast Asia
Rest of Asia Pacific

Latin America

Brazil
Mexico
Rest of Latin America

Middle East & Africa

GCC
South Africa
Rest of Middle East & Africa