The report covers a forecast and an analysis of the GFRG market on a global and regional level. The study provides historical data from 2016 to 2018 along with a forecast from 2019 to 2026 based on both volume (Million Square Meters) and revenue (USD Billion). The study includes the drivers and restraints of the GFRG market along with their impact on the demand over the forecast period. Additionally, the report includes the study of opportunities available in the GFRG market on a global level.
In order to give the users of this report a comprehensive view of the GFRG market, we have included a detailed value chain analysis. To understand the competitive landscape in the market, an analysis of Porter's Five Forces model for the GFRG market has also been included. The study encompasses a market attractiveness analysis, wherein all the segments are benchmarked based on their market size, growth rate, and general attractiveness.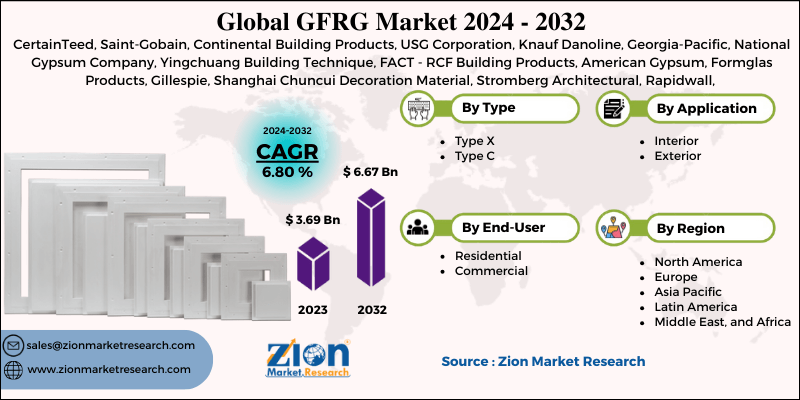 The study provides a decisive view of the GFRG market by segmenting the market based on type, application, end-user, and region. All the segments have been analyzed based on present and future trends and the market is estimated from 2019 to 2026. The regional segment includes the current and forecast demand for North America, Europe, Asia Pacific, Latin America and the Middle East and Africa.
Some major players of the global GFRG market are CertainTeed, Saint-Gobain, Continental Building Products, USG Corporation, Knauf Danoline, Georgia-Pacific, National Gypsum Company, Yingchuang Building Technique, FACT - RCF Building Products, American Gypsum, Formglas Products, Gillespie, Shanghai Chuncui Decoration Material, Stromberg Architectural, Rapidwall, Plasterceil Industries, Chiyoda UTE, Owens Corning, Horizons Industrial Development, Intexforms, Fibrex, and GC Products.
This report segments the global GFRG market into:
Global GFRG Market: By Type
Global GFRG Market: By Application
Global GFRG Market: By End-Use
Global GFRG Market: By Region
North America
Europe
Asia Pacific
Latin America
Middle East and Africa