Analysis
Glass fiber reinforced gypsum or GFRG is a mix of gypsum, sand, and Portland cement. It mainly contains glass fiber reinforcement and ultra-fine alpha plaster. GFRG can be cast into virtually any shape and size. The material is extremely strong and lightweight, as it requires little to no additional structural support apart from being painted in any color.
The rapid growth of the construction and infrastructure sectors is a major factor driving the global GFRG market growth. GFRG can be used for residential and non-residential uses. In addition, the commercial use of GFRG exerts the maximum influence on the GFRG market development globally. The construction sector generally demands materials that have good absorption capabilities, high temperature-resistance, quick installation capabilities, and environment-friendly in nature. These features are present in GFRG, which makes it one of the most widely used materials in the construction sector. The demand for such a material in the construction and infrastructure sectors is expected to further drive the GFRG market globally. However, the lack of manufacturing units and factories in developing counties leads to the use of GFRG alternatives in those regions and issues related to GFRG transportation are hampering the GFRG market growth. Alternatively, GFRG's low product cost and lightweight is making it popular in countries prone to natural calamities like Japan, China, and the U.S., among other coastal countries. Furthermore, the attitude of the government is positive toward GFRG due to its eco-friendly and economical nature. The growing GFRG demand is increasing the number of GFRG manufacturing in the Middle East and Africa and Asia Pacific.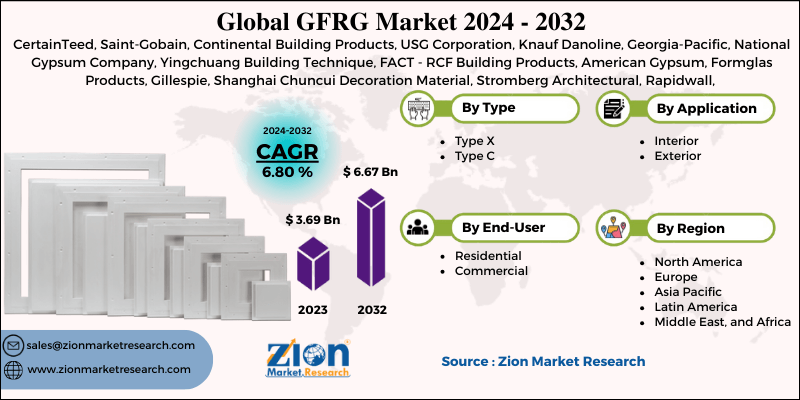 The global GFRG market is fragmented based on type, application, and end-use. Based on type, the market includes type X and type C. By application, the market is classified into exterior and interior. By end-use, the GFRG market is divided into commercial and residential.
Geographically, the Middle Eastern and African GFRG market is likely to generate the highest revenue throughout the forecast time period. This high revenue contribution can be attributed to the ongoing infrastructural developments and rising number of major projects across the region.
Some major players of the global GFRG market are CertainTeed, Saint-Gobain Gyproc, Continental Building Products, USG Corporation, Knauf Danoline, Georgia-Pacific, National Gypsum Company, Yingchuang Building Technique, FACT - RCF Building Products, American Gypsum, Formglas Products, Gillespie, Shanghai Chuncui Decoration Material, Stromberg Architectural, Rapidwall, Plasterceil Industries, Chiyoda UTE, Owens Corning, Horizons Industrial Development, Intexforms, Fibrex, and GC Products.