Industry Prospective:
The size of the global geogrid market is expected to become around USD 2.01 billion in 2030 from USD 1.15 billion in 2021 growing at the rate (CAGR) of 4.71%. This report discusses market research on the global geogrid market, its market growth factors, and challenges. The report also talks about the opportunities available to stakeholders and potential investors for the geogrid market, discussing the recent changes due to the pandemic.
Geogrid Market: Overview
A geogrid is a geosynthetic material made up of linked parallel sets of tensile ribs with large enough openings to enable the surrounding soil, stone, or other geotechnical material to pass through. When utilized with suitably sized aggregate infill, geogrids provide reinforcement, stability, and even filtration. They are commonly utilized in civil engineering applications and are made of polymers such as polypropylene, polyethylene, or polyester.
Geogrids are known to reduce the thickness of unpaved roads along with costs by around fifty percent. These are also useful for soil stabilization, prevention of soil erosion, turf enforcement, containment, and several other purposes.
Key Insights
As per the analysis shared by our research analyst, the global geogrid market is estimated to expand annually at a CAGR of around 4.71% over the forecast period (2022-2030)
In terms of revenue, the global geogrid market was valued at nearly USD 1.15 billion in 2021 and is anticipated to hit USD 2.01 billion by 2030
The market is projected to expand at a significant rate due to massive demand for geogrid due to its beneficial features such as high ductile strength and ease of handling
Based on material, the polyester segment accounted for the largest market share in the year 2021
On basis of application, road construction and railroad were the leading segments in 2021
On the basis of region, the North American region was the leading revenue generator for the global market in 2021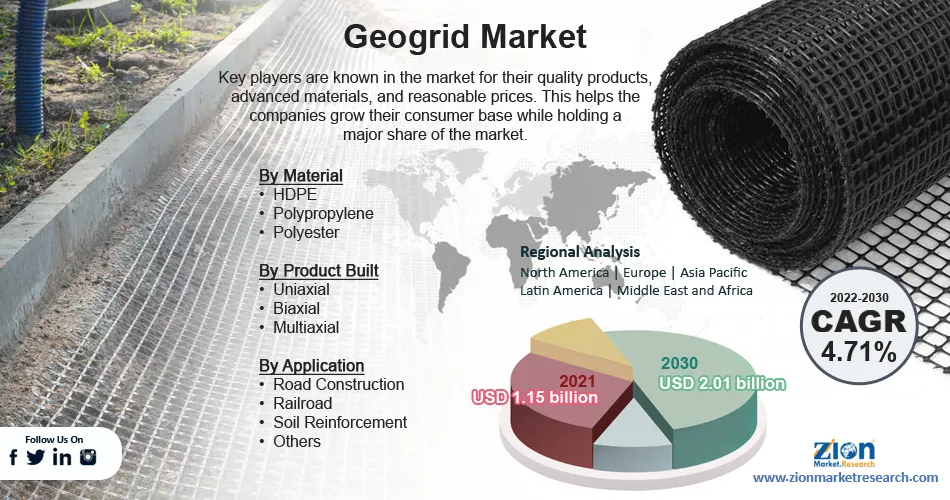 Request Free Sample
COVID-19 Impact:
Construction activities were halted all over the world, resulting in a decreased demand for geogrids. Another issue was the temporary shutdown of manufacturing units that resulted in a shortage in the supply of geogrids and investors started to hesitate to invest in businesses related to geogrids and construction. Geogrids require raw materials to be produced such as copper, aluminum, fixtures, steel, et cetera. The pandemic resulted in a lockdown, and the supply chain was disrupted affecting the supply of raw materials and causing labor shortages in the construction business, thereby hampering the market growth during the pandemic.
Geogrid Market: Growth Drivers
Urbanization to boost market growth due to increased construction
Because of their favorable properties, such as high ductile strength, ease of handling, and environmental protection, the construction industry's rising infrastructure advancement activities and development are likely to expedite the market expansion. The construction industry in developing countries is booming, because of rapid urbanization, growing population, and upcoming infrastructural projects. As a result, the geogrid industry is likely to increase significantly in the future years.
Geogrid Market: Restraints
Supply chain disruptions and pandemic restrictions to restrain the market
The COVID-19 epidemic has wreaked havoc on global supply chains in unexpected ways. Supply-demand mismatches have forced geogrid producers in a variety of industries to deal with issues such as increased material prices, transportation interruptions, port congestion, and changing consumer behavior. All these factors have stymied the market growth.
Geogrid Market: Opportunities
Demand for sustainable geogrid is on the rise
Sustainability has become the focus of construction in the current times, especially for home improvement projects and housing plans. Sustainable buildings focus on using eco-friendly materials for constriction, that also have high-quality imported granular fills. The North American market is considered the most promising region in terms of home construction and expansion of metropolitan cities.
Geogrid Market: Challenges
Increased need for trained and skilled laborers for the installation
Geogrids are used by both governments as well as the private sector to establish foundations for infrastructures over soft and hard soil. Being a discovery, it was brought into the construction industry quite recently. Installation requires a systematic product installation to help withstand heavy pressure and ensure the safety & durability of the overhead structure. To do so, a skilled labor force is required, who ensure proper installation. Lack of these along with wrong installation techniques acts as a challenge for the global geogrid market.
Geogrid Market: Segmentation Analysis
The global market is bifurcated on the basis of material, product, application, and region. The market is divided into three categories based on the materials used: HDPE, polypropylene, and polyester. Polyester is the most demanding type of geogrid as of 2021, given its advantages of head resistance, increased life span, elasticity, lightweight, and cost-saving. HDPE is the least popular variety, due to its use in soil reinforcement. Since soil reinforcement is the least contributing segment in a type of geogrid, it affects the HDPE segment as well.
The market is divided into three categories based on product: uniaxial, biaxial, and multiaxial.
In terms of application, geogrids can be identified as road construction, railroad, soil reinforcement, and others. Road construction and railroad cover the majority share of the geogrid market. This is due to the increased demand for port area constructions, airports, and heavy-duty roads which increase the construction segment increasing demand for geogrids.
Recent Developments
In March 2021, HUESKER Synthetic GmbH, a Germany-based company, launched a new sustainable geogrid model named Fortrac T eco PET recycled geogrid, which is made following the European Standard EN 15804 to ensure sustainability in terms of resource use, waste recycling, and environmental impact.
In December 2021, Commercial Metals Company acquired a key player, Tensar Corporation. This resulted in a steady supply of raw materials for Tensar and established Commercial Metals Company as a leader in the construction business. Regular mergers and acquisitions across the geogrid industry are resulting in the development of new products, and expansion of leadership amidst the companies.
Geogrid Market Report Scope:
Report Attributes
Report Details
Report Name
Geogrid Market Research Report
Market Size in 2021
USD 2.01 Billion
Market Forecast in 2030
USD 1.15 Billion
Compound Annual Growth Rate
CAGR of 4.71%
Number of Pages
183
Forecast Units
Value (USD Billion), and Volume (Units)
Key Companies Covered
Tensar Corporation, Reed & Graham Inc., BPM Geosynthetics, Solmax International, Inc., Strata Systems, Inc., Huesker Synthetic GmBH, BOSTD Geosynthetics Qingdao Ltd., Naue GmBH and Co. Kg, Tmp Geosynthetics
Segments Covered
By Material, By Product Built, By Application and By Region
Regions Covered
North America, Europe, Asia Pacific (APAC), Latin America, Middle East and Africa (MEA)
Countries Covered
North America: U.S and Canada
Europe: Germany, Italy, Russia, U.K, Spain, France, Rest of Europe
APAC: China, Australia, Japan, India, South Korea, South East Asia, Rest of Asia Pacific
Latin America: Brazil, Argentina, Chile
The Middle East And Africa: South Africa, GCC, Rest of MEA
Base Year
2021
Historical Year
2016 to 2020
Forecast Year
2022 - 2030
Customization Scope
Avail customized purchase options to meet your exact research needs. Request For Customization
Geogrid Market: Regional Landscape
North America is likely to dominate the market during the forecast period
North America has the highest proportion of the global geogrid market. Manufacturers' focus in the United States is expected to boost the regional market. The increased government investment in building projects has resulted in a significant increase in infrastructure development.
The rapid economic and infrastructural growth in European countries like Germany, France, Greece, the United Kingdom, and Italy has made Europe one of the most significant marketplaces.
The industrial and fiscal progress of developing countries in the Asia Pacific such as India, South Korea, and China is propelling the market to new heights.
Geogrid Market: Competitive Landscape
Key players are known in the market for their quality products, advanced materials, and reasonable prices. This helps the companies grow their consumer base while holding a major share of the market. The important providers in the global geogrid market are:
Tensar Corporation
Reed & Graham Inc.
BPM Geosynthetics
Solmax International, Inc.
Strata Systems, Inc.
Huesker Synthetic GmBH
BOSTD Geosynthetics Qingdao Ltd.
Naue GmBH and Co. Kg
Tmp Geosynthetics
The global geogrid market is segmented as follows:
By Material
By Product Built
Uniaxial
Biaxial
Multiaxial
By Application
Road Construction
Railroad
Soil Reinforcement
Others
By Region
North America
Europe

France
The UK
Spain
Germany
Italy
Rest of Europe

Asia Pacific

China
Japan
India
South Korea
Southeast Asia
Rest of Asia Pacific

Latin America

Brazil
Mexico
Rest of Latin America

Middle East & Africa

GCC
South Africa
Rest of Middle East & Africa