Market Overview
The global Generic Drugs market accounted for USD 515.0 billion in 2020 and is expected to reach USD 1,042.1 billion by 2028, growing at a CAGR of around 9.4% between 2021 and 2028.
Pharmacology is the study of drugs and medicines, including their uses, effects, and characteristic. Generic drugs are chemically identical to their branded counterparts. Although, generic drugs are bioequivalent to branded drugs, they are sold at the significant discount from branded drugs prices. As per the FDA approval, the generic drug should contain the same active ingredient as their branded counterpart; it should be bioequivalent and should meet batch requirements for identity, quality, purity, and strength. It should be identical on the route of administration and dosage form. It should be manufactured under the same rules and regulation of FDA's good manufacturing practice required for branded drugs. Generic drugs manufacturing companies are capable of selling generic drugs at the lower price because they are not required to repeat costly clinical trials and pay for marketing and promotion strategies.
India is the largest provider of generic drugs across the globe. Pharmaceutical sector in India supplies over 50% of global demand for various vaccines, 40% of generic demand in the US and 25% of all medicine in the UK. India ranks 3rd in terms of production of various Pharma medicines by volume and 14th by value.
COVID-19 Impact Analysis:
The pandemic has led to increase the demand for drugs and APIs, those used against malaria are most in the demand and then antibiotics and antivirals. A second wave of deficiency is observed among various diseases patients which is needed to care. As the pandemic progresses, the manufacturer of generic drugs work around the clock to ensure American patients have access to drugs they need.
The covid-19 has created an opportunity for the numbers of patients as there is high chances of adverse health effects of covid-19 on the people. However, the covid-19 has positively impacted on the generic drugs market.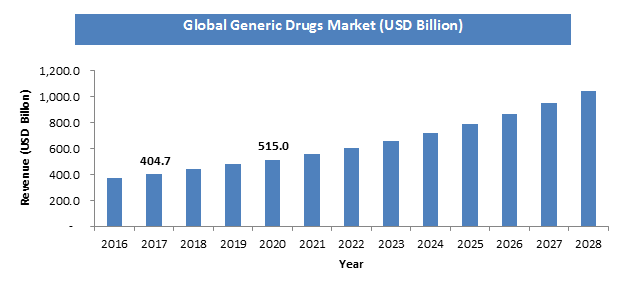 Request Free Sample
Growth Factors
Globally, the market for the generic drug has been propelled by new government initiatives to produce generic drugs and mainly to promote the use of generic drugs against chronic diseases. Patent expiration of branded drugs is one of the key influencers for the growth and prime reason for generating more revenue for generic drugs market. Moreover, new emerging markets of developing countries and low cost of generic drugs are majorly responsible for thickening the growth of generic drugs market. In spite of this, the market is affected by high competition within the globe and it is due to, economic expenditure required for the production of generic drugs is the very low thus number of leading companies taking interest in the production of generic drugs. In future, new developing and uncovered markets may responsible for the generation of new opportunities.
Report Scope: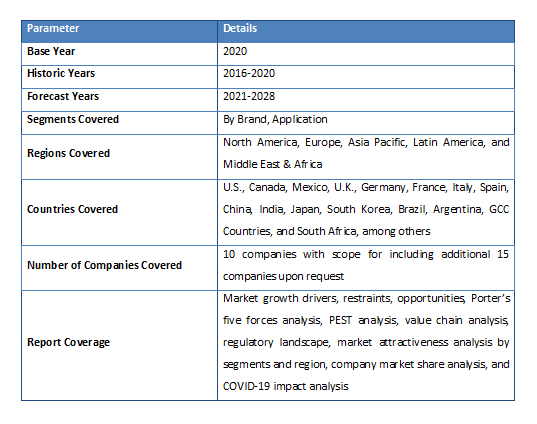 Request Free Sample
Segment Analysis Preview
Based on the various types of Generic Drugs, the global Generic Drugs market is segmented into pure generic drugs and Branded generic drugs.
The market of the generic drug has been segmented on the basis of the brand as pure generic drug and branded generic drugs. Branded generic drugs are marketed under another company's brand name but they are bioequivalent to their generic counterparts. Due to high involvement of companies in manufacturing pure generic drugs, pure generic drug segment is dominating the market.
Application Analysis Preview
Based on the application the market of generic drugs has been segmented as central nervous system (CNS), cardiovascular, dermatology, oncology, respiratory and others. With more than 20.5% revenue contribution, the cardiovascular segment was leading the generic drug market in 2020 due to a number of patent expiries of cardiovascular drugs. With more than 15.2% revenue contribution, central nervous system (CNS) will show significant growth in the forecast period.
Regional Preview
North America is dominating the generic drug market due to high demand and increasing the prevalence of chronic diseases. Asia-Pacific is expected to show good growth in the forecast period. In Asia Pacific, India and China are leading countries in the genetic drug market.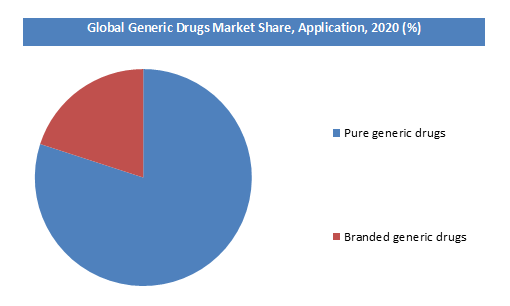 Request Free Sample
Key Market Players & Competitive Landscape
The major players operating Generic Drugs market are Teva Pharmaceutical Industries Ltd., Novartis International AG, Mylan N.V., Abbott Healthcare Pvt. Ltd., Actavis Pharmaceuticals and Sun Pharmaceuticals.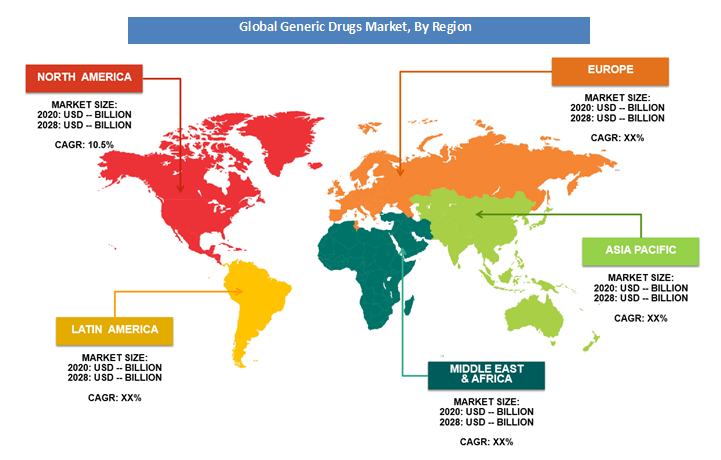 Request Free Sample
The global Generic Drugs market is segmented as follows:
By Brand
Pure generic drugs
Branded generic drugs
By Applications
Central nervous system (CNS)
Cardiovascular
Dermatology
Oncology
Respiratory
Others
By Region
North America
Europe

France
The UK
Spain
Germany
Italy
Rest of Europe

Asia Pacific

China
Japan
India
South Korea
Southeast Asia
Rest of Asia Pacific

Latin America

Brazil
Mexico
Rest of Latin America

Middle East & Africa

GCC
South Africa
Rest of Middle East & Africa