Abstract
The report covers a forecast and an analysis of the gas detection equipment market on a global and regional level. The study provides historical data from 2016 to 2018 along with a forecast from 2019 to 2027 based on revenue (USD Million) and volume (K Units). The study includes the drivers and restraints of the gas detection equipment market. It also provides the impact of the market within the forecast period. Furthermore, the study also includes the opportunities accessible within the gas detection equipment market on a global level.
In order to offer the users of this report, a comprehensive view of the gas detection equipment market, we have enclosed a detailed value chain analysis. To know the competitive landscape within the market, an analysis of Porter's Five Forces model for the gas detection equipment market has also been enclosed. The study includes a market attractiveness analysis, wherein all the segments are benchmarked supported their market size, growth rate, and general attractiveness.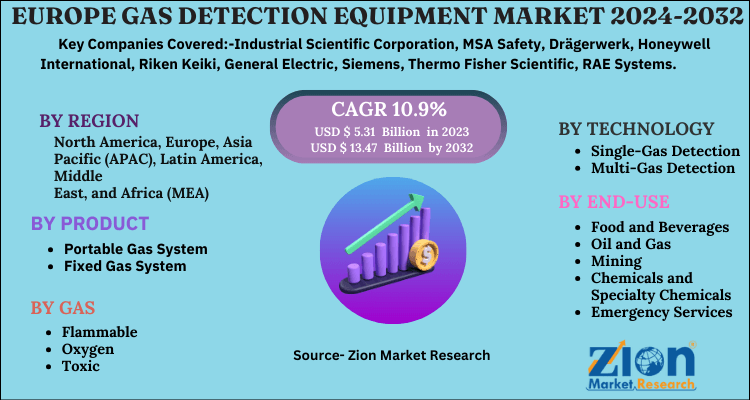 The study also includes the market share of the key participant's operating in the gas detection equipment market across the globe. Additionally, the report covers the strategic development together with acquisitions & mergers, agreements, partnerships, collaborations, and joint ventures, and regional growth of key players within the market on a regional basis.
The study provides a crucial view of the gas detection equipment market by segmenting it based on product type, gas type, technology type, end-use, and region. All the segments have been analyzed based on present and future trends and the market is estimated from 2019 to 2025. The regional classification includes Europe, North America, Latin America, Asia Pacific, and the Middle East and Africa along with the key countries like the U.S., UK, Germany, France, China, Japan, India, Brazil, and South Africa.
The major players of the global gas detection equipment market are Industrial Scientific Corporation, MSA Safety, Drägerwerk, Honeywell International, Riken Keiki, General Electric, Siemens, Thermo Fisher Scientific, RAE Systems, Emerson Electric, Sensor Electronics, ESP Safety, Airtest Technologies, Tyco International, and Trolex.
This report segments the global gas detection equipment market into:
Global Gas Detection Equipment Market: Product Type Analysis
Portable Gas System
Fixed Gas System
Global Gas Detection Equipment Market: Gas Type Analysis
Global Gas Detection Equipment Market: Technology Type Analysis
Single-Gas Detection
Multi-Gas Detection
Global Gas Detection Equipment Market: End-Use Analysis
Food and Beverages
Oil and Gas
Mining
Chemicals and Specialty Chemicals
Emergency Services
Water Treatment
Power Generation/Utilities
Building Automation and Construction
Semiconductors
Others
Global Gas Detection Equipment Market: Regional Analysis
North America
Europe
Asia Pacific
Latin America
Middle East and Africa