Industry Prospective:
The Garlic Extract Market was worth around USD 12827.9 million in 2021 and is estimated to grow to about USD 15677.57179 million by 2028, with a compound annual growth rate (CAGR) of approximately 3.4 percent over the forecast period. The report analyzes the digital remittance market's drivers, restraints/challenges, and the effect they have on the demands during the projection period. In addition, the report explores emerging opportunities in the digital remittance market.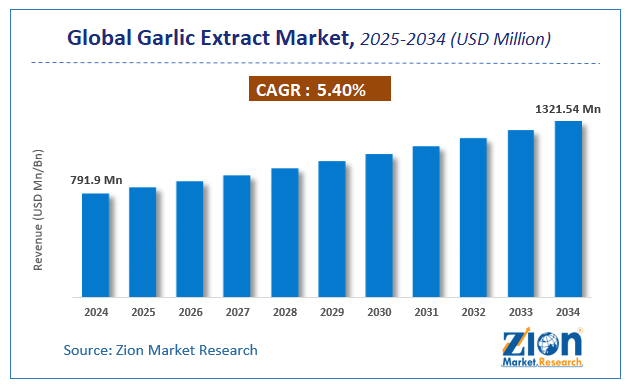 Request Free Sample
Garlic Extract Market: Overview
Garlic extract is the extract of alcohol that emanates from the garlic plant or garlic bulb. The garlic plant has historically been considered beneficial to human health for a long time and has been used as an anthelmintic, rubefacient, anti-infective, and antihypertensive. With its universal flavor, the taste of garlic extract is pungent, yet sweet, subtle, and bold. It has several applications in the pharmaceutical, food, and cosmetics & personal care industries. The global market for garlic extract is growing rapidly and is estimated to record a significant growth rate over the forecast timeframe. The growth of the garlic extract market is mainly due to the increasing consumption of garlic extract in food preparation, the rising number of fast-food services, the rapidly evolving cosmetics industry, and because of its health benefits and antioxidant properties.
China is the leading producer of garlic accounting for 20.7 million metric tons followed by India with 2.9 million metric tons in 2020 according to the Food and Agriculture Organization. The other three top producing countries of garlic include South Korea, Egypt, and Russia. It is the most important crop in Asia-Pacific and therefore APAC dominates the global market, in terms of the consumption of garlic extract.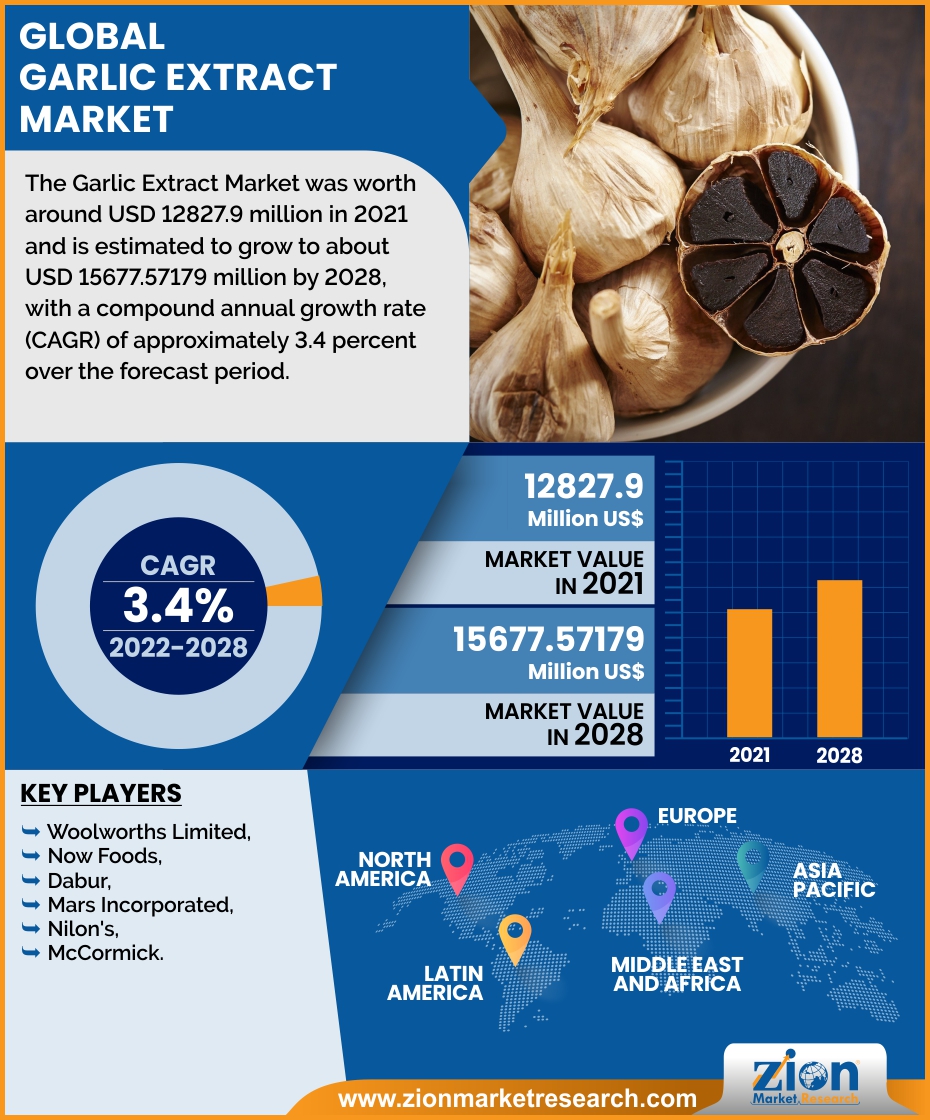 Request Free Sample
COVID-19 Impact:
COVID-19 pandemic has a direct and negative impact on the garlic extract market globally. China, being the largest producer of garlic, accounts for 80% of all production, and with the escalation of COVID-19, all supplies from China have decreased and garlic prices have increased drastically. With the intensification of conditions in COVID-19, demand for garlic has reduced. During the lockdown, the market value of garlic decreased. Restaurants have been the primary consumers of garlic, and since they cannot serve their foods due to blackout restrictions, it is not uncommon for restaurants to close. As a result, this leads to a sharp decline in sales from that kind of industry.
Garlic Extract Market: Growth Drivers
Rising demand for natural and herbal ingredients in food and beverages, cosmetics, and pharmaceuticals industries
The demand for garlic extract has rapidly increased and is largely due to the key functional properties offered by garlic, such as antioxidation, antioxidant protection, anti-inflammatory activity, and other health benefits. The increasing consciousness of health benefits associated with garlic consumption is also a great factor that is projected to fuel the demand for garlic extract over the forecast period. There are many other factors such as rising disposable incomes, changing lifestyles, and increasing health awareness among consumers that contribute to the growth of the global market.
Garlic Extract Market: Restraints
Poor climatic conditions in certain areas, lack of demand, poor extraction methods
The major restraint suffered by this market is poor climatic conditions due to which production of garlic might hamper and overall supply is reduced which leads to an increase in price and eventually the demand reduces. Poor extraction methods lead to lesser effectiveness in prevention, and potential side effects like stomachache are also restraints. There is a further need for research to improve the methods of production and promotion of garlic extract.
Global Garlic Extract Market: Report Scope:
Report Attributes
Report Details
Report Name
Garlic Extract Market
Market Size in 2021
USD 12827.9 Million
Market Forecast in 2028
USD 15677.57 Million
Compound Annual Growth Rate
CAGR of 3.4%
Number of Pages
166
Forecast Units
Value (USD Million), and Volume (Units)
Key Companies Covered
Woolworths Limited, Now Foods, Dabur, Mars Incorporated, Nilon's, and McCormick.
Segments Covered
By Product Type, By Application And By Region
Regions Covered
North America, Europe, Asia Pacific (APAC), Latian America, Middle East and Africa (MEA)
Countries Covered
North America: U.S and Canada
Europe: Germany, Italy, Russia, U.K, Spain, France, Rest of Europe
APAC: China, Australia, Japan, India, South Korea, South East Asia, Rest of Asia Pacific
Latin America: Brazil, Argentina, Chile
The Middle East And Africa: South Africa, GCC, Rest of MEA
Base Year
2021
Historical Year
2015 to 2020
Forecast Year
2022 - 2028
Customization Scope
Avail customized purchase options to meet your exact research needs. Request For Customization
Garlic Extract Market: Segmentation
Garlic Extract Market is segregated based on product form, distribution channel, and application.
By product form, the market is segmented into Powder, Paste, Oil, and Granulated. Among these, the increasing adoption of paste-form of garlic extract among various hotels, restaurants, and others as the main cooking ingredient to enhance food flavor in their dishes is one of the primary factors that is leading to the growing revenue of the pasted segment among the product form segments.
By application, the market is segmented into Food Industry, Cosmetics Industry, and Pharmaceutical. The food industry segment is forecasted to witness the highest growth in the global garlic extract market, owing to the high use of garlic extract as a primary ingredient for the preparation of various food products including fast foods. It is followed by the pharmaceutical industry because of the medicinal qualities of garlic extract and is adopted majorly in the APAC region.
Recent Developments
In 2022, Daiya, a dairy-free cheese brand introduced its latest cream cheese flavor, Roasted Garlic & Herbs made with real pieces of roasted garlic, herbs, and decadent coconut cream. This is the latest addition to its recently reformulated plant-based cream cheese line.

Five new garlic processing units are expected to come up in Ratlam, India by the end of 2022 to set up manufacturing facilities for garlic powder, paste, and peeling units.
Regional Landscape
Asia Pacific market leads the global garlic extract market and is expected to keep on dominating over the forecast period because it is the major producer as well as consumer of garlic. It is used as a basic ingredient for the preparation of different cuisine in the countries such as India, China & Thailand. In China and India, it is also majorly used for medicinal purposes as garlic extract has antioxidant properties and the ability to boost immunity. Garlic is Korea's most important export, under $700 million per year, with China leading the way. India and Southeast Asia follow in second and third, respectively. The North American region is also expected to account for a considerable share of the global garlic extract market in the forecast timeframe. The European garlic extract market is projected to register stable growth during the forecast time period because of the increasing consumer inclination toward herbal medicines.
Competitive Landscape
Some of the main competitors dominating the Garlic Extract Market include - Woolworths Limited, Now Foods, Dabur, Mars Incorporated, Nilon's, and McCormick.
The garlic Extract Market is segmented as follows:
By Product Form
Powder
Paste
Oil
Granulated
By Distribution Channel
Online Sales
Supermarket
Specialty Stores
Hypermarket
By Application
Food Industry
Cosmetics Industry
Pharmaceutical
By Region
North America
Europe

France
The UK
Spain
Germany
Italy
Rest of Europe

Asia Pacific

China
Japan
India
South Korea
Southeast Asia
Rest of Asia Pacific

Latin America

Brazil
Mexico
Rest of Latin America

Middle East & Africa

GCC
South Africa
Rest of Middle East & Africa