Industry Prospective:
The global game-based learning market size was worth around USD 10.9 Billion in 2022 and is predicted to grow to around USD 52.8 Billion by 2030 with a compound annual growth rate (CAGR) of roughly 19.51% between 2023 and 2030. The report analyzes the global game-based learning market drivers, restraints/challenges, and the effect they have on the demands during the projection period. In addition, the report explores emerging opportunities in the game-based learning market.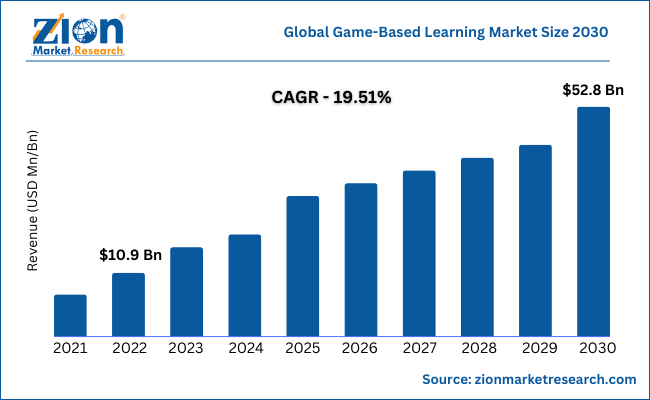 Request Free Sample
Game-Based Learning Market: Overview
The game-based learning industry refers to the utilization of game-like or gaming environments as a primary tool for imparting education or conducting learning and training sessions. The main components involved in the proper functioning of the industry are software, hardware, and service-related tools that are used across educational units like training centers, universities, and schools. The industrial application goes beyond the learning sessions conducted for younger students and can be applied to corporate or government-related training as well.
Game-based training is significantly different from traditional methods of conducting learning programs since the former tends to be more engaging & interactive and it makes use of various audio or video tools to motivate the learners thus leading to a higher retention rate. This method is generally considered more appealing for the younger generation since they are already used to playing advanced video games and are comfortable with using digital mediums for education. The industry is projected to grow rapidly during the forecast period but may also come across certain challenges and restraints.
Key Insights
As per the analysis shared by our research analyst, the global game-based learning market is estimated to grow annually at a CAGR of around 19.51% over the forecast period (2023-2030)
In terms of revenue, the global game-based learning market size was valued at around USD 10.9 billion in 2022 and is projected to reach USD 52.8 billion, by 2030.
The game-based learning market is projected to grow at a significant rate due to the growing application of technology in the education sector
Based on platform segmentation, online was predicted to show maximum market share in the year 2022
Based on end-user segmentation, education was the leading user in 2022
On the basis of region, North America was the leading revenue generator in 2022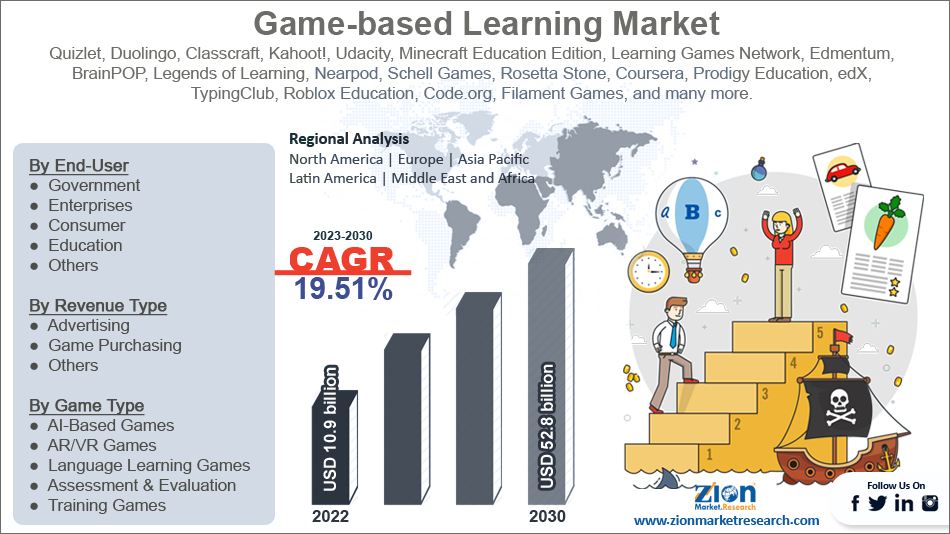 Request Free Sample
Game-Based Learning Market: Growth Drivers
Growing application of technology in the education sector to propel market demand
The global game-based learning market is anticipated to register a high CAGR during the forecast period owing to the increasing adoption of advanced technology in the education sector. This assists learning centers to provide a more comprehensive, engaging, and immersive experience to the students. The use of advanced tools can help students better understand complex problems and improve their problem-solving and decision-making skills. Furthermore, the incorporation of technology for conducting knowledge sessions allows access to higher resources like videos, digital textbooks, and online information which strengthens the overall impact of the session. It offers better collaboration between students & teachers and creates a healthy environment that is open for communication, idea generation, and debates. Technology has become essential since it enables students to become future-ready. The growing realization of this aspect in the education sector is expected to propel the demand for game-based learning which is known to have a significant impact on students in terms of learning.
Game-Based Learning Market: Restraints
Lack of infrastructure to restrict the market growth
Although game-based learning is gaining popularity, there is a substantial lack of development of essential resources or infrastructure that promotes higher adoption of these learning methods, especially in countries where the educational sector is not equipped with basic necessities. Additionally, it is not necessary that every student will have access to game-based learning since most of these sessions are conducted using digital systems. There are several nations that do not have a well-developed education sector leaving a large segment of students left out from benefiting from advanced tools.
Game-Based Learning Market: Opportunities
Rising investments toward advanced technologies to provide growth opportunities
Since the game-based learning industry holds tremendous potential, it is witnessing a large pool of investment directed toward the development of advanced tools like augmented reality (AR) or virtual reality which can improve the overall impact of game-based learning applications. In addition to this, the growing initiatives toward integrating artificial intelligence (AI) and big data analytics could work in the favor of the industry since it can assist in generating customized learning sessions depending on the requirements and needs of the students.
Game-Based Learning Market: Challenges
Lack of standardization is a challenge posing threat to the industry
The game-based learning industry players struggle with the lack of standardization in the market. This makes it difficult for consumers to understand the difference in the quality of products or services offered by different products that are available in the commercial world. Furthermore, the industry players also do not have access to any certain benchmarks leading to more confusion and every player working on their respective understanding of the key deliverables.
Game-Based Learning Market: Segmentation
The global game-based learning market is segmented based on end-user, revenue type, platform, game type, and region
Based on end-user, the global market segments are government, enterprises, consumers, education, and others.
The education segment led the game-based learning industry growth in 2022 and is expected to continue its dominance by 2030
Educational institutes are the largest consumers of game-based learning, especially for younger students studying in the pre-primary or K-12 segments
Universities and colleges are increasingly investing in the deployment and adoption of advanced game-based learning tools to improve the quality of learning sessions
Governments and enterprises generally use this system to provide necessary training to the employed personnel
As per LearnExperts, in 2022, large companies spent an average of USD 1689 per employee for training purposes
Based on revenue type, the global market divisions are advertising, game purchasing, and others.
Based on platform, the global market segments are offline and online.
The year 2022 witnessed the highest growth in the online game-based learning segment mainly as a direct consequence of Covid-19 which forced my educational institutes to adopt online learning culture in 2020
There are several online platforms that are created targeting a specific audience and the number of products available online is increasing consistently
For instance, BrainPOP, an online game-based learning program that targets K-12 students currently has more than 6 million registered users. As per company claims it is currently used in 180 countries for in-class sessions
Based on game type, the game-based learning industry is divided into AI-based games, AR/VR games, language learning games, assessment & evaluation games, and training games.
Recent Developments:
In December 2021, WhiteHat Jr, an online education platform for kids teaching them coding from a young age, collaborated with Microsoft, a technology giant, to develop a new game-based learning tool for the students. The agencies will make use of the popular video game Minecraft to act on their vision of delivering immersive educational experiences to young learners
In January 2023, Imarticus Learning, an educational platform based on technological teachings, introduced the StartOnBoard tool which is a game-based solution developed especially for business-to-business requirements of onboarding employees, products, and processes
In March 2023, Kahoot!, a popular player in the industry, collaborated with the Museum of Science (Boston) with the aim to bring Science, Technology, Engineering, and Mathematics (STEM) learning to classrooms globally
Game-Based Learning Market: Report Scope
Report Attributes
Report Details
Report Name
Global Game-based Learning Market Research Report
Market Size in 2022
USD 10.9 Billion
Market Forecast in 2030
USD 52.8 Billion
Growth Rate
CAGR of 19.51%
Number of Pages
210
Key Companies Covered
Quizlet, Duolingo, Classcraft, Kahoot!, Udacity, Minecraft Education Edition, Learning Games Network, Edmentum, BrainPOP, Legends of Learning, Nearpod, Schell Games, Rosetta Stone, Coursera, Prodigy Education, edX, TypingClub, Roblox Education, Code.org, Filament Games, and many more are the key contributors in the global game-based learning market.
Segments Covered
By End-User, By Revenue Type, By Platform, By Game Type, And By Region
Regions Covered
North America, Europe, Asia Pacific (APAC), Latin America, Middle East, and Africa (MEA)
Base Year
2022
Historical Year
2017 to 2021
Forecast Year
2023 - 2030
Customization Scope
Avail customized purchase options to meet your exact research needs. Request For Customization
Game-Based Learning Market: Regional Analysis
North America to hold its dominance over the industry
The global game-based learning market is projected to register the highest growth in North America owing to the exceptionally advanced educational infrastructure of the US and Canada. The increasing adoption of game-based learning across educational tiers starting from nursery to higher education is a strong factor that contributes to regional growth. Furthermore, a lot of universities are either developing in-house game-based learning tools for specific requirements or collaborating with technology companies to introduce new products in the market. Europe is second in terms of regional expansion with Germany and the UK as the largest shareholders. Increasing use of digital systems and technology across the corporate sector along with improving the educational resources available at the student's disposal are primary factors for growth in Europe. The rising online education segment in Asia-Pacific could act as a revenue propeller for the region during the forecast period.
Game-Based Learning Market: Competitive Analysis
Quizlet
Duolingo
Classcraft
Kahoot!
Udacity
Minecraft Education Edition
Learning Games Network
Edmentum
BrainPOP
Legends of Learning
Nearpod
Schell Games
Rosetta Stone
Coursera
Prodigy Education
edX
TypingClub
Roblox Education
Code.org
Filament Games
The global game-based learning market is segmented as follows:
By End-User
Government
Enterprises
Consumer
Education
Others
By Revenue Type
Advertising
Game Purchasing
Others
By Platform
By Game Type
AI-Based Games
AR/VR Games
Language Learning Games
Assessment & Evaluation Games
Training Games
By Region
North America
Europe

France
The UK
Spain
Germany
Italy
Rest of Europe

Asia Pacific

China
Japan
India
South Korea
Southeast Asia
Rest of Asia Pacific

Latin America

Brazil
Mexico
Rest of Latin America

Middle East & Africa

GCC
South Africa
Rest of Middle East & Africa