Industry Prospective:
The global functional electrical stimulation market size was worth around USD 600 million in 2021 and is predicted to grow to around USD 830 million by 2030 with a compound annual growth rate (CAGR) of roughly 4.15% between 2022 and 2030. The report analyzes the global functional electrical stimulation market's drivers, restraints/challenges, and the effect they have on the demands during the projection period. In addition, the report explores emerging opportunities in the functional electrical stimulation market.
Functional Electrical Stimulation Market: Overview
Functional electrical stimulation is a medical technique used for patients who have suffered from paralysis to regain mobility. The technique involves applying small electric charges to the patient's muscles to contract them in a way that can aid in performing functions like standing, walking, holding a toothbrush, grasping a key, etc.
Functional electrical stimulation was initially deemed as an assistive device but with intensive research and clinical trials, currently, the technique has gained high therapeutic importance with multiple clinicians using it for patients who have suffered from paralyzed body parts and to help them with regaining movement capabilities. Two of the major reasons for paralysis involve a stroke or a spinal cord injury.
A stroke refers to the death of brain tissue owing to a disruption in blood supply. 87% of strokes are ischemic strokes which means they occur because of a ruptured blood cell. Spinal cord injury occurs when there is damage due to the cord resulting in loss of motor or sensory function. Suffering from mobility loss can lead to deterioration of well-being and hence many patients try different measures to regain movement strength with functional electrical stimulation being a preferred choice. FES can be used to restore mobility pertaining to muscle movement, and bladder & bowel control. The technique has been extremely helpful in other areas like treating pressure sores or ulcers, restoring breathing, and reducing pain by blocking pain-related signals to the brain.
Key Insights
As per the analysis shared by our research analyst, global functional electrical stimulation is estimated to grow annually at a CAGR of around 4.15% over the forecast period (2022-2030).
In terms of revenue, the functional electrical stimulation size was valued at around USD 600 million in 2021 and is projected to reach USD 830 million, by 2030. Due to a variety of driving factors, the market is predicted to rise at a significant rate.
Based on indication segmentation, neurological disorders were predicted to show maximum market share in the year 2021
Based on end-user segmentation, hospitals were the leading revenue-generating end-users in 2021.
On the basis of region, North America was the leading revenue generator in 2021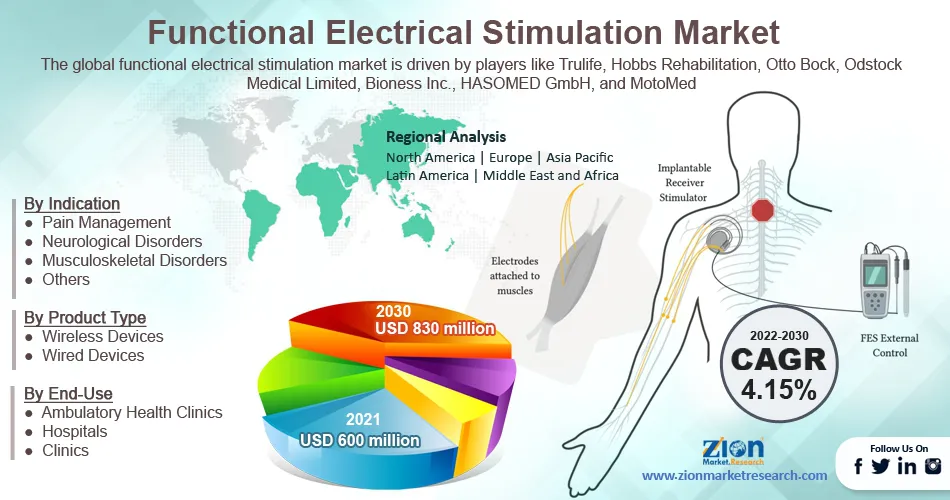 Request Free Sample
Covid-19 Impact:
The global market cap witnessed significant growth because of the onset of Covid-19. The reasons can be attributed to the rise in the number of Covid-19 related strokes resulting in paralysis. The Covid-19 virus was extremely unpredictable and had different impacts on different individuals, and in many cases left long-term after-effects resulting in a growth in the number of patients who had to receive medical treatments for other medical conditions like limb mobility as a consequence of Covid-19 infection.
As per official research reports, the virus was responsible for increasing the risk of ischemic stroke. Out of 8163 patients that were studied to understand the correlation between the virus and stroke, around 103 patients developed ischemic stroke although the chances of suffering from stroke were higher in case of the presence of other cardiovascular diseases.
Functional Electrical Stimulation Market: Growth Drivers
Rising central nervous system disorders to propel market growth
The global functional electrical stimulation market cap is anticipated to be driven by the rise in CNS disorders that impact the structure of functions of the spinal cord or the brain. In the majority of CNS cases, the patients are known to suffer from either partial or full paralysis, especially if the spinal cord is greatly damaged. CNS may occur due to a majority of reasons including but not limited to trauma, degeneration, CNS tumors, stroke, autoimmune diseases, structural defects, and others.
The growing trend of the rise in other musculoskeletal disorders may also aid global market growth. MSD refers to injuries related to nerves, muscles, joints, tendons, spinal discs, and cartilage. The three most common forms of MSD are arthritis, back pain, and trauma. Such disorders if left untreated may lead to the patient losing the natural mobility of body parts thus propelling the use and demand of functional electrical stimulation.
As per National Center for Posttraumatic Stress Disorder (PTSD), 6 out of 10 men, and 5 out of every 10 women suffer from some form of trauma once in their lifetime. In case, the trauma is relatively more severe and leaves a long-lasting impact, the brain function may get disrupted resulting in loss of movement of certain body parts. The changes in medical personnel recommending FES as a part of the treatment plan are extremely high given the positive results experienced by many patients from FES treatments.
Functional Electrical Stimulation Market: Restraints
Risks associated with FES to restrict market cap expansion
Since FES deals with a low voltage of electric current, electrodes form an essential part of the treatment procedure as they are placed on the skin to pass the controlled electric current. Even though the process is non-invasive and is not dangerous when used by experienced professionals, there are some risks associated with the treatment pertaining to the position of the electrodes that are placed under the skin or in deep tissue. These risks involve infection at the electrode position, broken wires, formation of scar tissue, etc. However, in the case of electrodes that are placed externally have not been reported to show any side effects.
Functional Electrical Stimulation Market: Opportunities
Growing research in FES to provide market expansion opportunities
Functional electrical stimulations have been in existence since the 1960s. With every passing year, more research was conducted to understand and upgrade the process of FES looking at its high potential. As of 2022, a large number of private companies and government entities are investing in the field of functional electrical stimulation to enhance its applications and make it affordable for low-income groups as well thus improving patient reach. Such factors are anticipated to provide lucrative growth opportunities for global functional electrical stimulation market growth.
Functional Electrical Stimulation Market: Challenges
High cost of FES treatment to challenge the market expansion
Since FES systems may range anything from USD 4000 to USD 14000, the final cost of the treatment is generally high, especially in developing countries with lower-income populations. The medical treatment cost depends on the device that is used on the patients and the length of the treatment prohibiting a higher adoption rate. The high variation in treatment costs may inhibit global market expansion unless the healthcare sector works towards standardizing treatment expenses for the general population.
Functional Electrical Stimulation Market: Segmentation
The global functional electrical stimulation market is segmented based on indication, product type, end-user, and region.
By indication, the global market segments are pain management, neurological disorders, musculoskeletal disorders, and others. Neurological disorders generate high revenue in the global market share owing to increasing cases of learning disabilities, epilepsy, autism, and cerebral palsy. As per the Center for Disease Control and Prevention (CDC), USA, more than 3.4 million people were reported to be diagnosed with epilepsy in the year 2015
Based on product type, the global market is segmented into wireless devices and wired devices. Due to various risks associated with wired devices, the healthcare community is moving towards wireless devices to enhance the treatment experience. However, currently, the global market is dominated by the wired segment owing to the relatively lesser cost of treatment. The implanted electrodes carry an electric charge of 25mA.
By end-user, the global market segments are ambulatory health services, hospitals, and clinics. The highest revenue is generated from the hospital segment owing to increased patient admission and repeated appointments. As per reports from World Health Organization, more than 1 billion of the world's population show signs of neurological disorders that need extensive medical care
Recent Development:
In October 2020, The US Food and Drug Administration approved g.Estim FES developed by g.tec medical engineering Gmbh. The product is a neuromuscular electrical stimulator to be used under extreme supervision for various medical conditions and diseases as an adjunctive therapy.
In March 2019, Innovative Neurological Devices, US, an Indiana-based firm, announced FDA approval of the Cervelli Cranial Electrotherapy Stimulator to be used for the treatment of insomnia, depression, and anxiety. The product has been recently termed an award-winning nondrug treatment for disorders.
Functional Electrical Stimulation Market Report Scope:
Report Attributes
Report Details
Report Name
Functional Electrical Stimulation Market Research Report
Market Size in 2021
USD 600 Million
Market Forecast in 2030
USD 830 Million
Compound Annual Growth Rate
CAGR of 4.15%
Number of Pages
204
Forecast Units
Value (USD Million), and Volume (Units)
Key Companies Covered
Trulife, Hobbs Rehabilitation, Otto Bock, Odstock Medical Limited, Bioness Inc., HASOMED GmbH, and MotoMed
Segments Covered
By Indication, By Product Type, By End-User and By Region
Regions Covered
North America, Europe, Asia Pacific (APAC), Latin America, Middle East and Africa (MEA)
Countries Covered
North America: U.S and Canada
Europe: Germany, Italy, Russia, U.K, Spain, France, Rest of Europe
APAC: China, Australia, Japan, India, South Korea, South East Asia, Rest of Asia Pacific
Latin America: Brazil, Argentina, Chile
The Middle East And Africa: South Africa, GCC, Rest of MEA
Base Year
2021
Historical Year
2016 to 2020
Forecast Year
2022 - 2030
Customization Scope
Avail customized purchase options to meet your exact research needs. Request For Customization
Functional Electrical Stimulation Market: Regional Analysis
North America to generate the highest revenue during the forecast period
The global functional electrical stimulation market is anticipated to be dominated by North America in the coming years driven by the increasing population suffering from stroke, paralytic attacks, cerebral palsy, and other musculoskeletal disorders. One of the major reasons for the high prevalence of stroke patients is the high obesity index due to poor eating habits and unhealthy lifestyles.
The regional growth may also be propelled by the growth in the number of patients suffering from chronic pain. As per CDC, more than 20.4% of the population was diagnosed with chronic pain in 2020. Such high instances of medical conditions requiring FES treatments are anticipated to aid growth in North America
Europe is showing healthy signs of growth because of the increase in work-related musculoskeletal disorders despite exhaustive efforts to prevent them. In 2015, as per European Working Conditions Survey, three in every 5 working people reported being diagnosed with MSD
Asia-Pacific may also generate high revenues owing to the increasing population and the higher demand for treatments for neurological disorders.
Functional Electrical Stimulation Market: Competitive Analysis
The global functional electrical stimulation market is driven by players like Trulife, Hobbs Rehabilitation, Otto Bock, Odstock Medical Limited, Bioness Inc., HASOMED GmbH, and MotoMed
The global functional electrical stimulation market is segmented as follows:
By Indication
Pain Management
Neurological Disorders
Musculoskeletal Disorders
Others
By Product Type
Wireless Devices
Wired Devices
By End-Use
Ambulatory Health Clinics
Hospitals
Clinics
By Region
North America
Europe

France
The UK
Spain
Germany
Italy
Rest of Europe

Asia Pacific

China
Japan
India
South Korea
Southeast Asia
Rest of Asia Pacific

Latin America

Brazil
Mexico
Rest of Latin America

Middle East & Africa

GCC
South Africa
Rest of Middle East & Africa