Global Food Irradiation Market: Size
The food irradiation market is set for a rapid growth over the forecast period. In terms of revenue, the global food irradiation market accounted for USD 196.74 Million in 2019 and is expected to reach USD 279.97 Million by 2026, growing at a CAGR of 5.17%
Global Food Irradiation Market: Overview
Food irradiation is the method of exposing food to ionising radiation to increase food safety and shelf life by reducing or removing microorganisms and insects, eliminating the risk of foodborne disease, and delaying ripening. Irradiation does not impair nutritional benefits, alter the quality, texture or taste of food or make food toxic in any noticeable way. In reality, any modification done by irradiation is so subtle that it is not easy to say whether a food has been irradiated. The Food and Drug Administration (FDA) is capable of controlling the sources of radiation applied to irradiate food. They approve a source of radiation for food use only after it has confirmed that food irradiation is safe.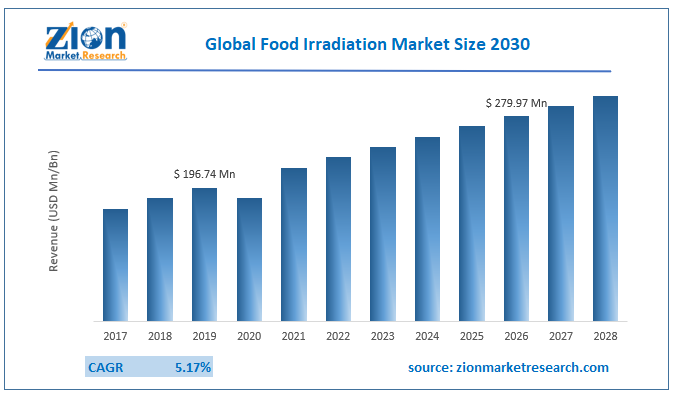 Request Free Sample
Global Food Irradiation Market: Growth Factors
The food irradiation process has many benefits that contribute to the growth of market:
Foodborne Illness Prevention – to efficiently remove pathogens that cause food poisoning, such as E. coli (Escherichia) and Salmonella
Preservation refers to the process of destroying or inactivating organisms that cause food spoilage and decomposition in order to prolong the shelf life of foods.
Insect Control – to eliminate insects in or on exotic fruits shipped into the U.S. In addition, irradiation reduces the need for other pest-control methods that may damage the fruit.
Global Food Irradiation Market: Report Scope:
Report Attributes
Report Details
Report Name
Food Irradiation Market
Market Size in 2019
USD 196.74 Million
Market Forecast in 2026
USD 279.97 Million
Compound Annual Growth Rate
CAGR of 5.17%
Number of Pages
110
Forecast Units
Value (USD Million), and Volume (Units)
Key Companies Covered
Food Technology Service Inc., Gray Star Inc., Sterigenics International Inc., Ionisos SA, Reviss Services Ltd., Nordion Inc., Sadex Corporation, Scantech Sciences Inc., Sterix Isomedix Services Inc, Tacleor LLC., and Phytosan SA De Cv among others.
Segments Covered
By Product Type, By Application And By Region
Regions Covered
North America, Europe, Asia Pacific (APAC), Latian America, Middle East and Africa (MEA)
Countries Covered
North America: U.S and Canada
Europe: Germany, Italy, Russia, U.K, Spain, France, Rest of Europe
APAC: China, Australia, Japan, India, South Korea, South East Asia, Rest of Asia Pacific
Latin America: Brazil, Argentina, Chile
The Middle East And Africa: South Africa, GCC, Rest of MEA
Base Year
2019
Historical Year
2015 to 2018
Forecast Year
2020 - 2026
Customization Scope
Avail customized purchase options to meet your exact research needs. Request For Customization
Delay Sprouting and Ripening – to prevent sprouting (e.g., potatoes) and to delay fruit ripening to extend the life of the fruit.
Sterilisation – Irradiation can be used to sterilise foods, which can then be processed without refrigeration for years. In hospitals, sterilised foods are beneficial to patients with highly compromised immune systems, such as those suffering from AIDS or undergoing chemotherapy. Irradiated foods are subjected to significantly higher levels of care than foods licensed for general consumption.
Future Developments in Irradiation
Combinations of irradiation methods and other food preservation strategies are expected to become more popular in the coming years. Combinations of technologies can reduce the amount of energy or dosage levels while still killing bacteria and spoilage microbes, leading to improved final product quality. Synergistic effects of combinations of altered atmosphere packaging, freezing, refrigeration, and heating with irradiation are promising, as is the use of edible coatings and natural antimicrobials in conjunction with irradiation.
Global Food Irradiation Market: Segmentation
The gamma radiation section continues to be favoured in terms of source. This technique is very successful due to its increased protection, effectiveness and accuracy in detecting and removing contaminants in foodstuffs. Although future growth seems stagnant in the short term due to the COVID-19 pandemic due to limited testing, the segment is expected to pick up pace after 2021 with the continuation of on-site work arrangements. Gamma irradiation is very common in the treatment of exotic fruits and vegetables.
Food companies are increasingly considering using ozone treatment to treat a wide variety of foods, from fruits and vegetables to herbs, spices, and meat. Ozone is considered as a substitute to chlorine sanitizers as an eco-friendly disinfectant. Ozone-enriched water kills bacteria as efficiently as chlorine and removes the need for sanitization workers to manage, mix, or disposal of harsh chemicals. Furthermore, since ozone quickly converts to oxygen, it leaves no residue when it gets in contact.
Global Food Irradiation Market: Regional Analysis
By Geography, the food irradiation market is segmented into North America, Europe, Latin America, Asia Pacific, and Middle East and Africa.
In Asia Pacific, the food irradiation market will continue to rise as a result of the rapidly expanding demand for processed foods and clean label coupled with growing population. India and China are expected to pivot the growth of the country.
Strong regulatory restrictions on food safety requirements and enforcement implemented by the U.S. FDA promote the development of the food irradiation industry throughout North America. The FDA has authorized a number of irradiation foods in the U.S., including pork and beef, crustaceans (e.g., shrimp, crab, and lobster), spinach and lettuce, fresh fruits and vegetables, poultry, sprouting seeds such as alfalfa sprouts, shellfish-molluscan (e.g., clams, oysters, scallops, and mussels), shell eggs, seasonings and spices.
Global Food Irradiation Market: Competitive Players
The major players in the global food irradiation market include Food Technology Service Inc., Gray Star Inc., Sterigenics International Inc., Ionisos SA, Reviss Services Ltd., Nordion Inc., Sadex Corporation, Scantech Sciences Inc., Sterix Isomedix Services Inc, Tacleor LLC., and Phytosan SA De Cv among others.
The report segment of global food irradiation market are as follows:
Global Food Irradiation Market: Technology Segment Analysis
Ultra High-Pressure Technology
Steam Pasteurization
Food Coating Technology
Ozone Treatment
Others
Global Food Irradiation Market: Source of Radiation Segment Analysis
Gamma Radiation
X-ray Radiation
Electron Beam Radiation
Global Food Irradiation Market: Food Type Segment Analysis
Fruits and Vegetables
Spices
Grain Foods
Meat and Poultry
Global Food Irradiation Market: Regional Segment Analysis
North America
Europe

France
The UK
Spain
Germany
Italy
Rest of Europe

Asia Pacific

China
Japan
India
South Korea
Southeast Asia
Rest of Asia Pacific

Latin America

Brazil
Mexico
Rest of Latin America

Middle East & Africa

GCC
South Africa
Rest of Middle East & Africa