According to the report published by Zion Market Research, global demand for Food Color Market was valued at approximately USD 4 Billion in 2019, and is expected to generate revenue of around USD 6.01 Billion by end of 2026, growing at a CAGR of around 6% between 2020 and 2026.
Global Food Color Market: Overview
Food colors are pigments, dyes, and food additives. They improve the appearance of processed and fresh food. Food colors also make up for the color losses caused by exposure to air, light, fluctuation in temperature, and moisture. They comprise components such as synthetic colors and natural colors. Food colors are extensively used in pharmaceutical, confectionery, dairy and dairy product, packaged foods, bakery, beverages, cosmetics, and others.
Global Food Color Market: Growth Factors
Changing lifestyle and globalization have led to a rise in the utilization of food colors in the growing markets. The food colors market is assumed to grow with the rising food demand. The natural colors market segment growth is determined by the consumer's inclination for healthy and natural food colors. The growth is anticipated to sustain in the coming years with the establishment of new products, new raw material sources, and color production using advanced technology.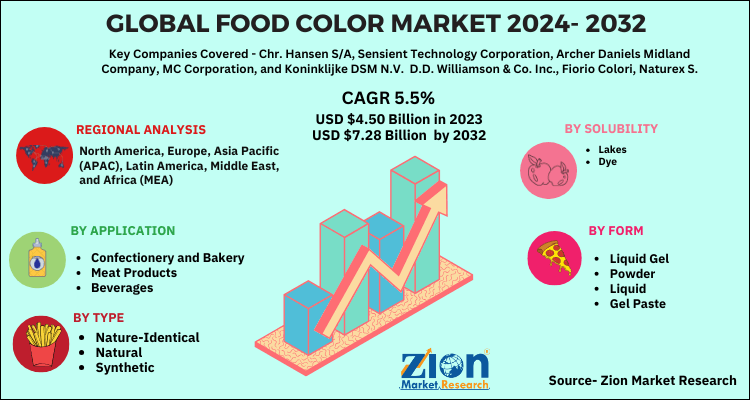 Request Free Sample
Global Food Color Market: Segmentation
The global food color market may be segmented based on application, type, solubility, and form. The application segment is divided into confectionery and bakery, meat products, and beverages. The beverages segment is expected to grow owing to the increased usage of food colors in different beverage applications such as nutritional drinks, flavored drinks, and soft drinks such as nectars and fruit juices. The type segment of the global food color market is classified into nature-identical, natural, and synthetic. The natural colors segment market is assumed to grow at a fast pace due to the increasing demand for food color obtained naturally and health advantages of specific natural colors. The solubility segment of food color market is diversified into lakes and dyes. The dyes segment is estimated to grow in the near future owing to the broad use in various applications such as dry mixes, dairy products, confections, beverages, pet foods, baked goods, and various other products, due to their characteristics such as brighter coloring with regard to natural colorings and greater stability. The form segment of the global food color market is segmented into liquid gel, powder, liquid, and gel paste.
Global Food Color Market: Regional Analysis
The global food colour market in the Asia-Pacific region is projected to rise more in the coming years due to factors such as high levels of production in countries such as New Zealand and Australia, rising population, increasing demand for natural goods, evolving lifestyles and the consumer spending on food and beverage. The growth of this region is boosted by the food industry in Japan, Australia and New Zealand, and China and widely increased food color products trade from these countries.
Global Food Color Market: Competitive Players
Some main participants of the food color market are Chr. Hansen S/A, Sensient Technology Corporation, Archer Daniels Midland Company, MC Corporation, and Koninklijke DSM N.V. Other key players of the global market are D.D. Williamson & Co. Inc., Fiorio Colori, Naturex S.A., and Döhler Group, and Kalsec Inc. among others.
Food Color Market: Regional Segment Analysis
North America
Europe

France
The UK
Spain
Germany
Italy
Rest of Europe

Asia Pacific

China
Japan
India
South Korea
Southeast Asia
Rest of Asia Pacific

Latin America

Brazil
Mexico
Rest of Latin America

Middle East & Africa

GCC
South Africa
Rest of Middle East & Africa