Fluorochemicals Market Size And Industry Analysis
The Fluorochemicals Market size was worth around USD 22,381.5 million in 2021 and is estimated to grow to about USD 28,156.7 million by 2028, with a compound annual growth rate (CAGR) of approximately 3.9 % over the forecast period. The report analyzes the Fluorochemicals Market drivers, restraints/challenges, and the effect they have on the demands during the projection period. In addition, the report explores emerging opportunities in the Fluorochemicals Market.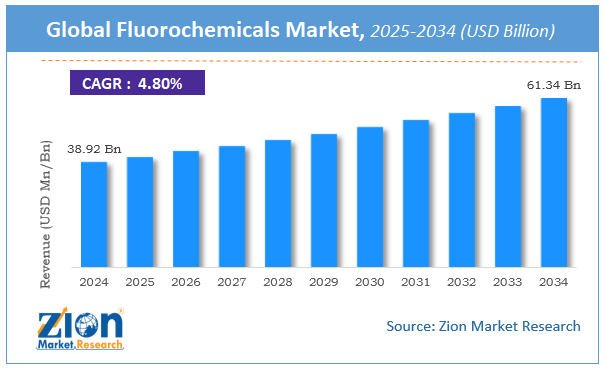 Request Free Sample
Fluorochemicals Market: Overview
Fluorochemicals are fluorine-containing hydrocarbons. These are the chemical compounds in which fluorine replaces at least one hydrogen atom. Fluorochemicals are widely used in the medical and dentistry industries, as well as in chemical manufacturing. Fluorochemicals market demand will be driven by an increase in demand for refrigerators and cooling systems in the industrial and home sectors as a result of changes in lifestyle and an increase in refrigeration required for convenience food product storage.
The expansion of department stores, hypermarkets, and supermarkets has increased the demand for proper storage facilities for perishable food products, which is expected to contribute to market growth. Due to its non-flammable qualities, its application potential in the pharmaceutical business could be a crucial driving element in industrial growth. It is commonly used as an anesthetizer in dental care. An increase in R&D spending, primarily in the pharmaceutical business, to develop a new product line would drive industrial growth.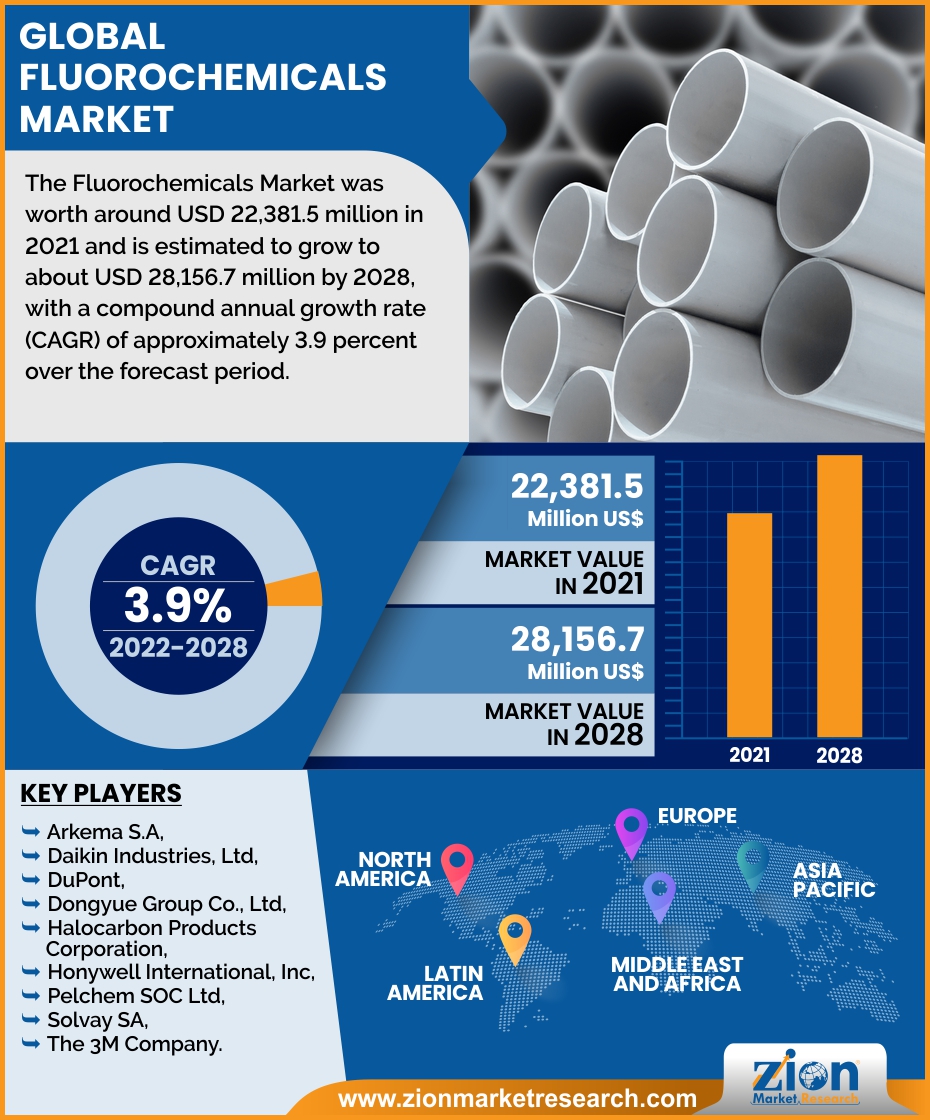 Request Free Sample
Covid-19 Impact
The outbreak of Covid-19 is posing numerous concerns to industries around the world. Fluorochemical demand is falling at the moment. Various end-users speeds have been decreased. In many areas, the need for this chemical is declining. In addition, the product's availability is limited in this pandemic. Various fluorochemical manufacturers are impacted during this time. The diminishing demand trend is harming the fluorochemicals industry's overall growth.
The hurdles for Asia Pacific regional players are greater. Revenue is lost as a result of delayed demand and product deliveries. During this time, clearance for a new grade of fluorochemicals is prohibited. It has an impact on the overall growth of this market during the forecast period. Other factors that diminish demand include a lack of staff and output. Fluorochemical demand is predicted to skyrocket in the future years. Demand from the pharmaceutical and other markets will increase. Furthermore, with less supply chain disturbance, product delivery will be more consistent. Emerging economies will be critical in reviving this market's growth in the next years.
Fluorochemicals Market: Driver
Fluorochemicals are in high demand due to the increased demand for refrigerants. Ventilation is becoming increasingly important in both the business and residential sectors. Fluorochemicals are included in a variety of refrigerants. The demand for this chemical is increasing in both emerging and developed countries. The use of this compound in refrigerants is increasing. This chemical will be used more extensively in HVAC systems. All of these elements will add to market earnings.
Furthermore, the rise of the automobile industry is a key market driver. The automotive industry has a greater demand for these materials. Fluor materials are used in autos to give great capacity and power. They are also utilized to improve vehicle safety. Fluoropolymers, in particular, are made from the chemical for electric automobiles. They are dependable and advantageous compounds in the automobile sector.
Fluorochemicals Market: Restraint
The strict laws governing the use of fluorochemicals are a stifling element in this sector. The production of these substances necessitates a number of rules. Fluoropolymers are subject to a slew of government regulations. Due to varied compliance techniques, the production process is delayed. Fluorochemical acids are employed in a variety of nonstick containers. These items contain some the hazardous fluorochemicals. All of these variables can slow down output. Furthermore, a lower production rate can have an impact on the supply chain. Delays in delivery in many places might stymie growth rates. In addition, reduced market adoption rates are projected in the next years.
Fluorochemicals Market: Opportunities
Fluorochemicals are classified as bio-accumulative toxins. This molecule has a wide range of applications, including nuclear energy and global warming. These applications will expand the market's potential for growth. The only substance that is less detrimental to the environment is fluoride. It has a limited potential for global warming. The material's alternatives are extremely detrimental to the environment. As a result, the use of fluorochemicals will increase in the next years. Furthermore, fluororgnanics and medicinal compounds are driving growth in this industry. Due to the obvious vast range of applications, new products and techniques are expected. Many pharmaceutical companies are using these compounds to develop new and successful medications. The increasing number of new products introduced into the market will entice a large number of end-users. Fluorochemicals' increasing potential in water repellents will drive growth.
Fluorochemicals Market: Challenges
Another impediment is the lower penetration of fluorochemicals in poorer countries. Fluorochemicals are in high demand in emerging countries. There is a vast range of products and applications. The need for this market is increasing as the population and production grow. However, the chemical penetrates less deeply. In addition, a lack of awareness in many areas is a market restriction. The product must have a high level of penetration and awareness. In the coming years, major players will emerge who will be innovative in order to raise awareness. Nonetheless, these characteristics may have a negative impact on market demand.
Report Scope:
Report Attributes
Report Details
Report Name
Fluorochemicals Market Size Report
Market Size in 2021
USD 22,381.5 million
Market Forecast in 2028
USD 28,156.7 million
Compound Annual Growth Rate
CAGR of 3.9%
Number of Pages
182
Forecast Units
Value (USD Billion), and Volume (Units)
Key Companies Covered
Arkema S.A, Daikin Industries, Ltd, DuPont, Dongyue Group Co., Ltd, Halocarbon Products Corporation, Honywell International, Inc, Pelchem SOC Ltd, Solvay SA, and The 3M Company
Segments Covered
By Type,By end-user, And By Region
Regions Covered
North America, Europe, Asia Pacific (APAC), Latin America, Middle East and Africa (MEA)
Countries Covered
North America: U.S and Canada
Europe: Germany, Italy, Russia, U.K, Spain, France, Rest of Europe
APAC: China, Australia, Japan, India, South Korea, South East Asia, Rest of Asia Pacific
Latin America: Brazil, Argentina, Chile
The Middle East And Africa: South Africa, GCC, Rest of MEA
Base Year
2021
Historical Year
2016 to 2020
Forecast Year
2022 - 2030
Customization Scope
Avail customized purchase options to meet your exact research needs. Request For Customization
Fluorochemicals Market: Segmentation
The global private hospital market is segregated based on Type, Application, and End-Use.
By Type, the market is generally categorized into Fluorocarbons, Fluoroelastomers, Fluoropolymers, Inorganics, and Others. The fluorocarbons segment dominated the market in the forecast period and is expected to continue to do so throughout the analysis period. This is due to the enormous variety of uses, such as freezers and air conditioners. Due to the increased stringency of environmental restrictions, the fluorocarbons market is likely to grow slowly in developed nations. Fluoropolymers are predicted to grow significantly over the forecast period. Fluoropolymer consumption is likely to rise in the electronics, construction, and automotive industries due to qualities such as high tensile strength and electrical insulation, which are expected to boost segment growth over the forecast period.
By Application, the market is generally categorized into Surfactants, Propellants, Aluminum Production, Refrigerant, Automobile, Agrochemicals, and Others. In the forecast period, the refrigerant earned the most market share. It has received 29.4 percent of the vote. This is due to increased demand from growing economies such as India and China. India and China have seen significant expansion in the commercial refrigeration business, which has increased the demand for refrigerants. The refrigerant is mostly utilized in refrigeration electronics such as refrigerators, the need for fluorochemicals has increased.
Recent Developments
In 2021, Arkema introduces their new Kynar PVDF (Polyvinylidene fluoride) range. The new grades are entirely made of renewable carbon derived from crude tall oil bio-feedstock.
In 2020, AGC Inc. (Tokyo) announced the installation of its Fluon (R) ETFE fluoropolymer film on the roof of the SoFi Stadium in the United States. Fluon (R) ETFE film has a number of desirable qualities, including excellent weather and heat resistance as well as great optical clarity.
Regional Landscape
Asia-Pacific has captured the largest market share and is expected to maintain its dominance during the analysis period. Rising HVAC system installations in infrastructure and autos may promote regional industry growth. Fluor Technology products are widely utilized in the architecture and construction industries to give anti-corrosion, high durability, and UV resistance qualities to materials such as architectural membranes and coatings, caulks, and wire and cable. An increase in packaged and frozen food consumption has resulted in an increase in market demand for commercial cooling systems, which is expected to fuel fluorochemical industry growth. The abundance of aluminum reserves in China and India, as well as government incentives to encourage FDI in the local metal sector, are likely to enhance its use in the region.
North America will gain a significant share in the coming years. The fluorochemicals market is predicted to expand due to the high demand for fluorochemicals in North America for aluminum manufacturing. Increased healthcare spending and research into the use of fluorochemicals in medical implants are expected to drive market growth in the region. Rise in disposable income and customer base in the region. Another element boosting market development in this sector is the advent of enhanced technology in enterprises.
Competitive Landscape
Some of the main competitors dominating the Fluorochemicals Market include - Arkema S.A, Daikin Industries, Ltd, DuPont, Dongyue Group Co., Ltd, Halocarbon Products Corporation, Honywell International, Inc, Pelchem SOC Ltd, Solvay SA, and The 3M Company.
Fluorochemicals Market is segmented as follows:
By Type
Fluorocarbons
Fluoroelastomers
Fluoropolymers
Inorganics
Others
By Application
Surfactants
Propellants
Aluminum Production
Refrigerant
Automobile
Agrochemicals
Others
By End-Use
Electrical & Electronics
Petrochemicals
Chemicals
Aerospace
Others
By Region
North America
Europe

France
The UK
Spain
Germany
Italy
Rest of Europe

Asia Pacific

China
Japan
India
South Korea
Southeast Asia
Rest of Asia Pacific

Latin America

Brazil
Mexico
Rest of Latin America

Middle East & Africa

GCC
South Africa
Rest of Middle East & Africa