The global Secondary Refrigerants market, which was estimated at 520.78 (USD Million) in 2019 and is predicted to accrue earnings worth 853.27 (USD Million) by 2026, is set to record a CAGR of nearly 6.5% over 2020-2026. The report offers valuation and analysis of Secondary Refrigerants market on a global as well as regional level. The study offers a comprehensive assessment of the industry competition, limitations, sales estimates, avenues, current & emerging trends, and industry-validated market data. The report offers historical data from 2016 to 2019 along with a forecast from 2020 to 2026 based on value (USD Million).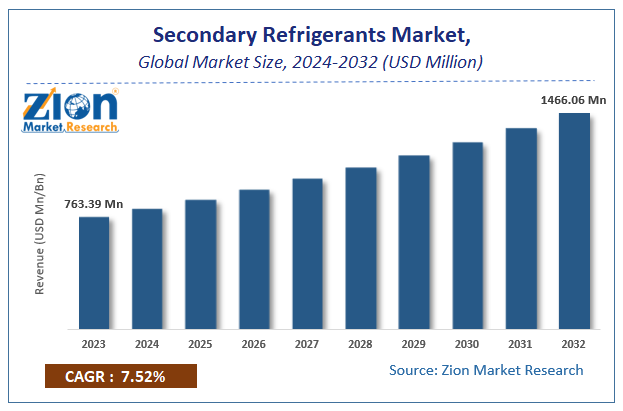 Request Free Sample
Introduction
Secondary refrigerants are liquids that utilized for transferring heat from substance that is being cooled to the exchanger of heat where heat is absorbed by a primary refrigerant. Citing an instance, in an air conditioner air acts as secondary refrigerant. Moreover, the materials are utilized as transport medium of cooling capacity in huge air refrigeration units. Additionally, secondary refrigerants possess key characteristics like outstanding heat transfer, low viscosity, non-corrosiveness, cost-efficiency, high specific heat, and chemical stability. Apparently, chilled water is utilized as secondary refrigerant in high-temperature applications, while calcium chloride brines and propylene glycols find applications as secondary refrigerants in heat pumps, industrial refrigeration, and commercial refrigeration.
Market Growth Dynamics
The popularity of secondary refrigerants can be attributed to its non-toxic nature, safe usage, and incombustibility. Massive industrialization across the globe is anticipated to boost the growth of secondary refrigerants market over the estimated timespan. Humungous usage of secondary refrigerants for regulating the intermittent increase of heat loads will boost the market trends. Furthermore, primary refrigerants undergo change in the phase but it is not so with secondary refrigerants, and this feature of the compound is anticipated to create lucrative growth avenues for the secondary refrigerants market over the forthcoming years. Additionally, refrigeration units utilizing secondary refrigerants require less monitoring at the time of operating of the system and this will create lucrative demand for the product over the next couple of years.
Furthermore, rise in the use of secondary refrigerants in oil & gas, pharmaceuticals, and chemical & petrochemical industry as coolants & heat recovering fluids will enlarge the scope of the industry in the near future.
Asia Pacific Market To Experience Massive Growth By 2026
The growth of the secondary refrigerants market in Asia Pacific zone over 2020-2026 is attributed to ongoing sustainable energy projects in the countries like China and Japan that will result in humungous demand for secondary refrigerants in these countries. In addition to this, swift industrialization in the sub-continent is predicted to create new growth avenues for the business in the region over the estimated timespan and increase the market penetration.
Key players profiled in the report include The Linde Group, Eastman Chemical Company, Tazzetti S.P.A., The DOW Chemical Company, Climalife Groupe Dehon, A-Gas International, Arteco Coolants, Clariant AG, and Temper Technology Ab.
The global secondary refrigerants market is segmented as follows:
By Type
Glycols
Salt Brines
Carbon Dioxide
Heat Pumps
By Application
Commercial Refrigeration
Industrial Refrigeration
Heat Pumps
Air Conditioning
By Region
North America
Europe

France
The UK
Spain
Germany
Italy
Rest of Europe

Asia Pacific

China
Japan
India
South Korea
Southeast Asia
Rest of Asia Pacific

Latin America

Brazil
Mexico
Rest of Latin America

Middle East & Africa

GCC
South Africa
Rest of Middle East & Africa