Market Overview
The global flow cytometry market was valued at USD 6,159.0 Million in 2020 is expected to reach USD 12,384.5 Million in 2028 growing at a CAGR of 9.2% between 2021 and 2028
Flow cytometry is a technique for swiftly analyzing single cells or particles that are suspended in a buffered salt-based solution and flow past one or more lasers. Visible light scatter and one or more fluorescence characteristics are assessed for each particle.
Flow cytometry market is a versatile technology with applications in immunology, virology, molecular biology, cancer biology, and infectious disease surveillance, among other fields. It's great for studying the immune system and how it responds to infectious diseases and cancer, for example. It enables the characterization of mixed populations of cells from blood and bone marrow, as well as solid tissues that can be dissociated into single cells, such as lymph nodes, spleen, mucosal tissues, solid tumors, and so on.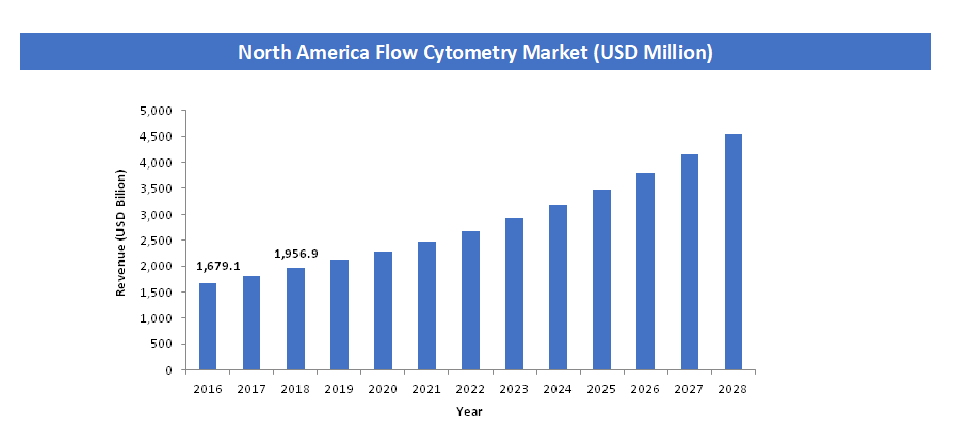 Request Free Sample
COVID-19 Impact Analysis:
For all business sectors around the world, the coronavirus pandemic has produced a health problem as well as a difficult situation. During this pandemic, many national governments have provided guidelines to perform a clinical trial, perceiving the objective of the value of patient safety and protecting the credibility of the trial. In order to maintain the impact of the pandemic, the guidelines identified the need to adjust the trial and suggested that the regulatory agencies be flexible in the composition of the protocol adjustments. The bio-pharma industries have shifted their attention on developing the vaccines and therapies in rebound to the Covid-19 and the pressure of the crisis that is putting on the medical centers worldwide. There was concern about the effect on the global economy of a U.S.-China trade war, the U.S. presidential election, and Brexit in 2019. The IMF had therefore projected modest global growth of almost 3.4%, but Covid-19 suddenly modified the outlook. In terms of financial turnover, the clinical trial industry has increased further, for example, in India, the clinical trials industry has grown by 100 times at the rate of nearly 1414 percent annually between 2003 and 2010. Most industries accept that the guidance is a framework for drug developers to move dynamically forward and respond to trial changes and to tackle the unusual challenges with independence.
Growth Factors
Over the past few decades, there is rising prevalence of oncology disease across the developed and developing countries. 3D cell culturing makes it easy to develop new drug. 3D cell cultures are generally used in preclinical trials to test the pharmacodynamic and pharmacokinetic effects of new or novel drug/ medicine. 3D cell culturing is fulfilling the rising demand of drug discovery for chronic diseases. According to the Centers for Disease Control and Prevention (CDC) in the 2019, almost 6 in 10 people in the US suffer from at least one oncology disease and 4 in 10 people have two or more oncology diseases.
Cancer is one of the leading causes of death among population worldwide. The American Cancer Society (ACS) estimated that, approximately 1,735,350 new cancer cases were diagnosed in 2018. 3D scaffolds and 3D cell spheroids in vitro are useful in testing the pharmacokinetic effects of ontological drugs in preclinical trails. For instance, CellASIC ONIX Gradient Plate is the microfluidic system offered by Sigma Aldrich. It will drive the 3D cell culture market in the forecasted period. The expression of cell surface and intracellular compounds can be studied using flow cytometry. It helps measure the purity of isolated subpopulations by characterizing and defining different types of cells in a heterogeneous cell population.
The introduction of new products and the widespread use of 3D protocols in biological research are two other important drivers driving market expansion. For example, eNUVIO Inc., a biotechnology company based in Canada, launched EB-Plate, a 100% reusable microplate for 3D cell culture, in December 2020. This is projected to reduce single-use plastic waste, boost the utility of 3-dimensional microplates, and encourage laboratories to go zero-waste.
Such developments in 3D cell culture market are expected to bolster the demand for flow cytometry market during the years to come.
Report Scope: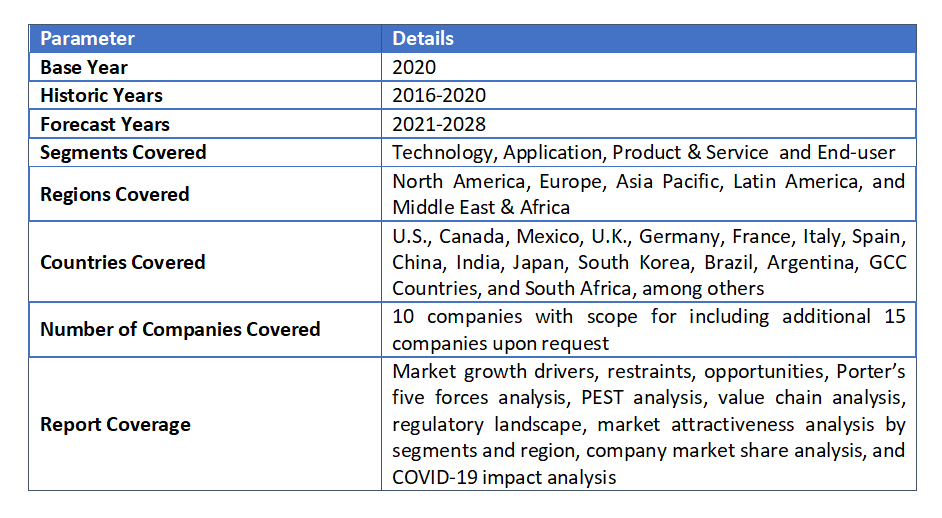 Request Free Sample
Application Segment Analysis Preview
Flow cytometry in medicine and research is utilized in detection and measurement of protein expression and post-translational modifications. Flow cytometry is used for applications like immunology, cell sorting, apoptosis, cell cycle analysis, cell viability, and cell counting. Presence of specific antigens is utilized for diagnosing acute leukemias, chronic lymphoproliferative diseases, and malignant lymphomas. Flow cytometry has gained traction as a vital analytical tool for diagnosis, prognosis, and monitoring. Adoption of new laser technologies in research among institutions has accelerated the demand for advance flow cytometry systems, which should fuel the flow cytometry market in research applications.
Regional Analysis Preview
North America region dominated the global flow cytometry market in 2020 and is expected to dominate the market in 2028. United States and Canada have experienced significant growth in development of new point of care diagnostics and testing technologies and increase in the number of medical and diagnostic laboratories. The point of care diagnostics and testing market in United States should reach to a market value of approximately USD 27.5 Billion by 2022, owing to advancement in diagnostics and testing and increasing awareness among individuals regarding health awareness. Further, presence of major vendors operating in the flow cytometry market in North America should also drive the adoption of new technologies by organizations and institutions as companies are introducing new products into the market, which may generate new opportunities for the market growth
Europe has foreseen rise in investment in research from government and private organizations in stem cell therapies and research, which has been driving the Europe stem cell market. According to Eurostat, in 2018, over 30 000 patients in the European Union (EU) received healthy blood-forming cells (stem cells) to replace their own that had been destroyed. Stem cell transplants in Germany, France, Italy, UK, and Spain were 7,700, 5,500, 5,100, 3,800, and 3,100 respectively in 2018. Further, cell research in Europe has increased as companies focus on developing advance cell therapies for treating disease, which is anticipated to stimulate the Europe flow cytometry market growth.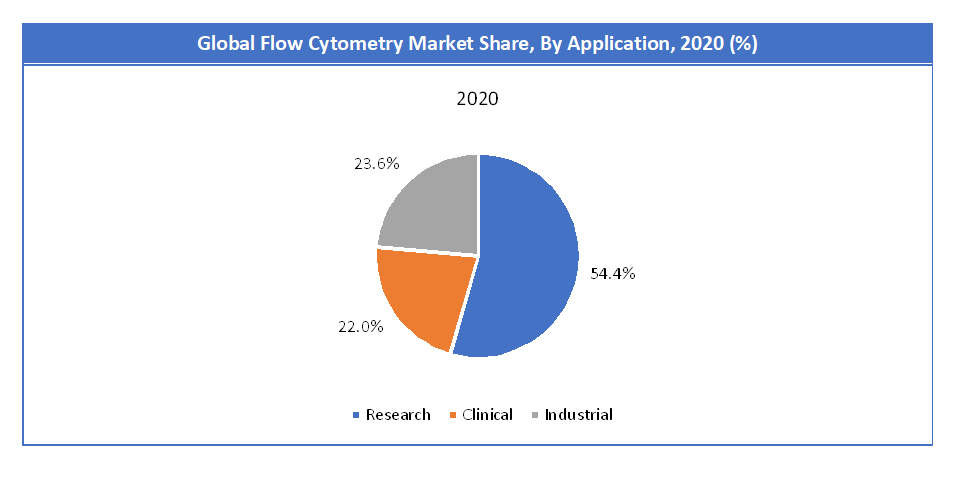 Request Free Sample
Key Market Players & Competitive Landscape
Some of key players in flow cytometry market are Becton, Dickinson and Company, Merck & Co., Inc., Beckman Coulter, Inc., Thermo Fisher Scientific, Inc., Sysmex Corporation, Alere, Inc., Miltenyi Biotec, Agilent Technologies, Inc., Bio-Techne, and Bio-Rad Laboratories, Inc., among others.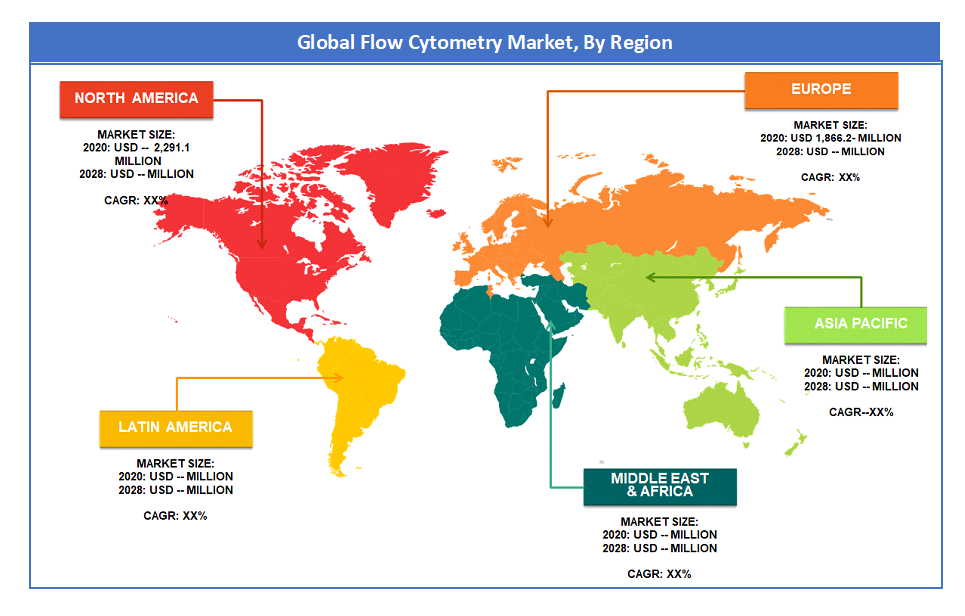 Request Free Sample
The global flow cytometry market is segmented as follows:
Technology Segment Analysis
Cell-based Flow Cytometry
Bead-based Flow Cytometry
Product and Service Segment Analysis
Reagents and Consumables
Instruments

Cell Analyzers

High-Range
Mid-Range
Low-Range

Cell Sorters

High-Range
Mid-Range
Low-Range

Services
Software
Accessories
Application Segment Analysis
Research Applications

Pharmaceuticals and Biotechnology
Immunology
Cell Sorting
Apoptosis
Cell Cycle Analysis
Cell Viability
Cell Counting
Other

Clinical Applications

Cancer Diagnostics
Hematology
Immunodeficiency Diseases
Organ Transplantation
Other

Industrial Applications
End User Segment Analysis
Academic & Research Institutes
Hospitals & Clinical Testing Laboratories
Pharmaceutical & Biotechnology Companies
By Region
North America
Europe

France
The UK
Spain
Germany
Italy
Rest of Europe

Asia Pacific

China
Japan
India
South Korea
Southeast Asia
Rest of Asia Pacific

Latin America

Brazil
Mexico
Rest of Latin America

Middle East & Africa

GCC
South Africa
Rest of Middle East & Africa