Free Analysis
Flow cytometry is a laser-based biophysical technology which has application in various fields such as protein engineering, biomarker detection, cell sorting, cell counting, cell analysis, etc. Flow cytometry analyzes fluid by suspending fluid in the light or laser beam. Cell components in the fluid are fluorescently labeled and then they are passed through beam which later on emits light by the laser at the diversified wavelength. The fluorescence light helps determine various properties of single particles and cells from different wavelengths.
Flow cytometry is used to detect various diseases like cancer, HIV, and hematological malignancies. According to the American Cancer Society, approximately 1 million new cancer cases were registered in U.S. Due to this increase in the number of cancer patients, demand for flow cytometry is high. Similarly, there is an increase in HIV patients across the globe, which is expected to further drive industry growth. Flow Cytometry has precise and accurate results over the traditional analytical methods; therefore there is an increase in demand for flow cytometry. The growth of flow cytometry market can also be attributed to the technological advancements in the techniques and also use of the method in research and diagnostic applications. However, high cost associated with the instrument and lack of technical experts hinders the market growth. Lack of awareness about the process also acts as a restraint for the growth of the market.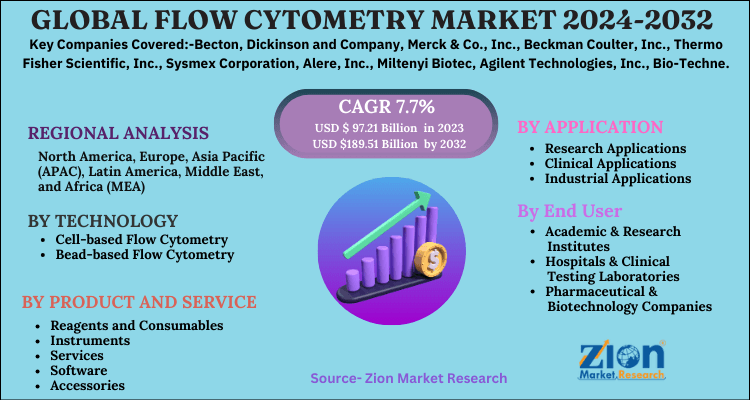 Based on technology, the market is segmented into cell-based and bead-based. Cell-based Flow Cytometry is expected to dominate the market in the forecast period because of its various applications in different fields. Based on product, the market is segmented into reagents and consumables, instruments, software. The instrument segment is expected to dominate the global flow cytometry market. Based on application, the market is segmented into pharmaceutical and drug discovery, diagnostics and others category. Due to the increasing research in cancer and other infectious diseases, the research segment is anticipated to grow in the forecast period. Based on end users, the market is segmented into hospitals & diagnostic labs, academic and research institutions and others category. Academic and research institutions are expected to dominate the market in the forecast period.
Due to increase in advanced cell-based research activities, North America market is expected to dominate the overall global market in the forecast period. The Asia Pacific is expected to show the highest growth in the market because there is a significant increase in flow cytometry-based research. Growth in Latin America and the Middle East and Africa is expected to boost in the forecast period due to the use of flow cytometry in drug development.
Some of the key players in the food ingredients sterilization market are Becton, Dickinson and Company, Merck & Co., Inc., Beckman Coulter, Inc., Thermo Fisher Scientific, Inc., Sysmex Corporation, Alere, Inc., Miltenyi Biotec, Agilent Technologies, Inc., Bio-Techne, Bio-Rad Laboratories, Inc., and Others.