Global Facial Aesthetics Market Overview
In Global Facial Aesthetics Market Report, Facial aesthetics are treatments that are carried out non-surgically for revitalizing the facial skin. These are brisk, easy, and much cheaper. For females, adopting a wider variety of medical aesthetic facilities is a reasonable initial step. It has also benefited patients who may never have thought about restorative surgery but are very happy with short-term care. As a whole, the demand in the end user segment is high, coupled with a wider spectrum of facial aesthetic products for treatment of more and more parts, and the average spending per patient in beauty and dermatology clinics is increasing at a healthier rate, particularly in developed countries.
Regular net income from facial aesthetics enables magnificent skin care and beauty clinics or dermatology clinics and restorative experts to continue on endorsing facial injectable, for instance, dermal fillers and Botox to their patients. Botox is popular among both men and women; Botox takes the 3rd number spot on the top 10 treatment list for women and the number 10th spot for men. Dermal fillers can be used to restore the youthful appearance of the skin naturally.
As per the report, the global demand for facial aesthetics market was valued at approximately USD 4153.3 million in 2018 and is expected to generate revenue of around USD 9381.9 million by end of 2025, growing at a CAGR of around 12.3% between 2019 and 2025.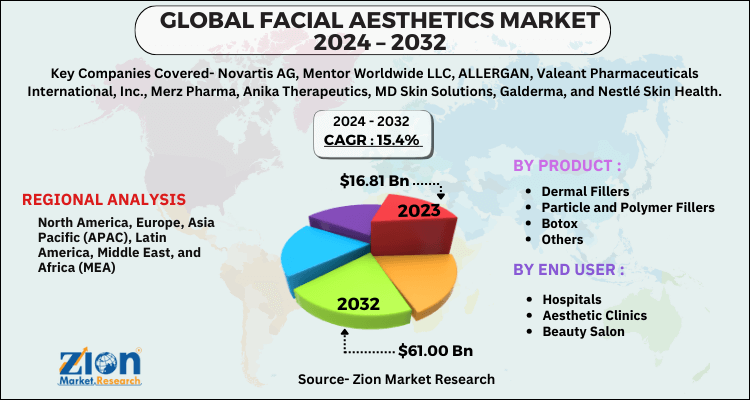 Request Free Sample
Facial aesthetics is usually a blend of facial treatments that assists to reduce wrinkles and glabella lines as well as rejuvenate the skin of the face. Botulinum toxin (Botox) and Dermal fillers are two main types of facial aesthetics that are commonly used by clients in facial aesthetics. According to the statistics provided by the American Society for Aesthetic Plastic Surgery, in 2018, more than 1 billion was spent on injectables, and Botulinum Toxin injections are up 36% since 2014. Furthermore, the facial rejuvenation treatment has registered a rise of 5.6% in 2018 as compared to 2017 and by 11.5% as compared to treatments carried out in 2014. Additionally, the number of non-surgical aesthetic procedures has risen to 31.8% in 2018 among population age-group from 51 to 64.
Market Analysis and Insights : Global Facial Aesthetics Market
The market for facial aesthetic is classified on the basis of product, end user, and region. Based on the product, the market for facial aesthetic is divided into dermal fillers, particle and polymer fillers, botox, and others. Botox segment accounted for the major share in the global facial aesthetic market and is expected to continue its dominance throughout the forecast period owing to its effective results. On the basis of end-users, the market is bifurcated into hospitals, aesthetic clinics, and beauty salon.
North America dominated the market in 2018 owing to high disposable income, increase in healthcare spending, early introduction of highly developed aesthetic techniques, high awareness about aesthetic procedures, and presence of major players. Also, the augmenting consumer shifts towards non-invasive and minimally-invasive procedures and growing population of people aged 60 and above who are highly prone to age-related problems such as acne wrinkles and scars are primarily contributing to the development of the facial aesthetic industry.
The major players involved in the global market are Novartis AG, Mentor Worldwide LLC, ALLERGAN, Valeant Pharmaceuticals International, Inc., Merz Pharma, Anika Therapeutics, MD Skin Solutions, Galderma, and Nestlé Skin Health.
This report segments the global facial aesthetic market as follows:
Global Facial Aesthetic Market: Product Segment Analysis
Dermal Fillers
Particle and Polymer Fillers
Botox
Others
Global Facial Aesthetic Market: End User Segment Analysis
Hospitals
Aesthetic Clinics
Beauty Salon
Global Facial Aesthetic Market: Regional Segment Analysis
North America
Europe
Asia Pacific
Latin America
Middle East and Africa