Polymer Fillers Market Size And Industry Analysis
The global polymer fillers market size was approximately USD 54.8 billion in 2021 and is predicted to gain revenues of about USD 83.5 billion by 2028, with a CAGR of nearly 3.29% over the period from 2022 to 2028. The study provides assessment and analysis of the Polymer Fillers Market on a global & regional level. It offers a comprehensive assessment of the market competition, constraints, revenue estimates, opportunities, evolving trends, and industry-validated data. The report provides historical data from 2018 to 2021 along with a forecast from 2022 to 2028 based on revenue (USD Billion).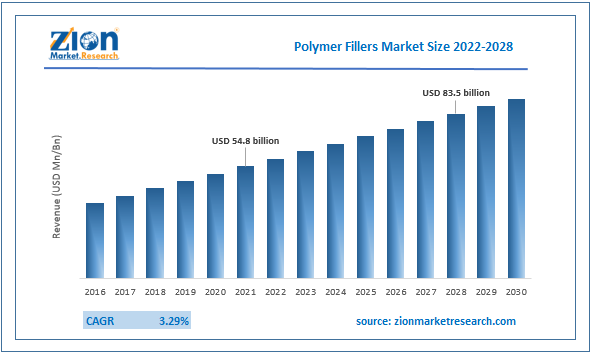 Request Free Sample
Polymer Fillers Market: Outlook
Fillers are used in a polymer formulation for reducing costs along with enhancing its properties. Polymer fillers are available in solid, liquid or gaseous form. These products can replace expensive resin with low expensive compounds without modification of other features. Fillers are particulate substance that includes minerals, diatomaceous earths, and talc. Additionally, fibrous reinforcements including glass and carbon fibers are added to polymers for enhancing toughness of polymers. Both kinds of materials tend to improve polymer viscosity, particularly at reduced shear rates, thereby leading to yield stress formation. At high shear rates, the effect is less pronounced as the viscosity approaches that of the neat resin. Low cost as well as easy availability of carbon black has resulted into extensive usage of polymer filler across various sectors. Reportedly, polymer fillers are finely grind inorganic substances such as clay, chalk, and silica.
Polymer Fillers Market: Growth Drivers
Large-scale use of polymer filler for bonding semiconductor chips to substrate and offer geometrically defined interconnections will drive growth of polymer fillers industry. Fillers are regularly added to polymers and helps in reducing their costs, thereby boosting market trends. In addition to this, fillers are used in frontal systems to avoid convection, to convert rheology of unreacted formulation, and impact mechanical features of product. Fillers help in alteration of mechanical features of product. Use of fillers in different kinds of materials helps in increasing hardness of materials. Moreover, polymer fillers are no exception to this, and hence the abovementioned features will prop up market growth.
With wide acceptance of polymer fillers in countries such as Brazil, the U.S., Germany, and India, the market for polymer fillers is anticipated to gain traction over upcoming years. Escalating demand for high-strength materials having low costs along with product innovations has led to rapid surge in polymer fillers market size. Humungous demand for environment friendly fillers will further elevate market growth. In addition to this, rapidly expanding manufacturing sector in countries including India and China along with quick recovery of industrial sector in Europe is anticipated to prompt scope of expansion of polymer fillers market growth.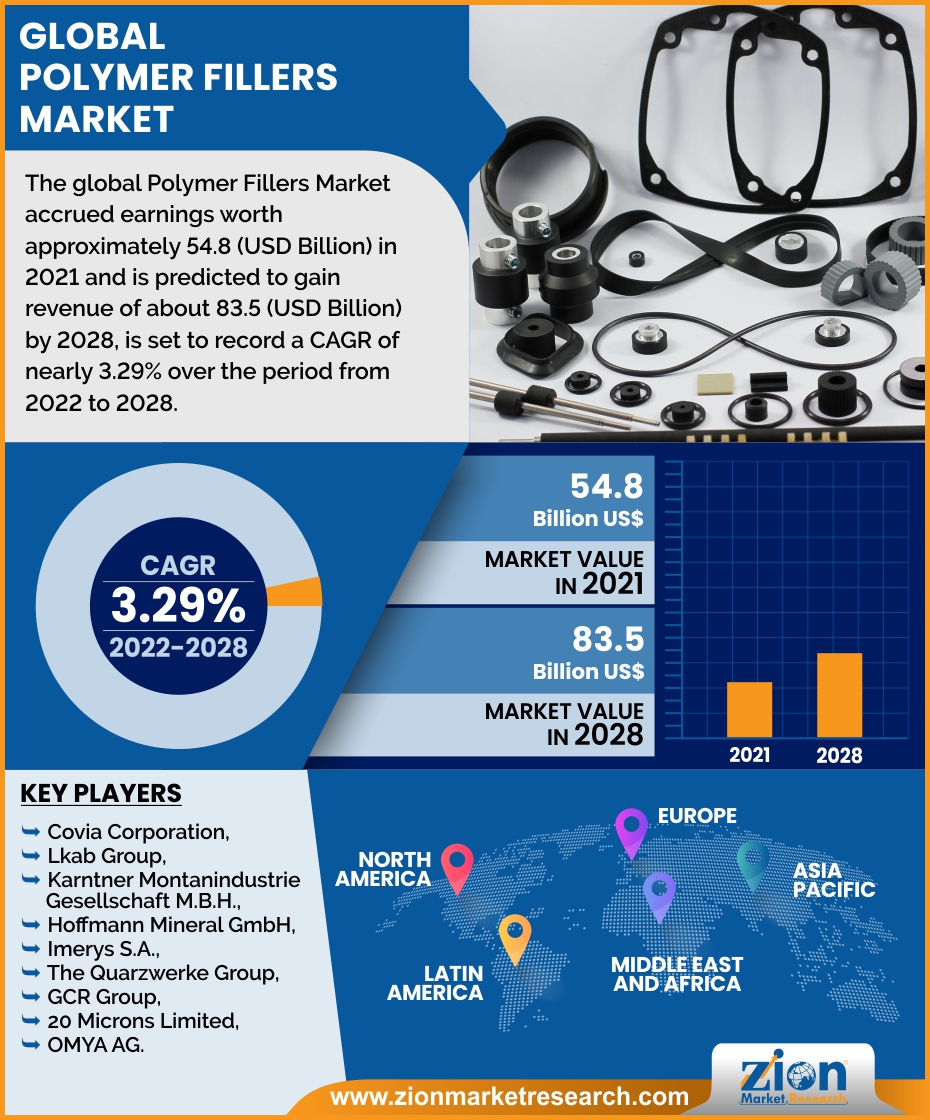 Request Free Sample
Polymer Fillers Market: Restraints
However, polymer fillers are highly sensitive to distortion. The effect can be huge in carbon-filled rubbers, generally for mixtures in vicinity of percolation threshold. Moreover, with rise in temperature, the polymer filler expands and the thermal conductivity declines rapidly, thereby leading to an extreme decrease in current output. Polymer fillers being organic in nature are inflammable and hygroscopic and this can retard growth of polymer fillers market.
Polymer Fillers Market: Regional Landscape
Asia Pacific Polymer Fillers Market To Grow By Leaps Over 2022-2028
Expansion of polymer fillers industry in Asia Pacific zone over forecasting timeline is subject to rise in product penetration across automotive, building & construction, and packaging sectors in countries such as India and China. Escalating use of materials having low mass and high strength in electric vehicle production for enhancing performance of electric automotive will embellish surge of polymer fillers market in Asia Pacific zone.
Polymer Fillers Market: Competitive Landscape
Some of major players influencing growth of polymer fillers industry and profiled in study are Covia Corporation, Lkab Group, Karntner Montanindustrie Gesellschaft M.B.H., Hoffmann Mineral GmbH, Imerys S.A., The Quarzwerke Group, GCR Group, 20 Microns Limited, and OMYA AG.
Report Scope:
The global Polymer Fillers Market is segmented as follows:
By Product
By End-Use
Automobile
Electrical & Electronics
Building & Construction
Industrial
Packaging
By Region
North America
Europe

France
The UK
Spain
Germany
Italy
Rest of Europe

Asia Pacific

China
Japan
India
South Korea
Southeast Asia
Rest of Asia Pacific

Latin America

Brazil
Mexico
Rest of Latin America

Middle East & Africa

GCC
South Africa
Rest of Middle East & Africa