Industry Prospective:
The global EMG biosensors market size was worth around USD 525 million in 2021 and is predicted to grow to around USD 1075 million by 2030 with a compound annual growth rate (CAGR) of roughly 8.75% between 2022 and 2030. The report analyzes the global EMG biosensors market's drivers, restraints/challenges, and the effect they have on the demands during the projection period. In addition, the report explores emerging opportunities in the EMG biosensors market.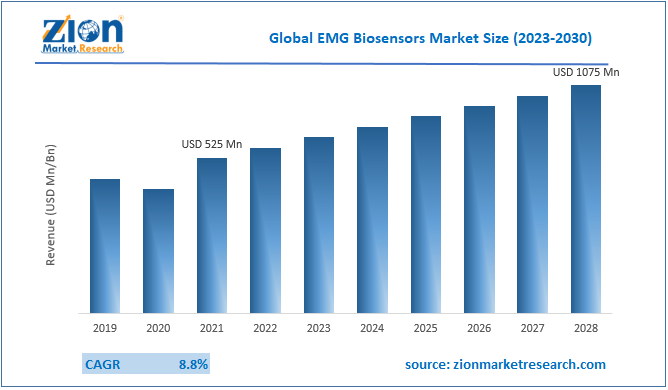 Request Free Sample
EMG Biosensors Market: Overview
Electromyography of EMG biosensors are used to show biological signals made by the electrical activity of skeletal muscles. The technology has wide applications in motor learning, motor control, biomechanics, biofeedback, movement disorders, neuromuscular physiology, and physical therapy. Even though the clinical applications of EMG biosensors can be traced back to the 1950s, the technology is still widely used and has undergone multiple technological advancements in segments like EMG sensors, real-time processing, and post-processing of EMG signals. With the new advancements, EMG is used in the healthcare sector during various treatment processes like prosthesis and exoskeleton control, human-machine interfaces, stress and fatigue measurements, and powered wheelchair control to name a few. Wearable EMG sensors found in various smart applications are present everywhere aiding the population in living a controlled and healthy lifestyle.
Once an electromyograph detects the electric potential generated from the electrically or neurologically activated muscle cells, the signals are then analyzed to detect activation level, abnormalities, recruitment order, or other biomechanics of animal or human movement. There are two forms of using EMG biosensors. The first method involves the use of electrodes that translate signals into graphs, numerical values, or sounds that are interpreted by specialists.
In needle EMG, a needle electrode is inserted directly into the muscles and electronic activities of the muscle are then recorded. A doctor may recommend EMG in case of muscle weakness, muscle pain or cramping, or tingling. With the help of EMG biosensors, certain medical conditions can be ruled out to provide patients with the best medical care. These conditions are nerve disorders, diseases impacting the connection between muscles and nerves, muscle dystrophy, disorders affecting nerve roots like herniated spinal disk, and others.
Key Insights
As per the analysis shared by our research analyst, the global EMG biosensors market is estimated to grow annually at a CAGR of around 8.75% over the forecast period (2022-2030).
In terms of revenue, the global EMG biosensors market size was valued at around USD 525 million in 2021 and is projected to reach USD 1075 million, by 2030. Due to a variety of driving factors, the market is predicted to rise at a significant rate.
Based on type segmentation, surface biosensors were predicted to show maximum market share in the year 2021
Based on end-user segmentation, hospitals were the leading revenue-generating end-users in 2021.
On the basis of region, North America was the leading revenue generator in 2021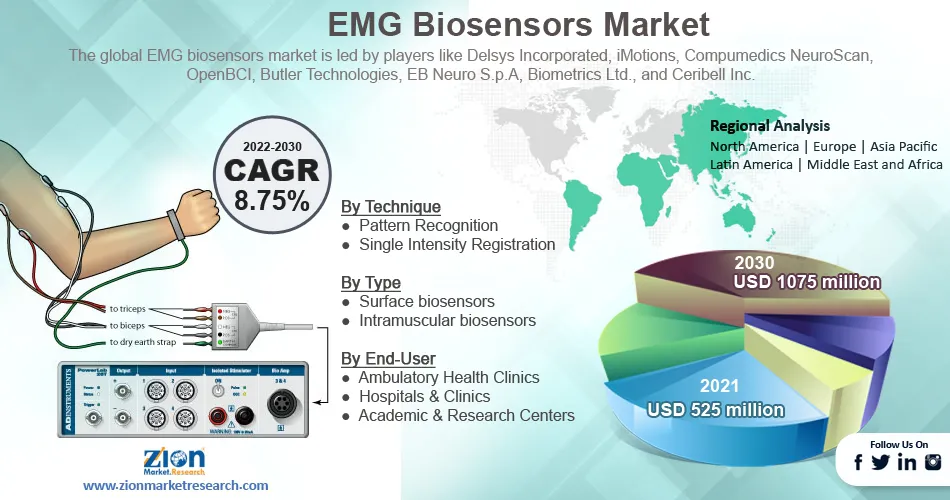 Request Free Sample
Covid-19 Impact:
The global market cap showed a positive response to Covid-19 majorly driven by the higher demand for EMG biosensors in the healthcare sector. The game-changing products in the global market are wearable EMG biosensors. Due to the panic generated by the virus, the demand for wearable and mobile biosensors increased drastically as more people were interested in monitoring their health-related body functions. Biosensors, in general, were considered frontiers in the texting abnormalities related to the virus.
EMG Biosensors Market: Growth Drivers
Growing awareness related to health monitoring to drive market growth
The global EMG biosensors market is anticipated to grow owing to the increasing need and awareness related to regular health monitoring. With the rise of various medical conditions, the global healthcare industry has become extremely uncertain, especially driven by the onset of viruses like Covid-19, SARS, etc. in recent times. This has compelled the general population towards taking even the small reactions of abnormalities in body functions seriously and undergoing regular checkups either at medical facilities or by self-monitoring certain conditions.
Looking at the scope of EMC biosensors, industry players have managed to develop wearable EMG devices which have become extremely popular amongst health-conscious individuals owing to the flexibility and efficiency of the technology. In general, biosensor technology is anticipated to generate a market revenue of USD 37 million by 2026. This is an indication of the widening use of biosensors in the healthcare sector.
This is also propelled by the range of applications of EMG biosensors including monitoring heart rate, to dermal and neural study. These technologies can now be associated with smartwatches, smartphones, smart bands, etc. which have increased the global market reach since more people can now access the technology without having to go to hospitals or other treatment facilities.
EMG Biosensors Market: Restraints
Data inaccuracy of wearable EMG biosensors to restrict the market growth
The most efficient type of EMG biosensors is the ones present at hospital locations since they are highly advanced and capable of detecting the slightest abnormalities. However, even though wearable biosensors are equipped with upgraded technology, there is always a scope for data inaccuracy in the case of such sensors. There is also a risk of data being interpreted incorrectly by individuals since the information may be more medical terms.
EMG Biosensors Market: Opportunities
Development in the field of novel EMG biosensors to provide market growth opportunities
In the 2021 edition of an article by the American Institute of Physics, EMG biosensors can be developed with the help of nanocomposites developed from silver or gold. The process of depositing gold nano-particles over silver micro-flakes aids the enhancing the biocompatibility and bioavailability of particles along with improving the surface area. BMG biosensors equipped with this technology were concluded to detect signals from my graphs with more ease and accuracy as compared to normal biosensors. Such advanced trends in the field are anticipated to provide lucrative growth opportunities for global market growth
EMG Biosensors Market: Challenges
Need for more sensitive detection of signals to challenge market growth
With the growing unpredictability and constantly changing nature of the medical field, there is a need for medical devices capable of detecting even the slightest movement or changes. EMG biosensors, although capable of detecting signals related to slight movements, there is still scope for the development of ultra-sensitive devices to cater to the growing market demands. Since inaccurate data or interpretation can lead to serious repercussions thus creating challenging situations for global market growth.
EMG Biosensors Market: Segmentation
The global EMG biosensors market is segmented based on technique, type, end-user, and region.
Based on technique, the global market segments are pattern recognition and single-intensity registration. Both segments have been contributing to the global market significantly. However, there is a higher demand for pattern recognition techniques since there is a rise in the development of EMG-centered multisensory-based technologies.
Based on type, the global market is segmented into surface biosensors and intramuscular biosensors. Surface sensors seem to be contributing higher to the global market revenue. The success rate of any intramuscular injections ranges between 32 and 52% and the majority of people show resistance to accepting invasive medical devices.
Based on end-users, the global market is divided into ambulatory health clinics, hospitals & clinics, and academic & research centers. Hospitals are anticipated to lead the segmental growth. The global medical device industry stands at a market value of USD 446 billion as of 2021 and is anticipated to grow at a CAGR of 5.62% in the next five years.
Recent Developments:
In May 2021, Innopsys Inc. and Sysmex Spain entered into a collaboration to commercialize CytoSure aCGH arrays along with the InnoScan scanners. The technology is aimed to be widely used in the prenatal and postnatal genetic screening segments.
In November 2019, Apple, Inc., announced that it is working toward developing its smartwatch segment to incorporate healthcare-related applications and become a more health-inclined device. Some new patents submitted by the company involved sensors that could detect muscle movement and tension to determine wrist position. The orientation of the wrist will automatically determine if the information has to be relayed to the user because it can detect if the arm is moving due to running or other activities.
EMG Biosensors Market Report Scope:
Report Attributes
Report Details
Report Name
EMG Biosensors Market Research Report
Market Size in 2021
USD 525 Million
Market Forecast in 2030
USD 1075 Million
Compound Annual Growth Rate
CAGR of 8.75%
Number of Pages
170
Forecast Units
Value (USD Million), and Volume (Units)
Key Companies Covered
Delsys Incorporated, iMotions, Compumedics NeuroScan, OpenBCI, Butler Technologies, EB Neuro S.p.A, Biometrics Ltd., and Ceribell Inc.
Segments Covered
By Technique, By Type, By End-User and By Region
Regions Covered
North America, Europe, Asia Pacific (APAC), Latin America, Middle East and Africa (MEA)
Countries Covered
North America: U.S and Canada
Europe: Germany, Italy, Russia, U.K, Spain, France, Rest of Europe
APAC: China, Australia, Japan, India, South Korea, South East Asia, Rest of Asia Pacific
Latin America: Brazil, Argentina, Chile
The Middle East And Africa: South Africa, GCC, Rest of MEA
Base Year
2021
Historical Year
2016 to 2020
Forecast Year
2022 - 2030
Customization Scope
Avail customized purchase options to meet your exact research needs. Request For Customization
EMG Biosensors Market: Regional Analysis
North America to generate the highest revenue in the next few years
The global EMG biosensors market is expected to be dominated by North America during the forecast period and is projected to be driven by regions like the USA and Canada. The growth is coupled with the increasing and already existing number of key players that may prove beneficial for regional growth. The players are investing heavily in research activities related to the application of EMG biosensors. The government of these regions is also aiding the efforts undertaken by private institutes.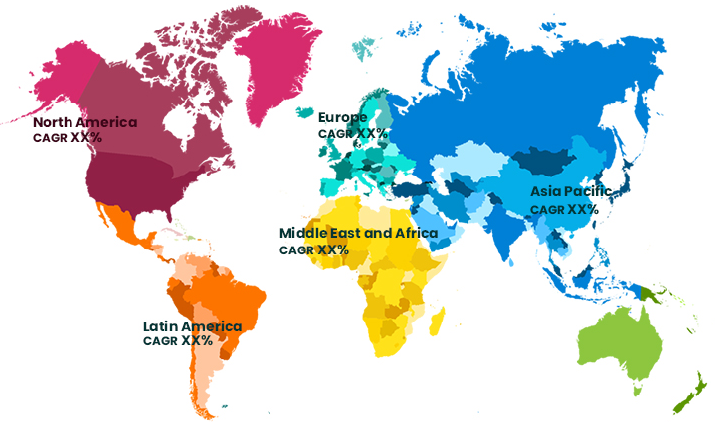 Request Free Sample
The global market may also witness significant growth from the European market owing to the rising awareness about health monitoring and medical reimbursements. Countries like Switzerland, Denmark, Finland, etc. which are known for their advanced medical infrastructure are anticipated to help regional market expansion.
EMG Biosensors Market: Competitive Analysis
The global EMG biosensors market is led by players like:
Delsys Incorporated
iMotions
Compumedics NeuroScan
OpenBCI
Butler Technologies
EB Neuro S.p.A
Biometrics Ltd.
Ceribell Inc.
The global EMG biosensors market is segmented as follows:
By Technique
Pattern Recognition
Single Intensity Registration
By Type
Surface biosensors
Intramuscular biosensors
By End-User
Ambulatory Health Clinics
Hospitals & Clinics
Academic & Research Centers
By Region
North America
Europe

France
The UK
Spain
Germany
Italy
Rest of Europe

Asia Pacific

China
Japan
India
South Korea
Southeast Asia
Rest of Asia Pacific

Latin America

Brazil
Mexico
Rest of Latin America

Middle East & Africa

GCC
South Africa
Rest of Middle East & Africa