Global Drug Testing Market Overview
The global Drug Testing market accrued earnings worth approximately 8.2 (USD Billion) in 2020 and is predicted to gain revenue of about 12.8(USD Billion) by 2028, is set to record a CAGR of nearly 5.1% over the period from 2021 to 2028. The report offers assessment and analysis of the Drug Testing market on a global and regional level. The study offers a comprehensive assessment of the market competition, constraints, revenue estimates, opportunities, evolving trends, and industry-validated data. The report provides historical data from 2018 to 2020 along with a forecast from 2021 to 2028 based on revenue (USD Billion).
Drug Testing Market: Outlook
Drug testing is a procedure of making use of biological sample for determining presence as well as absence of metabolites or medicine. This procedure can be completed in various settings through use of myriad kinds of techniques. With the human body metabolizing different medicines at different rates, the timespan for determining the effect of a particular medicine on the human body can be specific and can vary extensively from one drug to another.
In spite of these hitches, drug testing plays a pivotal role in clinical settings as medical examination, collateral reporting, and patient self-reporting can understate the incidence of medicine utilized. Moreover, as per NIH researchers, drug testing should be performed along with physical or psychological assessment.
Furthermore, drug testing is utilized for validating current use of any drug. It also plays a key role in diagnosis, treatment, and identification of drug addiction in individuals. Moreover, urine drug testing method is one of the most accurate methods for drug identification in human body system as it is based on immunoassay technique.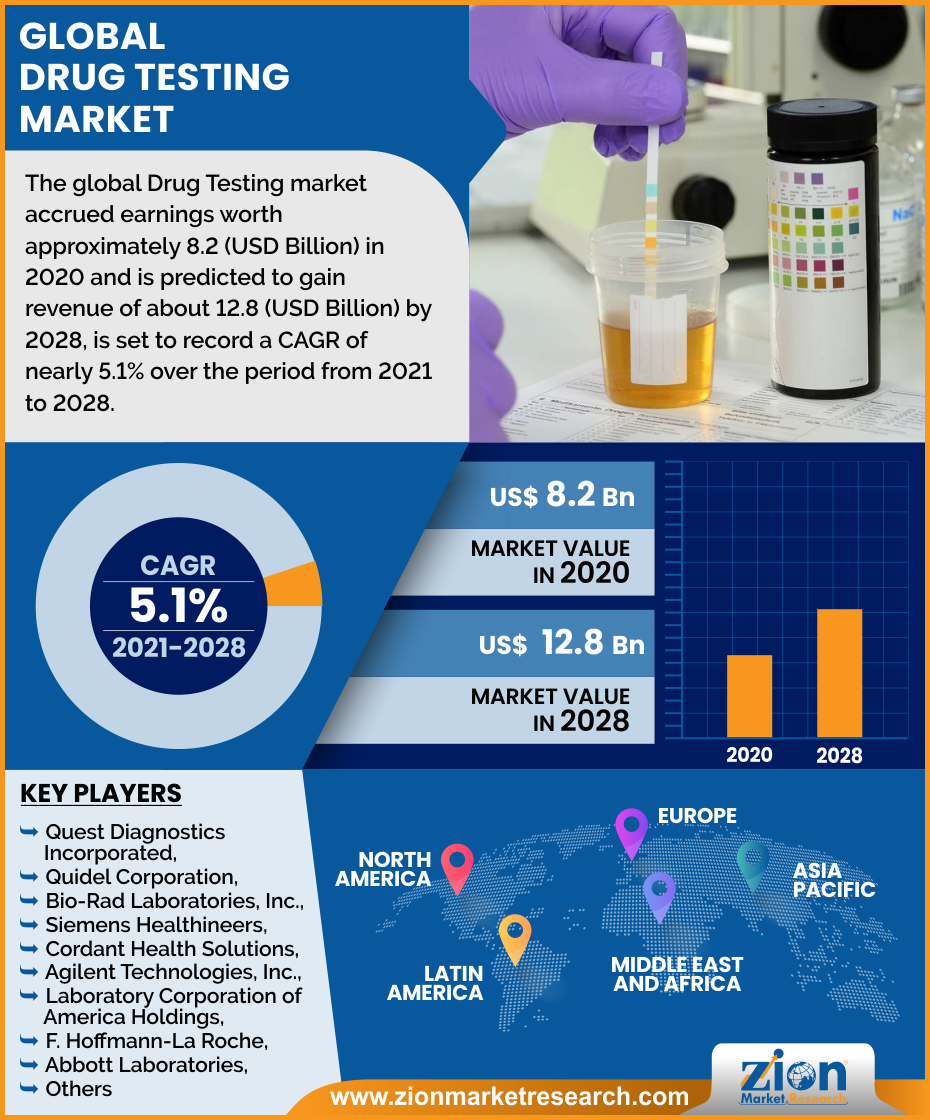 Request Free Sample
Drug Testing Market: Growth Dynamics
Strict enforcement of laws by government authorities mandating drug testing as well as alcohol testing for security purpose as well as combating drug abuse in respective countries will drive market trends. Massive demand for workplace drug testing such as pre-employment drug testing, incident-driven as well as for-cause drug testing for staff, and post-employment drug testing or random drug testing for targeted staff has proliferated market scope in recent years. Moreover, drug testing is a harm reduction technique and has been used in many of European countries and in the U.S. Rise in roadside drug testing for ensuring road safety as well as reducing incidents of road collisions will culminate into massive growth of drug testing market in years to come. Need for monitoring as well as combating drug abuse has raised requirement for drug testing activities, thereby driving market trends.
Furthermore, COVID-19 has resulted in closure of many manufacturing units due to lockdown and this has resulted into large number of layoffs in factories. In addition to this, many other industries including tourism, hotel, and travel industries have been severely affected due to COVID pandemic. This, in turn, has resulted in rise in stress, depression, and deteriorating mental condition/health among the working population, giving rise to intake of drugs. This has made drug testing a necessary tool for government for arresting drug consumption among persons affected due to job loss or under stress of losing their jobs during COVID-19 pandemic, thereby opening new vistas of growth for drug testing business.
Report Scope:

Regional Landscape
North America To Retain Market Dominance Over 2021-2028
Growth of drug testing market in North America over forecast timespan can be ascribed to large-scale presence of giant participants in countries such as the U.S. Apart from this, favorable compensation policies along with high acceptance of new drug testing tools will drive regional market trends. With regional governments enforcing strict laws pertaining to drug abuse, the market for drug testing in North America is set to witness exponential growth over years to come. Legalization of cannabis in countries such as Canada and U.S. through passing of acts in parliament is likely to enlarge scope of drug testing market in North America over coming decade.
Competitive Landscape
Key players leveraging business space and profiled in Zion market research report include Quest Diagnostics Incorporated, Quidel Corporation, Bio-Rad Laboratories, Inc., Siemens Healthineers, Cordant Health Solutions, Legacy Medical Services, LLC, Laboratory Corporation of America Holdings, Agilent Technologies, Inc., Clinical Reference Laboratory (CRL), Inc., F. Hoffmann-La Roche, Drägerwerk AG & CO. KgaA, Abbott Laboratories, Thermo Fisher Scientific, Inc., and Omega Laboratories, Inc.
The global Drug Testing Market is segmented as follows:
By Product
By End-User
Drug Testing Laboratories
Hospitals
Workplace
By Sample Type
Urine Sample
Oral Fluid Samples
Hair Samples
By Region
North America
Europe

France
The UK
Spain
Germany
Italy
Rest of Europe

Asia Pacific

China
Japan
India
South Korea
Southeast Asia
Rest of Asia Pacific

Latin America

Brazil
Mexico
Rest of Latin America

Middle East & Africa

GCC
South Africa
Rest of Middle East & Africa