The drug & gene delivery systems market is set for a rapid growth over the forecast period. In terms of revenue, the global drug & gene delivery systems market accounted for USD 536.69 Billion in 2019 and is expected to reach USD 909.67 Billion by 2026, growing at a CAGR of 7.83%
Global Drug & Gene Delivery Systems Market: Overview
Drugs are the first-line treatment for nearly any minor or significant disease. The definition of drugs derives from the word drug delivery systems, which can be used to be a mechanism or a formulation that is used to introduce a medicinal agent into the body. This system or formulation helps to improve the potency of the medication within the body. A typical example can be a nasal spray, majorly used by people with nasal congestion.
With an increasing number of diseases making their presence across the globe, in order to achieve the optimized desired response, organizations have succeeded, to a large degree, in developing various drug administration routes. The targeted method of drug delivery allows doctors to specifically target the area in the body that needs care, avoiding the surrounding areas. This prevents any adverse effects that could have arisen, while also ensuring that the medicine's efficacy is preserved at the target level. Factors such as reducing the amount of Active Pharmaceutical Ingredient (API) per dose and increasing patient comfort are targeted in the production of drug delivery systems.
On the other hand, gene delivery mechanisms include the introduction of foreign genetic materials, DNA or RNA, into the host cell. In order for gene transmission to be successful, these foreign genetic materials should remain stable in the host cell, be incorporated into the genome or duplicated independently.
Gene delivery is also important in the genetic modification of crops, along with applications in human therapeutics. A significant number of current clinical trials demonstrate the degree to which pharmaceutical companies are turning their attention on gene therapy. The demand for gene delivery systems is expected to be driven by the high potential of gene therapy and the production of successful vectors.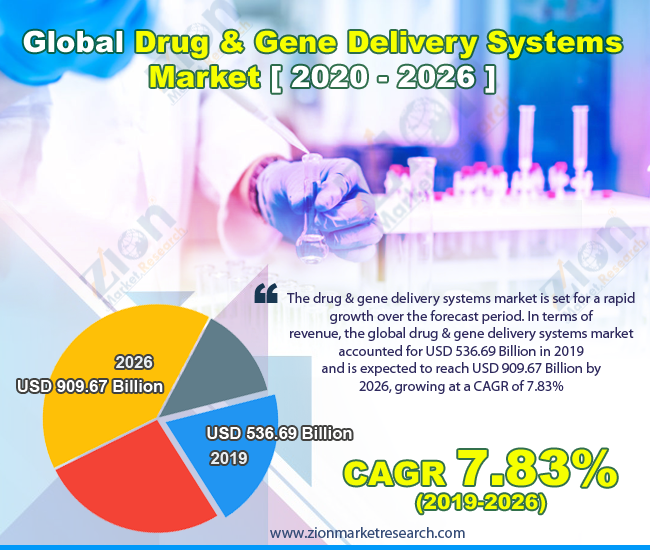 Global Drug & Gene Delivery Systems Market: Growth Factors
In order to remain competitive in the industry, the current market for drug and gene delivery systems has reached a degree of competition where every market player is investing heavily in creating a novel delivery system. Various variables can be linked to the development of both the drug and gene delivery system markets, such as:
There has been a steady rise in the prevalence of diseases around the world, significantly aided by a shift in lifestyle. As a result, demand for drug delivery systems has increased.
Ongoing research and development by leading pharmaceutical companies, as well as by young players, with an emphasis on capturing the market, has helped to put advanced drugs into the market, thereby expanding market attractiveness.
In addition, the availability of the same drug in various dosage forms offers a market selection incentive for pharmaceutical firms to increase profits, leading to higher dosage-based varieties.
Controlled-release drug delivery systems have proven their efficacy in the battle against a wide range of diseases, which have helped to generate strong demand for consumers.
Gene therapy is now one of the most well-known types of treatment at the present time, and given that gene delivery is an integral part of this setup, the demand for gene delivery systems has naturally expanded.
Rapid advances in genomics, the use of DNA microarrays for Next-Generation Sequencing (NGS) has allowed a range of vectors that could potentially be used in gene therapy. Again, this is a trend that leads to business growth.
Among many other desirable properties that can be greatly facilitated by gene delivery, there has been a global demand for crops to be pest-resistant and stress-resistant, but also to have extended shelf life. This is another aspect that has an impact on the growth of the market.
Technical innovation plays an important role in increasing supply for drug delivery systems, as most of these procedures lead to patient comfort. Nanotechnology in tablets and injections, auto-injectors, and self-powered wearable devices are some of the notable technical developments of the past few years. These technologies are anticipated to influence the growth of advanced drug delivery systems during the forecast period.
Impact due to the outbreak of COVID-19
The COVID-19 pandemic has had a positive and unfavorable impact on the healthcare industry. Hospital systems are overburdened by the growing patient population of COVID-19, which puts pressure on the supply of medical supplies for both patient and hospital. Due to the rising demand for medical supplies, such as pre-filled syringes, injections and other medicines, the production capacity of manufacturers has increased, thereby raising the market demand for drugs and gene delivery systems.
Global Drug & Gene Delivery Systems Market: Segmentation
The global drug and gene delivery systems market is divided into delivery system, route of administration, application, and geography.
The targeted drug delivery segment in drug delivery category is expected to hold a large market share and to continue to dominate over the forecast period. Targeted drug delivery is an innovative approach used in both drug and gene delivery. Targeted drug delivery, also referred to as smart drug delivery, is a method of distributing medications to the patient in a way that increases the concentration of drugs in certain areas of the body compared to others. Factors such as lower dose required compared to the traditional drug delivery, avoidance of first pass metabolism, simplified drug administration protocols, and higher therapeutic index achieved at small dosage of medication propels the targeted drug delivery segment.
On the basis of gene delivery systems, viral gene delivery was the leading segment in 2019 and is likely to continue to dominate during the forecast timeframe. A significant benefit of viral vectors is the high efficiency of their gene transmission.
On the basis of routes of administration, injectable segment held the largest market share in 2019 and is likely to account for a major market share by the end of the forecast period. Recent developments in the needle-free injector market such as auto-injector, pre-filled syringes, wearable, and pen-injectors are factors driving the market.
Global Drug & Gene Delivery Systems Market: Regional Analysis
By Geography, the drug & gene delivery systems market is segmented into North America, Europe, Latin America, Asia Pacific, and Middle East and Africa.
North America accounted for a large share of the global demand for drug and gene delivery systems in 2019. The demand in the United States is driven by rising government initiatives for research studies on disease prevalence. Nearly 30.3 million people in America were diagnosed with diabetes in 2018, according to the American Diabetes Association. In addition, it is expected that the presence of major manufacturers in the region would contribute to market growth.
Asia Pacific is anticipated to grow at a fastest rate in the near future, due to factors such as rising knowledge of emerging systems and the influx of foreign industry players to pursue opportunities in the region's untapped market. Rising prevalence of HIV and cancer in countries such as South Africa, Brazil, and Saudi Arabia is expected to boost the market in Latin America and Middle East & Africa.
Global Drug & Gene Delivery Systems Market: Competitive Players
The major players in the global drug & gene delivery systems market include F. Hoffmann-La Roche Ltd, Novartis AG, Johnson and Johnson private Ltd, Pfizer, Inc., Amgen Inc., Sibiono GeneTech Co. Ltd., Becton, Dickinson and Company, Oxford BioMedica plc, Unique N.V., Shanghai Sunway Biotech Co., Ltd., Epeius Biotechnologies Corporation, and Human Stem Cells Institute among others.
The report segment of global drug & gene delivery systems market are as follows:
Global Drug & Gene Delivery Systems Market: Delivery System Segment Analysis
Drug Delivery Systems

Prodrug Implants
Intrauterine Implants
Targeted Drug Delivery
Polymeric Drug Delivery

Gene Delivery Systems
Adenovirus Vector
Adeno-Associated Virus Vector
Herpes Simplex Virus Vector
Lentivirus Vector
Retrovirus Vector
Sendai Virus Vector
Others
Chemical Methods
Natural Organic Compounds
Physical Methods
Global Drug & Gene Delivery Systems Market: Route of Administration Segment Analysis
Oral
Ocular
Nasal
Injectable
Inhalation
Transdermal
Topical
Global Drug & Gene Delivery Systems Market: Application Segment Analysis
Diabetes
CNS
Infectious Diseases
Oncology
Others
Global Drug & Gene Delivery Systems Market: Regional Segment Analysis
North America
Europe

France
The UK
Spain
Germany
Italy
Rest of Europe

Asia Pacific

China
Japan
India
South Korea
Southeast Asia
Rest of Asia Pacific

Latin America

Brazil
Mexico
Rest of Latin America

Middle East & Africa

GCC
South Africa
Rest of Middle East & Africa