Global Disposable & Reusable Mask Market: Size
The disposable & reusable mask market is set for a rapid growth over the forecast period. In terms of revenue, the global disposable & reusable mask market accounted for USD 42.11 Billion in 2019 and is expected to reach USD 96.47 Billion by 2026, growing at a CAGR of 12.57%
Global Disposable & Reusable Mask Market: Overview
The coronavirus outbreak that began in late 2019 has resulted in a significant rise in demand for face masks. Reusable fabric masks have become a common alternative in countries where face masks are in short supply due to panic purchasing or insufficient supply, as they are also considered more environmentally friendly and cost-efficient than disposable medical masks. However, there is still a lot of variance in the quality and performance of available face masks; not all of them can protect against the highly infectious virus while still being comfortable to wear.
To monitor the spread of the novel coronavirus that triggers COVID-19, the WHO (World Health Organization), CDC (Centers for Disease Control and Prevention), and public health officials suggest wearing face masks. People are also wearing different kinds of face coverings, including hand-sewn masks, bandanas, and disposable surgical masks. In certain situations, the choice of mask depends on availability. But how effective are these face coverings is a serious matter of concern.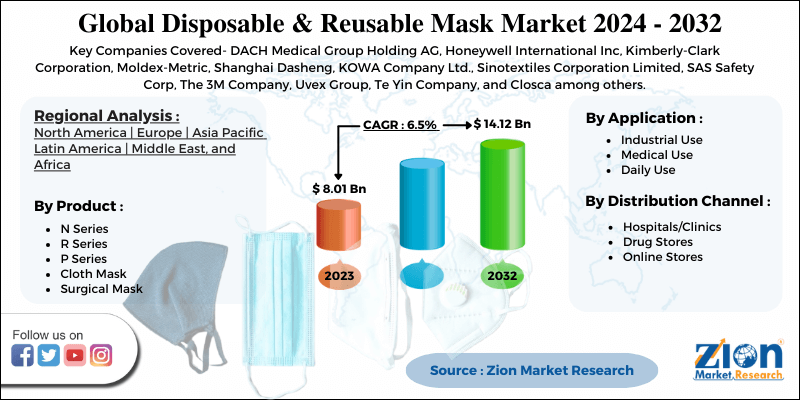 Request Free Sample
Disposable medical masks are the most common form of face mask used to avoid respiratory infections. They can, however, enable air and micro-organisms to leak or cause feelings of suffocation to choke. They are also not the most environmentally sustainable and cost-effective alternative in the current situation. As a result, several manufacturers and investors have taken the opportunity to create washable and reusable face masks to meet the needs of consumers. Although several newly designed washable masks have been placed on the market, their effectiveness is unclear. It is therefore necessary to understand the nature of the masks in terms of their efficacy and comfort.
Surgical grade masks are in high demand all over the world and are required by physicians, workers, carers and health professionals working on the front line to save the lives of those who have infected COVID-19. Members of the general public do not require surgical masks; a cloth mask would suffice in avoiding droplets from the nose and mouth from travelling too far and infecting others.
To prevent infection, surgical masks in hospitals should be properly disposed of and incinerated. Since the general public lacks the ability to follow this organized disposal, masks will not be properly disposed of, risking further contamination as well as the possibility of masks having an adverse effect on the environment. As a result of these factors, the UK government has decreed that cloth face masks must be worn in areas where social distancing is impossible, such as public transportation and stores.
By Geography, the disposable & reusable mask market is segmented into North America, Europe, Latin America, Asia Pacific, and Middle East and Africa.
Asia Pacific is projected to lead the global disposable and reusable masks market in the coming years. Growing focus on workers safety across numerous industries, thereby surging demand for respiratory protective equipments in India, China, and other developing countries in Asia Pacific is driving the demand for disposable and reusable masks market in the region. These countries are investing heavily in the industrial and construction sectors, which may result in significant air pollution, thereby fuelling demand for disposable and reusable masks in the near future.
The market in North America is experiencing substantial position in the disposable and reusable masks industry due to a rise in the prevalence of chronic diseases, which has also resulted in an increment in the number of medical treatments in the region. The U.S. is witnessing an increase in the incidence of chronic diseases such as breast and uterine cancer, resulting in an increase in demand for surgical masks.
Global Disposable & Reusable Mask Market: Competitive Players
The major players in the global disposable & reusable mask market include DACH Medical Group Holding AG, Honeywell International Inc, Kimberly-Clark Corporation, Moldex-Metric, Shanghai Dasheng, KOWA Company Ltd., Sinotextiles Corporation Limited, SAS Safety Corp, The 3M Company, Uvex Group, Te Yin Company, and Closca among others.
The report segment of global disposable & reusable mask market are as follows:
Global Disposable & Reusable Mask Market: Product Type Segment Analysis
R Series
P Series
Cloth Mask
Surgical Mask
Global Disposable & Reusable Mask Market: Application Segment Analysis
Industrial Use
Medical Use
Daily Use
Global Disposable & Reusable Mask Market: Distribution Channel Segment Analysis
Hospitals/Clinics
Drug Stores
Online Stores
Global Disposable & Reusable Mask Market: Regional Segment Analysis
North America
Europe

France
The UK
Spain
Germany
Italy
Rest of Europe

Asia Pacific

China
Japan
India
South Korea
Southeast Asia
Rest of Asia Pacific

Latin America

Brazil
Mexico
Rest of Latin America

Middle East & Africa

GCC
South Africa
Rest of Middle East & Africa