Industry Prospective:
The global dental equipment and consumables market was worth around USD 21.94 billion in 2021 and is estimated to grow to about USD 37.89 billion by 2028, with a compound annual growth rate (CAGR) of approximately 6.5 percent over the forecast period. The report analyzes the dental equipment and consumables market's drivers, restraints/challenges, and the effect they have on the demands during the projection period. In addition, the report explores emerging opportunities in the global dental equipment and consumables market.
Dental Equipment and Consumables Market: Overview
Dental equipment is described as instruments that enable dentists to move tissues for better visual access during dental treatment or examination. While periodontal diseases, dental impairments, dental caries, tooth restoration, and gingival tissue problems are all treated using dental consumables.
COVID-19 Impact:
The global dental equipment and consumables market is being severely impacted by the outbreak of the Covid-19. Medical practices of all types were under tremendous strain as a result of the COVID-19 pandemic, and healthcare institutions throughout the world have been overburdened by the high number of patients who see them on a regular basis. The COVID-19 pandemic has also raised the requirement for social distance among doctors and other healthcare workers. Many diagnostic and imaging departments have seen a dramatic drop in dental consumable's case numbers as a result of the COVID-19 outbreak. Across all practice contexts, this reduction has significant consequences for long- and short-term economic stability. In 2021, the actual impact of COVID-19 on the dental consumables sector has been determined as hospitals and imaging centers struggled to cope with the globe slowly returning almost after a year of isolation.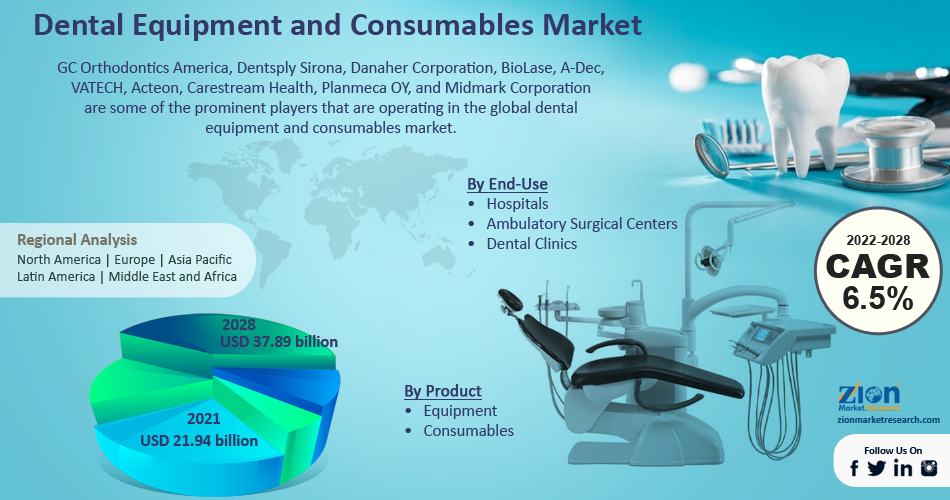 Request Free Sample
Dental Equipment and Consumables Market: Growth Drivers
Growing prevalence of dental diseases to drive the market growth
One of the prime factors that is driving the market growth is the growing incidence of dental diseases across the globe. It is being found that caries of permanent teeth affect an estimated 2.3 billion individuals worldwide, whereas caries of primary teeth affect about 530 million children. Oral diseases are extremely common all throughout the world, constituting a severe public health threat. The cumulative burden of oral diseases is growing substantially as a result of demographic factors such as population rise and aging. Furthermore, alcohol, sugar, and cigarette usage, as well as its accompanying commercial and social determinants, are all risk factors for oral diseases.
Besides, dental tourism is becoming more popular as a result of globalization's ease of travel, knowledge, and trade. Medical tourism has also grown in importance as a source of cash in developing nations, particularly in the Asia Pacific area, and may help to enhance local healthcare systems. The major motivations for dental tourism include reduced prices of care in the foreign land, no long waits, and fast treatment times, as well as the option to combine treatment with a vacation to fascinating places and the accessibility of treatments that are not authorized in the home country. All such factors are contributing to the growth of the global dental equipment and consumables market.
Dental Equipment and Consumables Market: Restraints
Lack of reimbursement policies to hinder the market growth
Owing to lack of the of healthcare expertise and financial means to undergo treatment, the majority of those impacted by oral illness are from lower-income groups. Medicare, the national health insurance program for older persons and young beneficiaries with impairments in developed nations such as the United States, does not cover normal dental treatment, and lots of folks have no dental coverage at all. Minimal or no dental insurance coverage may lead to huge out-of-pocket expenditures for certain people, as well as a lack of oral health treatment for others.
Furthermore, the rules exclude normal preventive dental treatments (such as x-rays, cleanings, and examinations), as well as major and minor restorative procedures (such as dentures, crowns, or fillings). In addition to oral health, knowledge remains a problem, since many people are unaware of how to seek dental treatment, how to minimize oral diseases, or the importance of oral health. Furthermore, many people cannot afford private dental treatment, and oral health care is frequently not incorporated into the main healthcare system. This is likely to hamper market growth.
Dental Equipment and Consumables Market: Opportunities
Advancement in dental technology to enhance the space of market during the forecast period.
CAD/CAM (Computer-Aided Designing and Manufacturing) technologies became an extremely prominent aspect of dentistry, and the advancement of CAD/CAM technology in restoration technology has been rapid. By solving a variety of dental office concerns, digital impressions, combined with CAD-CAM, will eventually make digital intraoral scanning a standard practice for many dental restorative operations. Moreover, digital impressions minimize the amount of essential treatment visits and improve the therapy's precision and accuracy. With the widespread adoption of such technology, rapid expansion in many sectors of dentistry that can benefit from digital models (dental implantology, orthodontics, prosthodontics, and restorative dentistry) and digital impression taking is expected in the coming years, resulting in a real tech transformation in dentistry and several growth opportunities for the global dental equipment and consumables market over the forecast period.
Dental Equipment and Consumables Market: Challenges
Lack of awareness regarding oral health acts as major challenge for growth of the market
The misconception that oral health is less important than general health continues to exist among citizens, including healthcare workers, legislators, insurance companies, educators, and community leaders. Patient populations with limited oral health literacy skills are associated with the highest levels of disease and the worst oral health outcomes. The effects of low oral health literacy can have a domino effect on society and may be passed down from generation to generation. Additionally, affordability and availability are major barriers to accessing care. Dentists tend to concentrate in more affluent urban areas, leaving rural or disadvantaged populations relatively underserved. This in turn is predicted to serve as a major challenge for the market growth.
Dental Equipment and Consumables Market: Segmentation
The global dental equipment and consumables market is divided based on product, end-use, and region. Based on the product, the market is segregated into consumables and equipment. The end-use segment is classified into dental clinics, ambulatory surgical centers, and hospitals.
Recent Developments
In February 2022, Midmark Corp., a leading dental solutions provider dedicated to improving care delivery through the layout of the clinical environment, revealed a new strong alliance with Bien-Air Dental SA that integrates two companies' reputed dental technology into an easy-to-use, simple, delivery care solution.
In June 2019, Danaher announced Envista holdings corporation as a new dental company. Ormco, KaVo Kerr, and Nobel Biocare Systems will form Envista, which will be part of Danaher's Dental business.
Report Scope:
Dental Equipment and Consumables Market: Regional Landscape
North America to dominate the market during the forecast period
North America to account for the major share in the global dental equipment and consumables market during the forecast period. This is majorly attributed to factors such as heightened consumer awareness of the importance of oral hygiene to overall health, continued favorable demographic trends, and increased prevalence of dental diseases. In addition to this, widespread acceptance of technological advancements in dental equipment, such as CAD/CAM systems, digital radiography, intra-oral cameras, and lasers is also contributing to the growth of the market in this region. On the other hand, although the Asia Pacific market for dental consumables is relatively new, it is predicted to develop at the fastest rate in the future years. Vendors of dental consumables are likely to see considerable growth opportunities in countries including Singapore, South Korea, New Zealand, and Japan.
Dental Equipment and Consumables Market: Competitive Landscape
GC Orthodontics America, Dentsply Sirona, Danaher Corporation, BioLase, A-Dec, VATECH, Acteon, Carestream Health, Planmeca OY, and Midmark Corporation are some of the prominent players that are operating in the global dental equipment and consumables market.
Global dental equipment and consumables market is segmented as follows:
By Product
By End-Use
Hospitals
Ambulatory Surgical Centers
Dental Clinics
By Region
North America
Europe

France
The UK
Spain
Germany
Italy
Rest of Europe

Asia Pacific

China
Japan
India
South Korea
Southeast Asia
Rest of Asia Pacific

Latin America

Brazil
Mexico
Rest of Latin America

Middle East & Africa

GCC
South Africa
Rest of Middle East & Africa