Market Overview
The global Defibrillators market accounted for USD 9,714.6Million in 2020 and is expected to reach USD 12,552.2 Million by2028, growing at a CAGR of 3.5% from 2021 to 2028.
Defibrillators can be simply described as electronic devicesthat deliver an electric shock, of high energy, to the heart of anindividual, who went into cardiac arrest. They restore the normalcardiac rhythm of the heart. They are predominantly used to corrector prevent an arrhythmia, which can be simply defined as aheartbeat that is too slow or too fast. There are several types ofDefibrillators and based on their type, they show a different modeof operation.
Cardiovascular diseases have risen the morbidity ratesignificantly. Increased morbidity rate is one of the key factorsthat is augmenting the global defibrillators market. The ability ofDefibrillators to efficiently control arrhythmias, for extendedperiods, will drive the growth for Defibrillators market, duringthe forecast period.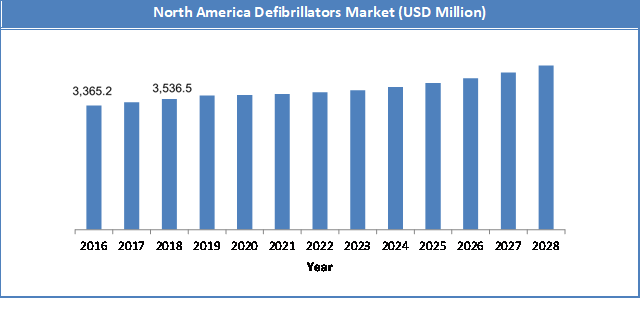 COVID-19 Impact Analysis
Before the COVID-19 pandemic, companies in the defibrillatorsmarket were expanding at a steady pace. However, during thepandemic, the players in the market took a sharp hit. This can beaccredited to the worldwide lockdown and the widespread infectionrate of the virus.
Due to the lockdown, the cardiac procedures that were classifiedas elective were pushed forward, indefinitely. Additionally,hospitals did not take on patients for surgical procedures due tothe high risk of infection. All these factors had a cumulativeimpact on the Defibrillators market, which declinedsignificantly.
However, the pandemic also highlighted the significance ofhealth awareness. Furthermore, Defibrillators will be used insevere cases of Covid infection, to help patients who undergocardiac arrest. This will enhance the defibrillators market, in thecoming years.
Growth Factors
Increased health awareness, changing demographics and risingprevalence of cardiovascular diseases are some of the key factorsthat advance the defibrillators market.
The world population, currently, is struggling withnon-communicable diseases such as cardiovascular diseases, obesityrelated disorders, diabetes and hypertension among others. Thesediseases have a negative impact on the cardiac health ofindividuals. Owing to this, there is an increase in cardiacsurgeries and procedures. This will drive the growth ofDefibrillators market. Furthermore, changing demographics haveincreased the population of aging citizens. This further increasesthe demand and need for cardiac procedures.
Subsequently, the presence of large number of developing anddeveloped economies, worldwide, have resulted in economic growthand high disposable incomes. Owing to this, the expenditure powerof consumers has risen, which will further enhance theDefibrillators market.
Report Scope:
| Report Attribute | Details |
| --- | --- |
| Base Year | 2020 |
| Historic Years | 2016 - 2020 |
| Forecast Years | 2021 - 2028 |
| Segments Covered | By Product Type, By Application, and By End Use |
| Forecast Units | Value (USD Billion), and Volume (Units) |
| Quantitative Units | Revenue in USD million/billion and CAGR from 2021 to 2028 |
| Regions Covered | North America, Europe, Asia Pacific, Latin America, and MiddleEast & Africa, and Rest of World |
| Countries Covered | U.S., Canada, Mexico, U.K., Germany, France, Italy, Spain,China, India, Japan, South Korea, Brazil, Argentina, GCC Countries,and South Africa, among others |
| Companies Covered | Boston Scientific Corporation, Medtronic Plc, AbbottLaboratories, Nihon Kohden Corporation, Koninklijke Philips N.V.,Biotronik, LivaNova Plc, Mediana Co. Ltd., BPL Medical Technologiesand Schiller AG among others |
| Report Coverage | Market growth drivers, restraints, opportunities, Porter's fiveforces analysis, PEST analysis, value chain analysis, regulatorylandscape, market attractiveness analysis by segments and region,company market share analysis, and COVID-19 impact analysis. |
| Customization Scope | Avail customized purchase options to meet your exact researchneeds. |
Product Segment Analysis Preview
The Implantable Cardioverter Defibrillators (ICDs) segment helda share of over 36% in 2020, becoming the most dominant segment,globally and it is expected to maintain its dominance, during theforecast period. This dominance can be credited to several factorssuch as increasing technological developments, rising research anddevelopment activities and the advantages linked with the usage ofICDs.
Owing to economic growth, large investments for research anddevelopment activities, in the healthcare segment and technologicaldevelopments, ICDs have been modified and developed, to providevalue to the end-users, efficiently. Due to this, they acquire amajor part of the global Defibrillators market.
Subsequently, the External Defibrillators segment holds asubstantial share of the market. This is attributable to thefeatures of Wearable Cardioverter Defibrillators (WCDs) andAutomated External Defibrillators (AEDs). Due to their automation,they can be easily operated, with convenience.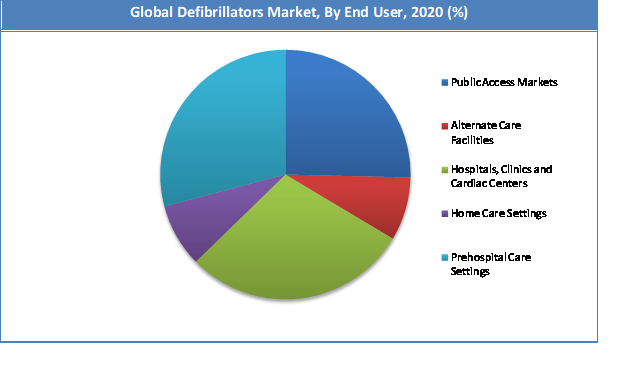 End User Segment Analysis Preview
The Hospitals, Clinics and Cardiac Centers segment isanticipated to reach a CAGR of over 2.5% between 2021 and 2028.This is attributable to the immense demand and usage ofDefibrillators at Hospitals and Clinics.
Defibrillators are utilized for a multitude of cardiac surgeriesand procedures. They have applications outside of cardiac surgeryas well. With rising healthcare segment and increased expenditurepower, there has been a surge in elective procedures and surgeries.This, in turn, enhances the use of Defibrillators at Hospitals.Additionally, sedentary lifestyles increase the burden ofcardiovascular diseases. Subsequently, the Public Access Marketssegment holds a substantial share of the Defibrillators market.This is attributable to the increased prevalence of heartconditions. Setting up of Defibrillators at Public places helpswith cardiac arrest occurrences at Public locations.
Regional Analysis Preview
The North America region accounted for a share of over 33% in2020. This is attributable to various factors such as innovationsin the field of healthcare and devices, enhanced obesity rate,well-established and advanced healthcare system and high prevalenceof cardiovascular diseases, in the region.
Developed economies like the US and Canada have well-establishedand highly advanced healthcare systems. Due to this, they havelarge number of investments in the medical industry, for developingand innovating surgical procedures. This advances theDefibrillators market in the region. Additionally, the obesity rateof the region is on the rise. This creates health problems for itsresidents and increases their reliability on medical procedures.Furthermore, the region has a high prevalence rate ofcardiovascular diseases. This, in turn, enhances the growth ofDefibrillators market, in the region.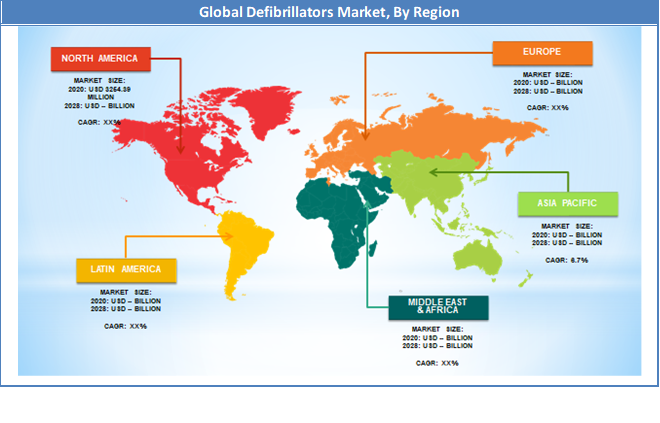 The Asia Pacific region is anticipated to grow with a CAGR ofover 6.7% between 2021 and 2028. This can be accredited to severalfactors that include economic development, growing population,advancing healthcare segment and changing demographics, in theregion.
Countries like Japan, China and India have a rapidly growinghealthcare system. Additionally, governments across variouscountries in the Asia Pacific region are taking initiatives andmaking huge investments in their healthcare system, to enhancetheir medical care and facilities.
Furthermore, the region is undergoing a change in theirdemographics which has increased the population of aging citizens.Subsequently, there is increased health awareness and enhancedexpenses in the healthcare and medical industry, in the region.This will further enhance the regional Defibrillators market.
Key Market Players & Competitive Landscape
Some of the key players in the Defibrillators market are BostonScientific Corporation, Medtronic Plc, Abbott Laboratories, NihonKohden Corporation, Koninklijke Philips N.V., Biotronik, LivaNovaPlc, Mediana Co. Ltd., BPL Medical Technologies and Schiller AGamong others.
The global Defibrillators Market is segmented as follows:
By Product
Implantable Cardioverter Defibrillators (ICDs)

Transvenous Implantable Cardioverter Defibrillators(T-ICDs)
Subcutaneous Implantable Cardioverter Defibrillators(S-ICDs)
Cardiac Resynchronization Therapy Defibrillator (CRT-D)

External Defibrillators

Manual External Defibrillators (MEDs)
Automated External Defibrillators (AEDs)
Wearable Cardioverter Defibrillators (WCDs)
By End User
Hospitals, Clinics and Cardiac Centers
Prehospital Care Settings
Public Access Markets
Home Care Settings
Alternate Care Facilities
By Region
North America
Europe

France
The UK
Spain
Germany
Italy
Rest of Europe

Asia Pacific

China
Japan
India
South Korea
Southeast Asia
Rest of Asia Pacific

Latin America

Brazil
Mexico
Rest of Latin America

Middle East & Africa

GCC
South Africa
Rest of Middle East & Africa