The global COVID-19 Saliva Screening Test Potential market accrued earnings worth approximately 2,960 (USD Billion) in 2020 and is predicted to gain revenue of about 4,733 (USD Billion) by 2028, is set to record a CAGR of nearly 4.7% over the period from 2021 to 2028. The report offers assessment and analysis of the COVID-19 Saliva Screening Test Potential market on a global and regional level. The study offers a comprehensive assessment of the market competition, constraints, revenue estimates, opportunities, evolving trends, and industry-validated data. The report provides historical data from 2018 to 2020 along with a forecast from 2021 to 2028 based on revenue (USD Billion).
Report Scope :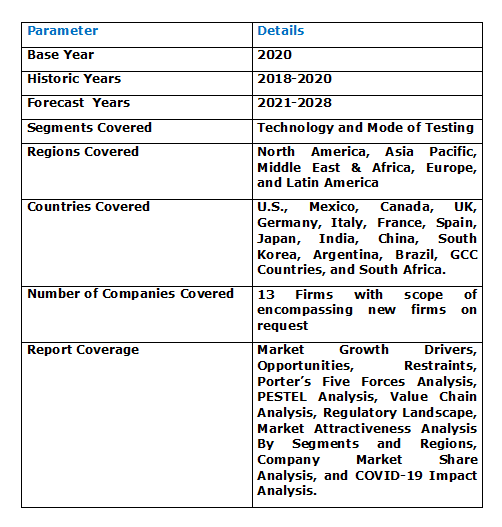 Request Free Sample
COVID-19 Saliva Screening Test Potential Market: Overview
According to WHO, SARS-CoV-2 is the key cause of COVID-19 and has spread across nearly 235 nations. Moreover, large-scale spread of the pandemic resulted in global lockdown in 2019-2020. Furthermore, WHO has recommended nasopharyngeal and oropharyngeal swab for quantitative assessment of SARS-CoV-2 RNA via RTPCR (real-time reverse transcription PCR). Reportedly, the virus is found to be constantly present in saliva & RTPCR of saliva specimens. Moreover, RTPCR of saliva specimens provides more benefits over oropharyngeal swab and nasopharyngeal swab such as saliva self-collection, cost-efficiency, and avoiding services of health workers for collecting specimen.
Additionally, salivary diagnosis includes "Salivaomics" that represents identifying of myriad "omics" constituting of salivary proteome, microRNA, microbiome, transcriptome, metabolome, and transcriptome. As per NCBI, saliva tests are found to be quick, cost-efficient, and highly sensitive & analytic in determination of oral ailments, viral infections, and human stress tests. Hence, saliva is considered to be effective diagnostic Biofluid for COVID-19 tests.
COVID-19 Saliva Screening Test Potential Market: Growth Dynamics
Accurate diagnosing of COVID 19 is key for containing disease in clinics and community set-up and testing of salivary specimens of individuals have proved to be technically advantageous as compared to testing of blood or any other body fluids. This, in turn, will drive growth of COVID-19 saliva screening test potential market over the years ahead. In addition to this, saliva can be easily self-collected by children & adults with patient spitting in sterile container. Hence, collection of saliva eliminates requirement of services of healthcare professionals along with reducing nosocomial infections. This, in turn, will drive industry trends. Apparently, saliva screening minimizes costs and time related to specimen collection, thereby raising number of tests of patients along with supporting mass screening. This will create lucrative growth avenues for COVID-19 saliva screening test potential industry over the years ahead.
Furthermore, saliva specimen collection can be made when outpatient clinics, household areas, and community sites are not available. For the record, from saliva screening test results demonstrated by Australian researchers in June 2021 at Royal Melbourne Hospital, it was found that new saliva tests using infrared light technology had ability to detect COVID-19 within five minutes. Such breakthroughs is likely to help the market explore new growth frontlines in the near future. Salivary specimen collection is non-invasive and can minimize exposure of health workers to COVID-19 disease to a large extent, thereby steering growth of industry sphere. The saliva collection can also be used for sequential determination of viral load and this will scale up market value in the next couple of years.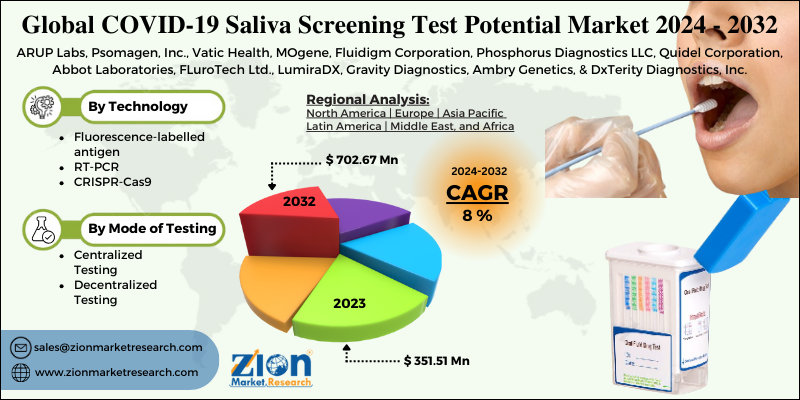 Request Free Sample
Regional Landscape
North American To Retain Market Domination Over 2021-2028
The growth of COVID-19 saliva screening test potential industry in North America during forecast period can be credited to launching of myriad products by startups. Apart from this, presence of key participants in the sub-continent involved in development of diagnostics & screening tests is likely to contribute majorly towards regional market size over the upcoming years.
Competitive Insights
Key players leveraging market surge and profiled in study include ARUP Labs, Psomagen, Inc., Vatic Health, MOgene, Fluidigm Corporation, Phosphorus Diagnostics LLC, Quidel Corporation, Abbot Laboratories, FLuroTech Ltd., LumiraDX, Gravity Diagnostics, Ambry Genetics, and DxTerity Diagnostics, Inc.
The global COVID-19 Saliva Screening Test Potential Market is segmented as follows:
By Technology
Fluorescence-labelled antigen
RT-PCR
CRISPR-Cas9
By Mode of Testing
Centralized Testing
Decentralized Testing
By Region
North America
Europe

France
The UK
Spain
Germany
Italy
Rest of Europe

Asia Pacific

China
Japan
India
South Korea
Southeast Asia
Rest of Asia Pacific

Latin America

Brazil
Mexico
Rest of Latin America

Middle East & Africa

GCC
South Africa
Rest of Middle East & Africa