Concession Catering Market Size & Overview
The global Concession Catering market Size, which accrued revenue worth more than 27,303.23 (USD Million) in 2019 and is projected to reach about USD 38,038.57 million by the end of 2026 is set to record a CAGR of nearly 5.3% over the period from 2020 to 2026. The report offers an assessment and analysis of the Concession Catering market on a global and regional level. The study provides an in-depth assessment of the industry competition, limitations, sales revenues, opportunities, emerging trends, and industry-validated information. The report offers historical data from 2017 to 2019 along with a forecast from 2020 to 2026 based on revenue (USD Million).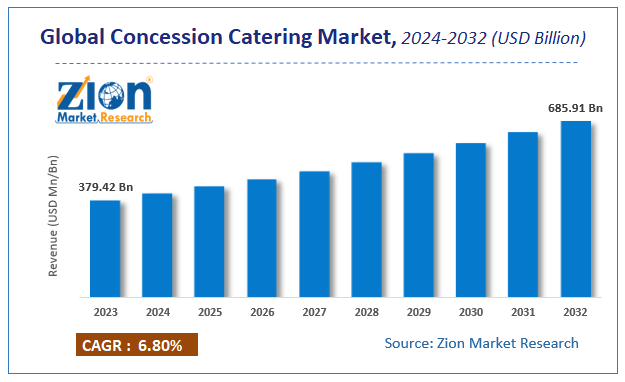 Request Free Sample
Introduction
Concession catering assists in attracting consumers from among a huge audience of visitors at roadside stop locations, airports, and railway stations. Moreover, concession catering activities are carried out in-house and even outsourced to a specific catering firm. In addition to this, concession catering includes service level catering and setting up of high-quality levels of service.
Market Growth Dynamics
Rapidly expanding transport networks and thriving medical tourism activities will steer the growth of the concession catering industry over the estimated timespan. Apart from this, the surge in leisure travel among customers will proliferate the demand for concession catering activities in the coming years. The rise in business travel has resulted in a surge in the income of food & beverage concessionaires at myriad tourist sites, thereby steering the market growth. Today, concession catheters are focusing on offering healthy diets & refreshments for the customers and this will reap huge gains for the market over the forecast timespan.
Furthermore, rise in the per capita income of the people and changing food habits has resulted in huge market demand across the globe. Apparently, beneficial macroeconomic activities across the globe will accelerate the growth of the market over the forecast timespan. Technological advancements has further added to the surge in the growth of concession catering industry over the forecast timespan.
Europe To Establish Market Dominance Over 2020-2026
The growth of the market in Europe during the estimated timeline is due to massive expenditure on travelling & leisure activities in the region. Apart from this, increase in the living standards and demand for fast food in countries like France, Italy, UK, and Germany along with growing socialization trends will drive the market growth in the region over the coming years. Changing food habits and lifestyles of the youth in the region has further added to the growth of the market in the continent in the recent years.
The food and beverage industry that feeds patrons in public places like stadiums, arenas, amusement parks, and other entertainment venues is referred to as the concession catering market. This market has undergone tremendous growth in recent years as a direct result of an increase in customer demand for a greater variety of high-quality food alternatives during public events. This demand has been the primary driver of this industry's expansion. Throughout the course of this market study, we are going to investigate the primary factors—including drivers, constraints, and opportunities—that influence the concession catering sector.
Market Drivers:
Demand for Quality and Diversity Continues to Grow The modern consumer expects to have access to a diverse selection of gastronomic offerings whenever they attend a public gathering. They want ingredients that are high in quality, fresh, and sourced from nearby, and they also want gluten-free, vegetarian, and vegan alternatives to choose from. As a result of this tendency, the market for concession catering services requires menus that are both more diversified and unique.
Increasing Numbers of People Attending Public Events Such Sports Games, Concerts, and Festivals The number of people attending public events like sporting events, concerts, and festivals is increasing. Because of this, the demand for services related to food and beverages in these venues has significantly expanded, which has led to the expansion of the market for catering provided by concession stands.
A Greater Emphasis on Health and Safety In the wake of the COVID-19 epidemic, there has been a greater emphasis placed on the implementation of health and safety protocols in public areas. Because of this, concession catering firms now have the opportunity to provide new services, such as increased cleanliness standards, internet ordering, and contactless payment alternatives.
Concession Catering Market Report Scope:
| Report Attributes | Report Details |
| --- | --- |
| Report Name | Concession Catering Market Research Report |
| Market Size in 2019 | USD 27,303.23 Million |
| Market Forecast in 2026 | USD 38,038.57 Million |
| Growth Rate | CAGR of 5.3% |
| Number of Pages | 110 |
| Forecast Units | Value (USD Billion), and Volume (Units) |
| Key Companies Covered | Autogrill, Elior Group, The Grove, Inc., SSP Group, and Concessions International, LLC. |
| Segments Covered | By Product, By End-user/Application, And By Region |
| Base Year | 2021 |
| Historical Year | 2016 to 2020 |
| Forecast Year | 2022 - 2030 |
| Customization Scope | Avail customized purchase options to meet your exact research needs. Request For Customization |
Market Challenges:
Concession and catering firms face a number of obstacles, one of which is the limited menu space that is available in public locations. Businesses have a responsibility to carefully select their menus in order to guarantee that they provide customers with a varied choice of options while at the same time adhering to the space limits imposed by the venue.
Concession catering firms frequently face competition from other vendors, who may provide food and beverage options that are comparable to or even superior to those offered by the concession catering company. Concession catering businesses risk experiencing a drop in both their revenue and their share of the market as a result of this.
Ingredient Costs Concession catering businesses frequently face a big obstacle in the form of the high cost of certain components. As a result of the growing demand from customers for products made using locally sourced and high-quality ingredients, businesses have been forced to search for more efficient solutions to meet this need without sacrificing product quality.
Market Opportunities:
The increasing focus on health and safety standards presents concession catering firms with an opportunity to improve their services by utilising technology. This potential is made possible by advancements in technology. This includes providing clients with choices for contactless payment, online ordering, and smartphone apps that enable customers to pre-order their food and avoid waiting in large queues.
Collaboration with Neighborhood Businesses Concession catering companies have the opportunity to collaborate with neighbourhood businesses in order to procure high-quality ingredients and develop distinctive menu options. This not only helps to support local companies but also gives customers access to a variety of new and exciting options in terms of food and beverages.
Concession catering companies have the opportunity to expand their services into new markets, such as corporate events, weddings, and other types of private functions. Because of this, they are able to reach a larger number of customers and diversify the sources of revenue they generate.
Key Market Players & Competitive Landscape
Key players leveraging the market growth include
The Grove. Inc.
Autogrill,
SSP Group,
Elior Group
Concessions International, LLC.
The global concession catering market is segmented as follows:
By Product
By end-user/application
Motorways
Airports
City Sites
Leisure
Railways
By Region
North America
Europe

France
The UK
Spain
Germany
Italy
Rest of Europe

Asia Pacific

China
Japan
India
South Korea
Southeast Asia
Rest of Asia Pacific

Latin America

Brazil
Mexico
Rest of Latin America

Middle East & Africa

GCC
South Africa
Rest of Middle East & Africa