Industry Prospective:
The global cheese liner market size was worth around USD 1300 Million in 2021 and is predicted to grow to around USD 1700 Million by 2030 with a compound annual growth rate (CAGR) of roughly 3.50% between 2022 and 2030. The report analyzes the global cheese liner market's drivers, restraints/challenges, and the effect they have on the demands during the projection period. In addition, the report explores emerging opportunities in the cheese liner market.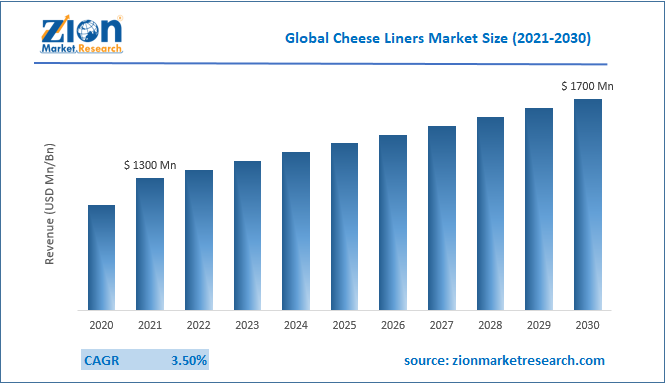 Request Free Sample
Get more information about this report - Request Free Sample PDF
Cheese Liner Market: Overview
Cheese liners refer to a packaging solution for cheese which is a growing dairy food product. Cheese liners are used to prevent food deterioration by maintaining the quality of the food until it reaches the end user. There is a growing trend of increased adoption of protein or high-fat diets, and cheese has become a staple in those diet forms.
Given the potential of the cheese market and its reach, it has become imperative to develop packaging solutions that can aid the maintenance of food quality from production to the final consumption stage. Cheese has been in existence for a long time and is available in various textures, and flavors which are created by the coagulation of milk protein called casein. Cheese is an excellent source of fat and proteins and is created with milk from buffaloes, cows, sheep, or goats.
The product is manufactured by first acidifying the milk, then adding bacterial enzymes like rennet to aid the casein coagulation. The curd thus formed, is then separated from the liquid known as whey, and is pressed to create the final cheese product. Since cheese is a dairy product it is highly prone to deterioration in case of exposure to oxygen, heat, and light since they can lead to enzymatic oxidation reactions which can cause cheese degradation resulting in a foul smell, change in color, and nutrient loss, and formation of other toxic substances.
Key Insights
As per the analysis shared by our research analyst, the global cheese liner market is estimated to grow annually at a CAGR of around 3.50% over the forecast period (2022-2030).
In terms of revenue, the global cheese liner size was valued at around USD 1300 million in 2021 and is projected to reach USD 1700 million, by 2030. Due to a variety of driving factors, the market is predicted to rise at a significant rate.
Based on type segmentation, the 640 lb block liners segment was predicted to show maximum market share in the year 2021
Based on source segmentation, the fiber-based segment was the leading revenue-generating source in 2021.
On the basis of region, North America was the leading revenue generator in 2021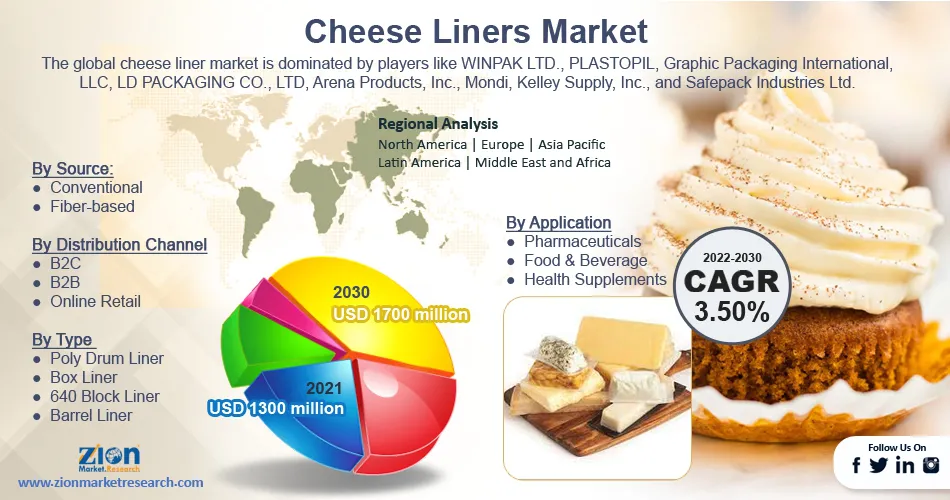 Request Free Sample
Covid-19 Impact:
The global market size witnessed a mixed impact during Covid-19. Since many manufacturing units were closed at the start of the pandemic which was also coupled with transportation restrictions, the global market suffered some losses. However, the demand for cheese liners grew due to the increased request for cheese in the food & beverage sector along with the pharmaceutical industry.
Cheese Liner Market: Growth Drivers
The ability of cheese liners to replace hardboard and wood liners may propel global market growth
The global cheese liner market growth may be attributed to the quality of cheese liners to replace wood liners or hardboards used for food packaging. Since dairy products can easily get contaminated if not stored in a suitable environment it is important that they are stored and packaged in an ideal environment. The chances of food getting contaminated during the packaging process are higher than contamination during any other supply chain process. Since cheese liners are contamination-free, they eliminate the risk of the final cheese product getting contaminated.
The global market size may also benefit from the rising cheese consumption across the world. In 2021, around 21.86 million metric tons of cheese were produced globally, and the number is expected to rise in the coming years, which will be beneficial for cheese liner manufacturers owing to the growing demand.
The higher demand for cheese is majorly driven by the food & beverages industry. There is also a growing number of cheese manufacturers across the globe ranging from international players to domestic producers which are propelled by the higher adoption rate of cheese in diet forms.
The global market expansion is also contributed by the flexibility offered by cheese liners during the packaging process since they can be manufactured to fit all types of cheese including Swiss, Cheddar, and others. The qualities like aroma, taste and nutritional value are very well preserved by cheese liners and hence their demand is surging in the global market.
Cheese Liner Market: Restraints
Strict packaging guidelines to restrain the global market growth
The packaging industry has to adhere to strict guidelines when it comes to packaging solutions. The industry is regulated by many rules and laws which differ from country to country. There is an absence of standard packaging guidelines which makes it difficult for manufacturers to cater to the needs of the population in other regions thus restricting their global reach.
For example, Packaging manufacturers in India have to comply with rules like the Prevention of Food Adulteration Act, 1954, Meat Food Products Order, 1973, etc., restraining entry of international producers. Other regions also have their individual laws thus restricting the growth of the global market size.
Cheese Liner Market: Opportunities
The emergence of domestic players to provide growth opportunities
The global cheese liner market may be filled with growth opportunities owing to the rising trend of increasing domestic players across regions. Countries like China and Singapore are employing technologically advanced systems in their packaging industry.
The Chinese market relies on packaging and is known to rely on modern technology aiding its mission towards becoming a world leader. As per reports published by Deloitte, Africa is expected to become a high revenue-generating region in the packaging sector during the next few years. The growth in such regions may provide lucrative growth chances for the global market cap.
Cheese Liner Market: Challenges
High cost of raw materials to challenge the global market expansion
The raw material used to manufacture cheese liners is expensive and may not be affordable for small-scale manufacturers thus creating challenges for global market growth. Importing the raw material increases the overall production expense thus reducing cost efficiency. The high cost may be attributed to the rising political tension across regions and the globally rising inflation rate.
Cheese Liner Market: Segmentation
The global cheese liner market is segmented based on source, distribution channel, type, application, and region.
Based on the source, the global market segments are conventional and fiber-based. The global market is expected to be dominated by fiber-based sources because it uses reusable, renewable, and biodegradable materials for manufacturing the end product. In general, fiber-based packaging solutions are expected to grow at a CAGR of 3% in the coming few years.
Based on distribution channels, the global market is segmented into B2C, B2B, and online retail. The global market is expected to be dominated by the B2B segment because of higher demand from many small-scale and large-scale end-users of the product. In the USA, 23.6% of the total businesses are generally B2B, and the same trend is projected in various other regions as well.
Based on type, the segments in the global market are poly drum liner, box liner, 640 block liner, and barrel liner. 640 lb block liners are more in demand given their extreme strength along with other mechanical properties that keep the product intact during the packaging process.
By application, pharmaceuticals, food & beverage, and health supplements are the global market segments. Food & beverages are the largest consumers of cheese liners given the high demand for cheese in this sector. The Indian cheese market in 2021 is valued at over USD 56 billion which is expected to grow even further during the forecast period.
Recent Development:
In June 2021, Graphic Packaging International launched a new dual and ovenable paper seal cook range. The news followed another announcement by the same firm related to the launch of PaperSeal Slice® and PaperSeal Wedge, specifically designed for cheese and meat applications
In June 2021, Mondi which is a leading packaging and paper group solutions provider, worked alongside Hazeleger Kaas to package the Dutch Maaslander brand in EnvelopeForm which is a 100% recyclable polypropylene (PP) mono-material packaging solution
Cheese Liners Market Report Scope:
Report Attributes
Report Details
Report Name
Cheese Liners Market Research Report
Market Size in 2021
USD 1300 Million
Market Forecast in 2030
USD 1700 Million
Compound Annual Growth Rate
CAGR of 3.50%
Number of Pages
170
Forecast Units
Value (USD Million), and Volume (Units)
Key Companies Covered
WINPAK LTD., PLASTOPIL, Graphic Packaging International, LLC, LD PACKAGING CO., LTD, Arena Products, Inc., Mondi, Kelley Supply, Inc., and Safepack Industries Ltd.
Segments Covered
By Source, By Distribution Channel, By Type, By Application and By Region
Regions Covered
North America, Europe, Asia Pacific (APAC), Latin America, Middle East and Africa (MEA)
Countries Covered
North America: U.S and Canada
Europe: Germany, Italy, Russia, U.K, Spain, France, Rest of Europe
APAC: China, Australia, Japan, India, South Korea, South East Asia, Rest of Asia Pacific
Latin America: Brazil, Argentina, Chile
The Middle East And Africa: South Africa, GCC, Rest of MEA
Base Year
2021
Historical Year
2016 to 2020
Forecast Year
2022 - 2030
Customization Scope
Avail customized purchase options to meet your exact research needs. Request For Customization
Cheese Liner Market: Regional Analysis
North America to dominate the global market during the projection period
The global cheese liner market is expected to be led by North America in the next few years owing to the rising awareness amongst manufacturers and end-consumers about environmental-friendly packaging. As per official reports, more than 40% of the US population is inclined toward sustainable forms of packaging which is anticipated to aid regional growth. In March 2021, Unilever North America announced an investment of USD 15 million to recycle an estimated 60,000 metric tons of U.S. plastic packaging waste by 2025.
Asia-Pacific may also generate high revenue in the coming years owing to advancements in the field of cheese liner production. The growing population and the subsequent rising demand in the F & B sector may aid regional growth. As of 2020, China was the leading country in the food & beverages sector with a revenue of USD 1.3 trillion whereas India contributed around USD 575 billion in the same year
Cheese Liner Market: Competitive Analysis
The global cheese liner market is dominated by players like:
WINPAK LTD.
PLASTOPIL
Graphic Packaging International LLC
LD PACKAGING CO. LTD
Arena Products Inc.
Mondi
Kelley Supply Inc.
Safepack Industries Ltd.
The global cheese liner market is segmented as follows:
By Source:
By Distribution Channel
By Type
Poly Drum Liner
Box Liner
640 Block Liner
Barrel Liner
By Application
Pharmaceuticals
Food & Beverage
By Region
North America
Europe

France
The UK
Spain
Germany
Italy
Rest of Europe

Asia Pacific

China
Japan
India
South Korea
Southeast Asia
Rest of Asia Pacific

Latin America

Brazil
Mexico
Rest of Latin America

Middle East & Africa

GCC
South Africa
Rest of Middle East & Africa