Global Cashew Milk Market: Overview
The cashew milk market is set for rapid growth over the forecast period. In terms of revenue, the global cashew milk market accounted for USD 90.8 Million in 2019 and is expected to reach USD 135.9 Million by 2026, growing at a CAGR of 6.1%.
Cashew milk is made by blending cashews with water. It is a creamy lactose-free liquid which is a perfect alternative to milk. Marketers sell cashew milk with several excipients like thickening agents namely guar gum and xanthan gum, flavoring agents namely vanilla and cinnamon, and many others. Cashew milk is known as non-dairy milk as it does not comprise lactose. It is popular among people who are lactose intolerant and want LDL cholesterol-free drinks. It comprises low-fat content materials when compared to other nuts. These are majorly unsaturated fats. It is very beneficial in coronary illness and stroke.
Global Cashew Milk Market: Growth Factors
Increasing awareness of people about the benefits of cashew milk such as skin health, eye health, blood sugar control, iron deficiency anemia, heart health and many more is propelling the global cashew milk market growth. Moreover, it also aids in blood clotting, increases antioxidant defenses, and has anti-cancer effects. It is easily digestible and has enormous omega-3 fatty acids, which further boosts the global cashew milk market growth.
Growing concerns over increasing animal rights and a surge in the adoption of a vegan diet are the key factors fuelling the growth of the global cashew milk market. Several companies are launching cashew milk with distinct features and quality to attract consumers like non-GMO, unsweetened, soy-free, eco-friendly, gluten-free, low calorie, dairy alternative, and many others.
The rising concern for individual well-being induced people to count on the nutritional value of the food items they consume and hence demand cashew milk consumption has increased significantly. Vigorous campaigns launched by the companies to induce people to switch to cashew drinks are also expected to boost market growth. Cashew milk is promoted as a calcium-rich plant-based drink to increase the consumer base in the global cashew milk market.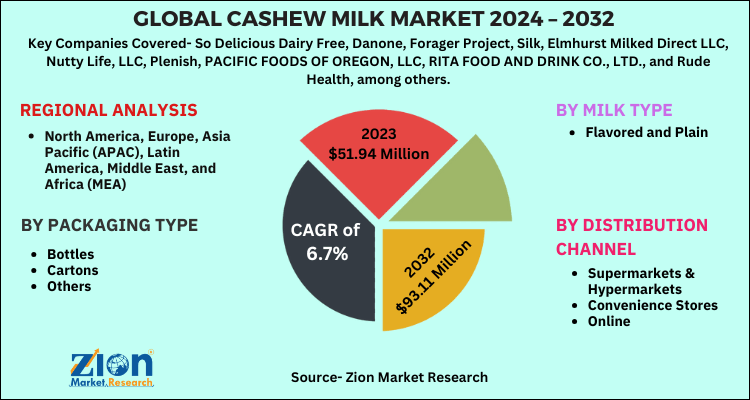 Request Free Sample
Global Cashew Milk Market: Segmentation
The cashew milk market is divided on the basis of milk type, packaging type, distribution channel, and region. By milk type, the market is segmented into flavored and plain. The packaging type segment is further segregated into bottles, cartons, and others. Based on distribution channels, the market is further split into supermarkets & hypermarkets, convenience stores, online, and others.
Global Cashew Milk Market: Regional Analysis
North America holds the largest share of the global cashew milk market owing to the huge demand and manufacturing of cashew milk in the region. Countries like Canada and the US have enormous demand for lactose-free products and hence boost the regional market. Furthermore, the changing lifestyle of people and the dwindling interest in consumers in plant-based products are creating a huge demand for cashew milk in the region.
Asia Pacific is expected to grow significantly with a high CAGR during the forecast period owing to the increasing per capita and disposable income of the people in the region along with growing health consciousness among people.
Global Cashew Milk Market: Competitive Players
Some of the key players in the cashew milk market are So Delicious Dairy Free, Danone, Forager Project, Silk, Elmhurst Milked Direct LLC, Nutty Life, LLC, Plenish, PACIFIC FOODS OF OREGON, LLC, RITA FOOD AND DRINK CO., LTD., and Rude Health, among others.
Global Cashew Milk Market: Regional Segment Analysis
North America

Europe

France
The UK
Spain
Germany
Italy
Rest of Europe

Asia Pacific

China
Japan
India
South Korea
Southeast Asia
Rest of Asia Pacific

Latin America

Brazil
Mexico
Rest of Latin America

Middle East & Africa

GCC
South Africa
Rest of The Middle East & Africa