Carotenoids Market Size & Industry Analysis:
The global carotenoids market size was worth around USD 1.71 billion in 2021 and is predicted to grow to around USD 2.74 billion by 2028 with a compound annual growth rate (CAGR) of roughly 4.31% between 2022 and 2028. The report analyzes the global carotenoids market drivers, restraints/challenges, and the effect they have on the demands during the projection period. In addition, the report explores emerging opportunities in the carotenoids market.
Carotenoids Market: Overview
Carotenoids are also known as tetraterpenoids. They are naturally occurring organic pigments exhibiting red, yellow, or orange color, and are produced by algae, fungi, and plants of fungi. Plant-based food items like carrots, pumpkins, tomatoes, corn, parsnips, and animal-based food products like lobster, salmon, and shrimp display their unique color owing to the presence of carotenoids in the systems. Birds like flamingos and flowers like daffodils are rich in carotenoids, a major reason these living organisms present their respective colors.
Organisms can produce carotenoids from fats or other forms of simple, metabolic, and organic building blocks of the biological system. In whiteflies, hemipterans feeding on the plant leaves undersides, endosymbiotic bacteria are responsible for the production of carotenoids. The compounds generated from diets get stored in the animal's fatty tissues and carnivorous animals generate carotenoids from animal fat.
Key Insights
As per the analysis shared by our research analyst, the global carotenoids market is estimated to grow annually at a CAGR of around 4.31% over the forecast period (2022-2028)
In terms of revenue, the global carotenoids market size was valued at around USD 1.71 billion in 2021 and is projected to reach USD 2.74 billion, by 2028. Due to a variety of driving factors, the market is predicted to rise at a significant rate
Based on source segmentation, synthetic was predicted to show maximum market share in the year 2021
Based on application segmentation, the animal feed was the leading application in 2021
On the basis of region, Europe was the leading revenue generator in 2021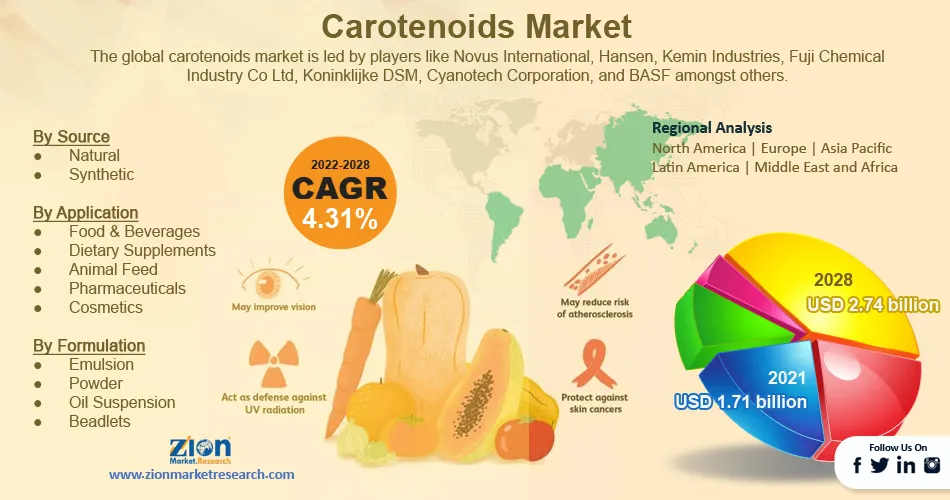 Carotenoids Market: Growth Drivers
Positive effect of the compound on human health to drive market growth
The global carotenoids market is anticipated to grow owing to the increasing awareness of the benefits associated with the regular consumption of carotenoids on human health. A study conducted in 2015, concluded that food that are rich sources of carotenoids can help prevent head and neck cancer which occurs in the oral cavity and lip, salivary glands, larynx, sinuses, face skin, or nose. As per the latest survey reports, the total number of registered head and neck cancer cases globally totaled more than 850,000 cases with almost 3,80,000 reported deaths per year. In the United States, this cancer constitutes around 2.9% of total malignancies resulting in more than 14000 deaths. Since carotenoids belong to the pigments family and have an inverse association with cancer, they are recommended by medical professionals to be consumed on a regular basis in various forms.
Carotenoids Market: Restraints
Associated side effects to restrict market expansion
Although beta-carotene, a type of carotenoid, is not toxic when consumed heavily, these high doses could lead to carotenemia if the compound is eaten for a long time. Carotenemia is the conversion of skin color to yellowish orange. They should only be consumed in sufficient amounts and while intaking the compound externally via medicinal forms, a doctor's prescription is important to avoid any mishaps as excessive consumption of beta-carotene could cause certain cancers. Consumers must be aware of any previous allergies or sensitivities before they start consuming beta-carotene on a frequent basis.
Carotenoids Market: Opportunities
Growing technological use to extract carotenoids may provide excellent growth opportunities
The global carotenoids market is projected to benefit from the rise in investment along with growing research & development of extracting carotenoids from various sources and using their refined versions for different purposes. In the traditional extraction method, organic solvents in various combinations are used to extricate carotenoids. The latest methods include superficial fluid extraction, and enzyme-based extraction, along with some more modern ways. In enzyme-based extraction, enzymes like hemicellulase, cellulase, proteases, and pectinase are used to extract the compound whereas, in superficial fluid extraction, one component called the extractant is separated from the other called the matrix by making superficial liquids.
Carotenoids Market: Challenges
Chemical extraction of the compound a major challenge for market players
Producing carotenoids using chemical processes can lead to low-quality output but an increased rate of production expense. This is one of the major challenges faced by the global market players since currently, chemical processes are the most popular methods of creating carotenoids. The market for compounds in natural form may witness impeded growth due to the high cost associated with their extraction process.
Carotenoids Market: Segmentation
The global carotenoids market is segmented based on source, product type, application, and region
Based on the source, the global market segments are natural and synthetic. In 2021, the latter dominated the global market owing to its presence in abundance along with a quick and easy extraction process. However, with the growing hesitancy amongst consumers related to synthetically produced products and the change in preference towards naturally derived items, the demand for natural carotenoids may pick up pace in the coming years. Carrots, tomatoes, mangoes, oranges, and other colored fruits are rich sources of the compound. For instance, in green mango, carotenoid content is around 3.09 micrograms per 100 grams. Some of the synthetic sources of the compound are lycopene, zeaxanthin, astaxanthin, canthaxanthin, and beta-carotene.
Based on application, the global market is divided into food & beverages, dietary supplements, animal feed, pharmaceuticals, and others. In 2021, the global market witnessed the highest revenue in the animal feed market as the pigmenting property of the compound is used extensively to externally enhance the quality of the feed since it eventually helps to upgrade the pigmentation of broiler skin, egg yolk, crustaceans, and fish. They can also improve fertility in animals when consumed in the right amount. Lutein, xanthophyll, and zeaxanthin, factors that influence egg yolk color have a deposition efficiency of 20 to 27% whereas alpha and beta carotenes have an efficiency rate of less than 1%.
Recent Developments:
On 3rd February 2022, Industrial Organica, a global expert in the formulation of high-grade carotenoids, and Stauber, a leading service provider in nutrition, jointly announced the launch of a new website that is specifically designed to highlight the importance of carotenoids in the ocular space. The new website will act as an exploratory space for the user to understand the interaction between carotenoids and human biology
In January 2022, Lycored, an internal wellness company, announced the inauguration of its new production facility on the east coast of the United States. The new unit is expected to house vitamins, carotenoids, amino acids, minerals, and food ingredients.
Carotenoids Market Report Scope:
Report Attributes
Report Details
Report Name
Carotenoids Market Research Report
Market Size in 2021
USD 1.71 Billion
Market Forecast in 2028
USD 2.74 Billion
Compound Annual Growth Rate
CAGR of 4.31%
Number of Pages
195
Forecast Units
Value (USD Billion), and Volume (Units)
Key Companies Covered
Novus International, Hansen, Kemin Industries, Fuji Chemical Industry Co Ltd, Koninklijke DSM, Cyanotech Corporation, and BASF amongst others.
Segments Covered
By Source, By Application, By Formulation and By Region
Regions Covered
North America, Europe, Asia Pacific (APAC), Latin America, Middle East and Africa (MEA)
Countries Covered
North America: U.S and Canada
Europe: Germany, Italy, Russia, U.K, Spain, France, Rest of Europe
APAC: China, Australia, Japan, India, South Korea, South East Asia, Rest of Asia Pacific
Latin America: Brazil, Argentina, Chile
The Middle East And Africa: South Africa, GCC, Rest of MEA
Base Year
2021
Historical Year
2016 to 2020
Forecast Year
2022 - 2028
Customization Scope
Avail customized purchase options to meet your exact research needs. Request For Customization
Carotenoids Market: Regional Analysis
Europe ranks at the top in terms of the largest market share
The global carotenoids market is projected to be dominated by Europe during the forecast period as it has in the last few years with major contributions from the animal feeds sector which may reach a market valuation of USD 105.92 billion by 2028. A high awareness rate amongst consumers about the potential benefits of regular consumption of carotenoids helps in an increased sale of consumable compounds along with the region being highly popular for health supplements.
In a survey conducted by Ipsos European Public Affairs in 2022, around 9 out of 10 people admitted to having consumed supplements in their lives with almost 93% admitting to consuming supplements in the last 12 months. Asia-Pacific may grow at a higher CAGR as compared to the previous year due to the growing food & beverages sector of economies like China and India and the increasing foreign investments, giving these economies more scope for further development.
Carotenoids Market: Competitive Analysis
The global carotenoids market is led by players like Novus International, Hansen, Kemin Industries, Fuji Chemical Industry Co Ltd, Koninklijke DSM, Cyanotech Corporation, and BASF amongst others.
The global carotenoids market is segmented as follows:
By Source
By Application
Food & Beverages
Animal Feed
Pharmaceuticals
Cosmetics
By Formulation
Emulsion
Powder
Oil Suspension
Beadlets
By Region
North America
Europe

France
The UK
Spain
Germany
Italy
Rest of Europe

Asia Pacific

China
Japan
India
South Korea
Southeast Asia
Rest of Asia Pacific

Latin America

Brazil
Mexico
Rest of Latin America

Middle East & Africa

GCC
South Africa
Rest of Middle East & Africa