Market Overview
The business-to-business e-commerce market accounted for USD 6.57 Trillion in 2020 and is expected to reach USD 25.59 Trillion by 2028, growing at a CAGR of 18.74% from 2021 to 2028.
B2B e-Commerce is a platform where buyers and sellers meet virtually to view product, place orders and manage them from mobile devices as per their convenience. It includes a wide range of transactions which include wholesale and purchases of parts and components. There are numerous advantages of ecommerce platform can offer to company such as unlock new markets, broaden their offerings, better efficiency and management between suppliers and customers, reaching new customers and better data and analytics.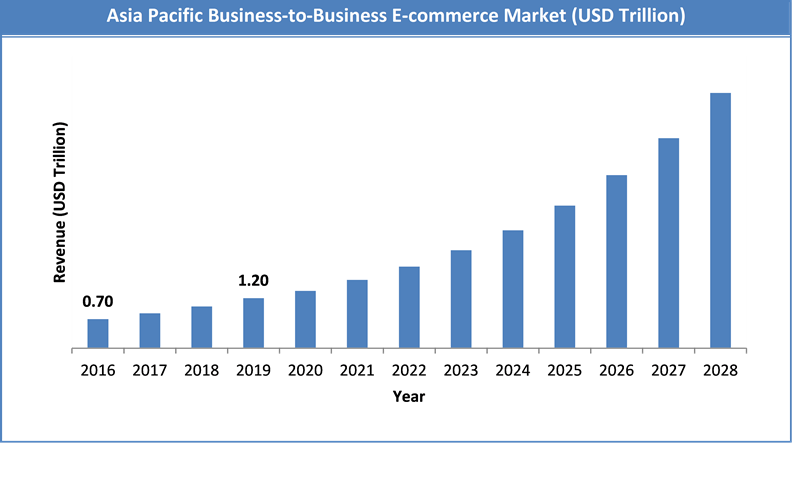 Request Free Sample
COVID-19 Impact Analysis
The COVID-19 pandemic took the world over by storm, but proved to be a growth boost for e-Commerce business. Numerous players like Alibaba, Wal-Mart, Amazon and others increased their investment and delivered orders amid pandemic. When the havoc started, leading distributors, manufacturers, and suppliers acted hastily to alter to the new normal. The companies embraced flexibility, agile approach and remote work to their supply chains and business models. This helped them grow even in the crises of time.
Growth Factors
The rapid changes in the way of doing business along with ongoing trend of digitization are projected to drive growth for the B2B e-Commerce market during the projected period. Numerous companies across all regions are opting online platforms to carry on their business activities to reach its customers. Thus, change in the business trend and shifting from conventional to online platforms is boosting the market growth. B2B e-commerce platform players such as Alibaba recently added digital features such as freight features and trade financing to enhance its digital experience of their customers.
Report Scope:
Type Segment Analysis Preview
Intermediary-oriented under type segment is anticipated to dominate the B2B e-commerce market with a share over 40% in 2020. It consists of platform which allows buyers & sellers to communicate & conduct business with each other. Thus, the platforms earn profit through successful transactions done between buyers and seller. Meanwhile, the supplier-oriented segment is projected also projected to witness growth in the estimated timeframe. This is due to the presence of numerous suppliers on the online platform. All this is attributed to fetch revenue for the platform, eventually propelling market growth.
Applications Segment Analysis Preview
Consumer electronics under application segment is anticipated to grow at a CAGR of over 30% in 2021-2028. This is attributed to the rise in the number of B2B vendors going online to eliminate the middle man. Additionally, increasing demand for smartphones, televisions, and dynamically changing technology increases the consumption and demand for consumer electronics, the segment is expected to dominate the market in the region. Home and kitchen application, consumer electronics, industrial and science, healthcare, clothing, beauty, and personal care, sports apparel, books and stationery, automotive forms the remaining segments of application.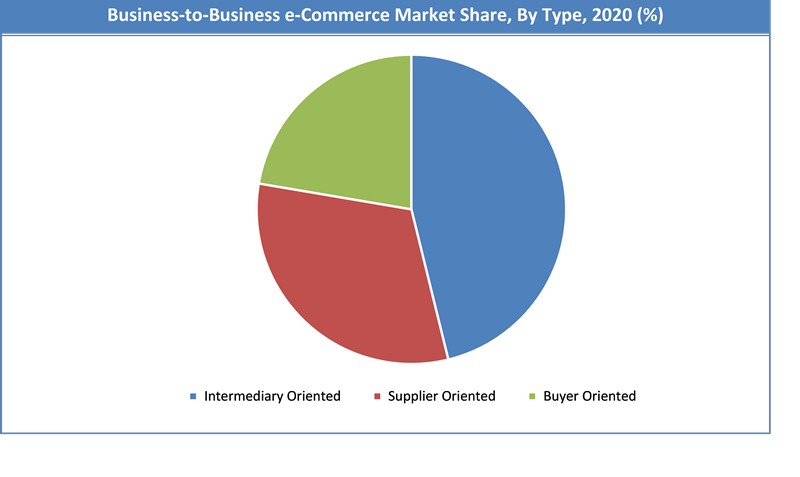 Request Free Sample
Regional Analysis Preview
The European region held a share of around 20% in 2020. This is attributable to the presence of large number of online users and buyers in the region.
Asia Pacific region is projected to grow at a CAGR of over 25% during the forecast period. This is due to the growing customers and mobile phone users in this region. Also tapping of untapped markets like rural sectors in the developing economies like India and china is fueling the market growth. Moreover, countries such as China, Japan, and South Korea are among the top 10 exporters of merchandise and account for a large portion of global e-commerce sales.
Key Market Players & Competitive Landscape
Some of key players in business-to-business e-commerce market are ChinaAseanTrade.com, Amazon Inc., eBay Inc., DIYTrade.com, eworldtrade.com, Flipkart.com, Flexfire LEDs, KellySearch.com KOMPASS and IndiaMART Intermesh Ltd. among others. Major players are focusing on acquisitions & mergers as growth strategy to hold a competitive advantage in the market. The market players are also making unprecedented changes to their online business models in order to provide better customer experience for the buyers and suppliers.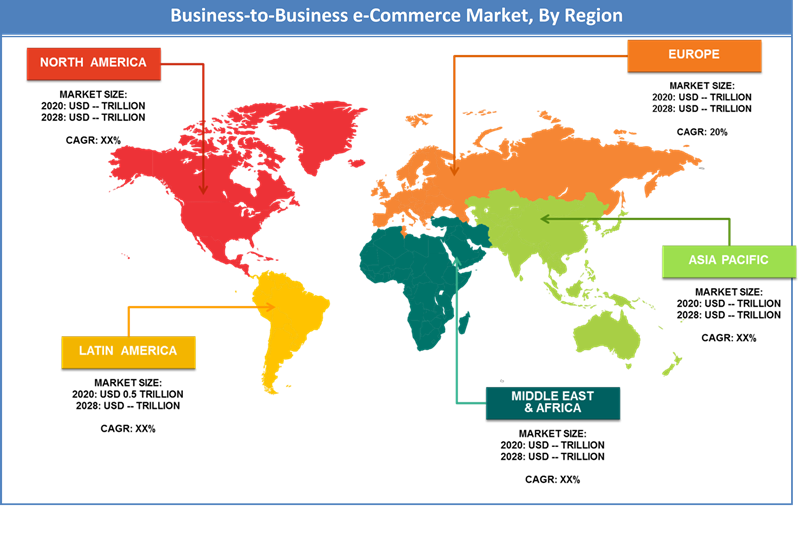 Request Free Sample
The global Business-to-Business E-commerce market is segmented as follows:
By Type
Buyer Oriented E-commerce
Supplier Oriented E-commerce
Intermediary Oriented E-commerce
By Size
Small and Medium Enterprise
Large Enterprise
By Application
Home and Kitchen Application
Consumer Electronics
Industrial and Science
Healthcare
Clothing
Beauty and Personal Care
Sports Apparel
Books and Stationery
Others
By Region
North America
Europe

France
The UK
Spain
Germany
Italy
Rest of Europe

Asia Pacific

China
Japan
India
South Korea
Southeast Asia
Rest of Asia Pacific

Latin America

Brazil
Mexico
Rest of Latin America

Middle East & Africa

GCC
South Africa
Rest of Middle East & Africa