Global Business Process Management Market: Overview
The Business Process Management Market is set for rapid growth over the forecast period. In terms of revenue, the global business process management market accounted for USD 3,400 Million in 2019 and is expected to reach USD 5,300 Million by 2026, growing at a CAGR of 6.6%.
A business solution approach that consists of a set of workflows is known as business process management (BPM). This software helps businesses to execute, model, monitor, implement and optimize their processes. Owing to the capability of the BPM software to connect people across various applications, this software is widely preferred. Business process management software provides the automated process and is a key factor for the success of any company. It is a strategic business solution that may offer new market opportunities. These business processes are a series of value-added activities collaborated to achieve a common goal. It helps to enhance the productivity of the company. A wide range of business processes are available and utilized by different business domains. They are adapted for service-oriented architecture (SOA) process management, connection, and integration. Some manufacturing business domains need very consistent outcomes; hence, they focus on strictly controlled processes.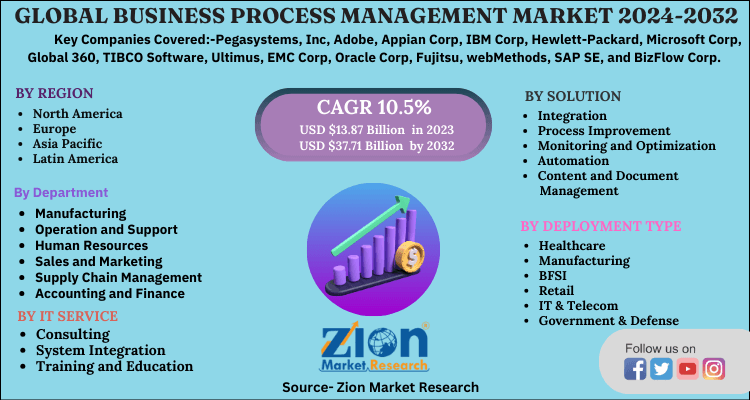 Request Free Sample
Global Business Process Management Market: Growth Factors
In the rapidly changing business, the fact that achieving improved risk management, higher productivity, and better cost control to deal with the competitive pressure is of great importance; this is anticipated to boost the global business process management market growth in the future. It is designed to offer improvement and operational business excellence. It assists to reduce defects, and expenses associated with running expenses and eliminating unclear data. It also minimizes the risk of identifying issues and timely intervenes to avoid moderate risks; all these factors are anticipated to contribute to the growth of the global market in the future. Business process management improves the efficiency of the cornerstone metric of the business process. It enhances operational efficiency and hence productivity and lower cost advantages are provided.
Global Business Process Management Market: Segmentation
The global business process management market is categorized on the basis of the department as manufacturing, operation and support, human resource, sales and marketing, supply chain management, accounting and finance, and others. Based on IT service, the global market is classified as consulting, system integration, and training and education. Moreover, the global business process management market is fragmented on the basis of the solution as integration, process improvement, monitoring and optimization, automation, and content and document management. Furthermore, based on the deployment type, the global market is segmented as healthcare, manufacturing, BFSI, retail, IT & telecom, government & defense, and others.
Global Business Process Management Market: Regional Analysis
North America accounted for the largest market chunk owing to continuously changing regulations in the healthcare sector. This led to changes in financial transactions and documentation carried out in hospitals and pharmacies. All these factors contributed to the growth of this region.
Global Business Process Management Market: Competitive Players
Some of the key players in the business process management market are Pegasystems, Inc, Adobe, Appian Corp, IBM Corp, Hewlett-Packard, Microsoft Corp, Global 360, TIBCO Software, Ultimus, EMC Corp, Oracle Corp, Fujitsu, webMethods, SAP SE, and BizFlow Corp among others.
Global Business Process Management Market: Regional Segment Analysis
North America
Europe

France
The UK
Spain
Germany
Italy
Rest of Europe

Asia Pacific

China
Japan
India
South Korea
Southeast Asia
Rest of Asia Pacific

Latin America

Brazil
Mexico
Rest of Latin America

Middle East & Africa

GCC
South Africa
Rest of The Middle East & Africa