Global Blockchain Technology in Supply Chain Management Market Industry Prospective:
The Global Blockchain Technology in Supply Chain Management Market was worth around USD 262.9 million in 2021 and is estimated to grow to about USD 3153.7 million by 2028, with a compound annual growth rate (CAGR) of approximately 51.3 percent over the forecast period. The report analyzes the digital remittance market's drivers, restraints/challenges, and the effect they have on the demands during the projection period. In addition, the report explores emerging opportunities in the digital remittance market.
Blockchain Technology in Supply Chain Management Market: Overview
The blockchain is the record of a digital database of absolute and validated transactions. Blockchain is an open ledger in which every transaction on the network is recorded and is made available for all the entities or participants involved to see and validate. This ensures transparency and eliminates communication via mail or any other platform. The need to eliminate intermediaries is increasing which has led to automating supply chain operations. Instead of coins, supply chain blockchains tokenize a variety of transaction-related data, creating unique and readily verifiable identifiers for purchase orders, inventory units, bills of lading, etc.
Blockchain technology has huge scope and is set to help procurement organizations in all industries lower their costs and improve performance by increasing security and visibility to tracking complex variables related to sustainability and proper sourcing. This technology has dominated the overall blockchain supply chain market in 2021 and is anticipated to remain dominant during the forecast period, due to an increase in the adoption of blockchain platforms to streamline the supply chain processes.
COVID-19 Impact:
Covid-19 has negatively impacted Blockchain Technology in Supply Chain Management Market in all regions. According to a survey by Supply Chain Media, the COVID-19 pandemic is having a clear impact on the supply chains of all European manufacturers, wholesalers, and retailers. It has equally affected the North America region, and APAC. Covid 19 has led many companies to change their global SCM model. The pandemic has resulted in an increased demand for eCommerce industry and to successfully operate in the pandemic, technologies like AI and Machine Learning are beginning to drive innovation strategies of the business which has further powered the increase in the adoption of blockchain supply chain solutions across SMEs.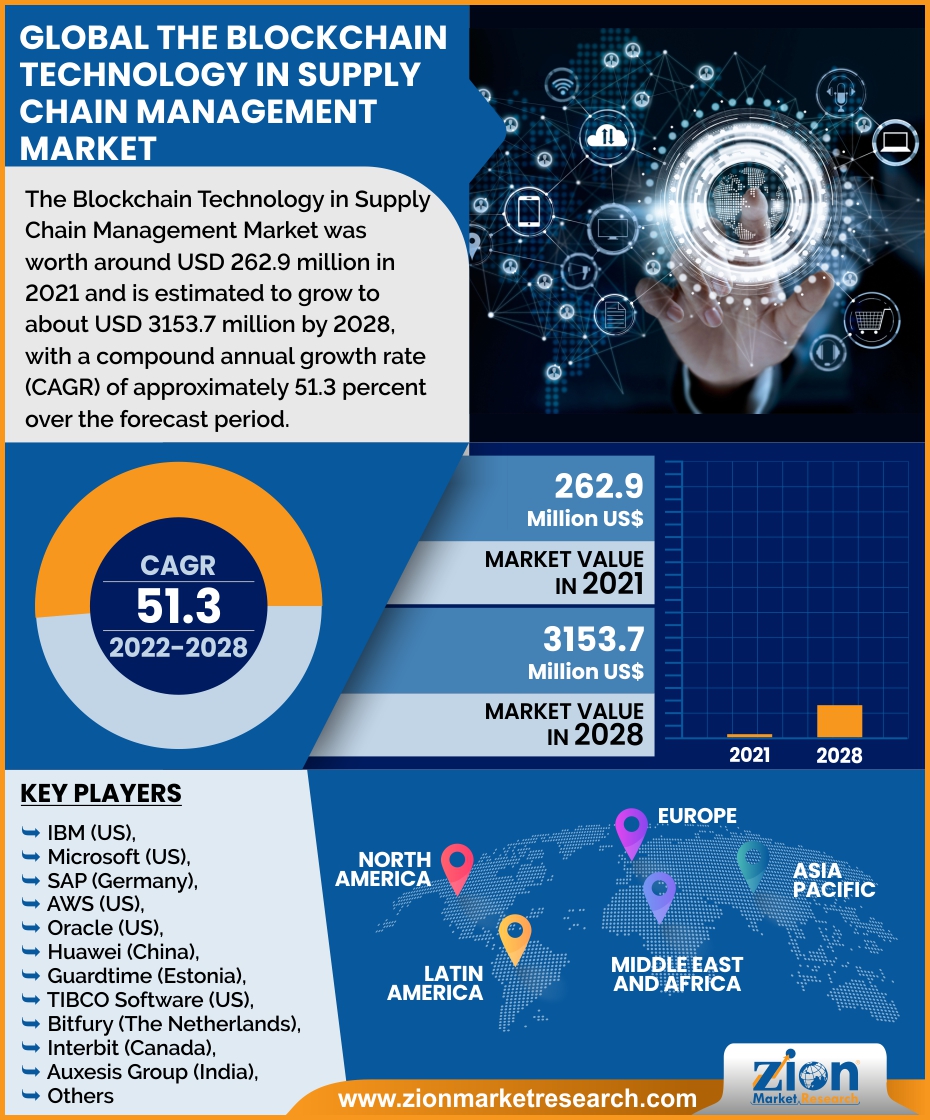 Request Free Sample
Blockchain Technology in Supply Chain Management Market: Growth Drivers
The increasing popularity of blockchain technology in retail and SCM
A growing number of retailers are recognizing the potential of blockchain technology. This industry witnesses several transactions each day, along with the exchange of information daily. The information may include authentication process information, procurement data, sales, fees, certifications, approvals, and disbursements. The amalgamation of blockchain technology with an SCM system avoids data manipulation, which is expected to be one of the biggest driving factors for the overall growth of the blockchain market.
Blockchain Technology in Supply Chain Management Market: Restraints
Uncertain regulatory status and standards
Regulatory uncertainty is among the top barriers to the adoption of blockchain implementations across global industries. With technological developments, regulatory bodies need to understand what the current regulations system lack and how these can impact the overall technology-enabled applications. Blockchain technology is still at a developing stage, which raises a number of questions and concerns related to security and authenticity at all levels. Owing to issues such as standardization, the regulatory status of blockchain technology remains uncertain.
Report Scope:
Blockchain Technology in Supply Chain Management Market: Segmentation
Based on offering, the market is distinguished into platforms and services. The services segment is further divided into technology advisory and consulting deployment and integration, and support and maintenance. The platform segment is expected to dominate the market in 2021. The platform segment is expected to grow significantly as a result of market players' introduction of affordable and diverse pricing plans. This is because of the increased adoption of blockchain systems to streamline supply chain processes.
Based on type, the market is segmented into public, private, hybrid, and consortium. The public segment is expected to dominate the market during the forecast period. The public blockchain is a network on which any applicant can create transactions. It is made for safe transactions between users while reducing the presence and costs of third parties during transactions. Because of these advantages, public blockchain is expected to witness increased use in supply chain systems. Moreover, a private blockchain is managed by a network administrator and participants need consent to join the network. A hybrid blockchain is a unique type of blockchain technology that integrates components of both public and private blockchain or basically tries to utilize the ideal part of both public and private blockchain solutions. A consortium blockchain is a hybrid form of public and private blockchains. Consortium blockchain providers will always try to offer the fastest output compared to public blockchains.
Recent Developments
In October 2018, Oracle Blockchain Applications Cloud was launched to help customers increase trust and provide agility in transactions across their business networks.
In September 2018, NITI Aayog and Oracle signed a Statement of Intent (SoI) to pilot a real drug supply chain using blockchain distributed ledger and IoT software in order to fight the growing problem of counterfeit drugs in India.
Regional Landscape
North America leads the global market as it is an early adopter of blockchain technology and is home to the greatest number of blockchain startups worldwide. The presence of strict regulations and trade agreements related to the supply chain across the region is also a driver of the blockchain supply chain here. Asia-Pacific Region is expected to be a huge contributor to the fastest-growing region in the forecast period. The increased shift of Asia-Pacific enterprises toward slimmer and agile supply chains with end-to-end visibility by the adoption of the latest technologies is also one of the biggest drivers of blockchain supply chain software and services in the region.
Global Blockchain Technology in Supply Chain Management Market Competitive Landscape
Some of the main competitors dominating the global Blockchain Technology in the Supply Chain Management Market include - IBM (US), Microsoft (US), SAP (Germany), AWS (US), Oracle (US), Huawei (China), Guardtime (Estonia), TIBCO Software (US), Bitfury (The Netherlands), Interbit (Canada), Auxesis Group (India), VeChain (China), Chainvine (UK), Digital Treasury Corporation (China), Datex Corporation (US), OpenXcell (US), Algorythmix (India), BlockVerify (UK), and Applied Blockchain (UK).
Global Blockchain Technology In Supply Chain Management Market is segmented as follows:
By Offering
By Type
Public
Private
Hybrid and Consortium
By Providers
Application Providers
Infrastructure Providers
By Application
Asset Tracking
Counterfeit Detection
Payment and Settlement
Smart contracts
Risk and Compliance Management
Others (Inventory Control and Reward Management)
By Organization Size:
By Verticals:
FMCG
Retail and eCommerce
Healthcare
Manufacturing
Transportation and Logistics
Oil, Mining, and Gas
Others (Construction, Agriculture, and Automobile)
By Region
North America
Europe

France
The UK
Spain
Germany
Italy
Rest of Europe

Asia Pacific

China
Japan
India
South Korea
Southeast Asia
Rest of Asia Pacific

Latin America

Brazil
Mexico
Rest of Latin America

Middle East & Africa

GCC
South Africa
Rest of Middle East & Africa