Automatic Spraying Robot Industry Prospective:
The global automatic spraying robot market size was worth around USD 1978.96 million in 2022 and is predicted to grow to around USD 4015.36 million by 2030 with a compound annual growth rate (CAGR) of roughly 9.14% between 2023 and 2030.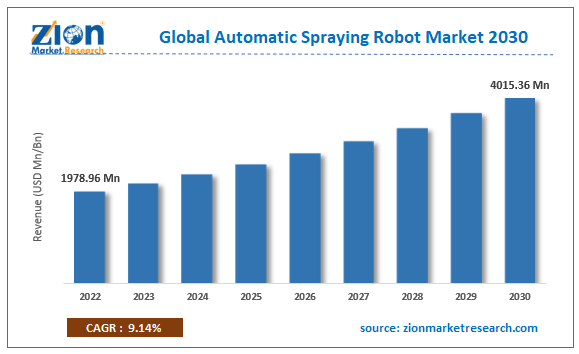 Request Free Sample
Automatic Spraying Robot Market: Overview
Automatic spraying robots are automated tools that help to spray a layer of coating or paint on a surface. These are automated tools and can function with minimal human assistance. The demand for automatic spraying robots has increased over the years as consumer awareness has reached new levels. They are used extensively in industries such as automotive, agriculture, furniture making, aerospace, machinery, and others. In several applications, a robotic arm is placed on the conveyor belt above the assembly line. This ensures that every unit passing through the arm or robotic unit is uniformly covered with the material without any scope for overspraying. There are several advantages associated with the use of automatic spraying robots including higher precision in terms of coating thickness and spread. Additionally, the use of automated systems is known to improve the overall efficiency of the process since machines can work relentlessly with the same consistency level. Managing the quality of the final product has become easier with the use of automated spraying robots since the entire or part of the process is machine-operated leaving no scope for human error.
Key Insights:
As per the analysis shared by our research analyst, the global automatic spraying robot market is estimated to grow annually at a CAGR of around 9.14% over the forecast period (2023-2030)
In terms of revenue, the global automatic spraying robot market size was valued at around USD 1978.96 million in 2022 and is projected to reach USD 4015.36 million, by 2030.
The automatic spraying robot market is projected to grow at a significant rate due to the growing demand in the automotive industry
Based on application segmentation, the automobile industry was predicted to show maximum market share in the year 2022
Based on type segmentation, programming input type was the leading segment in 2022
On the basis of region, Latin America was the leading revenue generator in 2022
Automatic Spraying Robot Market: Growth Drivers
Growing demand in the automotive industry to drive market growth
The global automatic spraying robot market is expected to be driven by the increasing application of technology in the automotive sector. In the last few years, the demand for commercial and passenger vehicles has grown with the rise in disposable income of the general population. In emerging economies, more people are buying private vehicles with the rise of job opportunities. For instance, as per reports, India recorded its highest sales in the regional automobile industry in 2022. More than 2.25 crore vehicles were sold in the last year. The same trend and consumption pattern for automobiles is observed in other emerging economies. Developed nations already have an extensive consumer base of passenger and private automobiles for luxury and affordable cars. As per official data, the US has an average of 1.23 cars per licensed citizen. With the growing access to financial assistance as well as changing lifestyles, the demand for automobiles is likely to continue growing. In order to keep up with the fast-paced consumer expectations, automobile manufacturers are now investing in adopting higher automation levels such as with the use of automotive spraying robots.
The recently surging popularity of electric (EVs) and hybrid vehicles has further pushed manufacturers to invest in the latest technology since there is growth in a new set of environment-conscious consumers. For instance, in April 2022, ABB, a leading provider of robotic technology announced the addition of a new range of robots to assist EV markers. The company already provides pixel paint technology which helps in optimizing paint applications.
Growing application in the agriculture sector to push for higher growth
The agriculture sector has been at the forefront of leading the growth trajectory for the automatic spraying robot industry. The launch of new systems that allow the dispensing of pesticides using robots has led to increased consumption in the global agricultural ecosystem. These machines not only help to spray pesticides in uniform and predetermined quantities and reduce the risk of human exposure to harmful chemicals.
Automatic Spraying Robot Market: Restraints
High initial cost and maintenance expense to restrict market expansion
The global automatic spraying robot market growth is expected to be restricted owing to the high cost of automatic spraying robots. These advanced equipment are made of sophisticated technology to meet the dynamic requirements of end-user verticals. Additionally, the cost may further increase in events where customization may be required since every company or brand may have specific requirements. Research indicates that the average cost of an automatic spraying robot may range between USD 40000 to USD 210,000. It may go even higher up. Another point of consideration is the expense associated with using the machine and maintaining it. Since a small malfunction can set back the company thousands of dollars given the intricacies of the technology used to build a robot.
Automatic Spraying Robot Market: Opportunities
Growing research & development (R&D) and launch of new solutions to create growth opportunities
The global automatic spraying robot market size could further expand due to the ongoing research and innovation activities undertaken by robot manufacturers. The companies are trying to provide the best-performing systems while trying to control the rising costs. In August 2022, Solinftec announced the expansion of its Solix agricultural robotics solutions by adding the Solix Sprayer robot to the currently available options. The robot is meant to spray weeds by carefully detecting them. The company has claimed that the use of its products can improve agricultural efficiency by 70%.
On the other hand, in September 2022, Jacto offered a new business plan related to its Arbus 4000 JAV crop spraying equipment. The product is currently only available in Brazil and Jacto plans to roll out the robot on a rental basis charging 6 dollar per hectare. The move is a brilliant strategy to assist regional farmers in meeting their agricultural needs without spending hefty amounts on buying expensive equipment. There are several other innovation tactics adopted by industry players including combining the use of drone technology and precision spray nozzle systems.
Automatic Spraying Robot Market: Challenges
Concerns over human labor replacement and the availability of technical experts to operate the system could challenge market revenue
The use of automatic spraying robots can reduce the demand for human labor and there may be concerns related to loss of employment or job opportunities. This could severely impact the adoption of products available in the automatic spraying robot industry unless companies continue to invest in ensuring that human resources and technology can work in harmony. Likewise, there is currently a significant gap in the supply and demand of technical experts who can operate the machines efficiently. The solutions to these problems are providing sufficient training to the employees and manufacturing robots that are easy to use.
Automatic Spraying Robot Market: Segmentation
The global automatic spraying robot market is segmented based on application, type, and region.
Based on application, the global market is segmented into furniture industry, architecture, machinery industry, power industry, agriculture, and automobile industry. In 2022, the automobile industry segment was the most dominating due to the broad application of automatic spraying robots across assembly lines. They are used to ensure smooth, even, and error-free application of paints and other coatings on vehicle parts. Additionally, some automobile manufacturers have a demand for customized robots for unique vehicle parts that cannot be accessed using general spraying robots. The growing production rate in the automobile industry is likely to impact the segmental growth during the forecast period. In 2022, the global automobile industry was valued at USD 3 trillion.
Based on type, the automatic spraying robot industry is fragmented into teaching input type and programming input type. The highest demand was generated for the programming input type in 2022 as these machines are operated using software systems in which key spraying parameters are fed by a technical expert. These machines are highly efficient and do not require human assistance after a point. On the other hand, the teaching input type depends on human intervention for certain tasks such as moving the robot to the desired place and placing the nozzle near the surface. The automation in the automobile industry market is expected to grow at a CAGR of over 4.1% during the forecast period.
Automatic Spraying Robot Market: Report Scope
Report Attributes
Report Details
Report Name
Automatic Spraying Robot Market
Market Size in 2022
USD 1978.96 Million
Market Forecast in 2030
USD 4015.36 Million
Growth Rate
CAGR of 9.14%
Number of Pages
229
Key Companies Covered
Kawasaki Heavy Industries Ltd., ABB Robotics, FANUC America Corporation, Nordson Corporation, Yaskawa Electric Corporation, Epson Robots, KUKA AG, SAMES KREMLIN, Durr Systems Inc., Stäubli Robotics, Graco Inc., Universal Robots, Eisenmann SE, Walther Pilot, and others.
Segments Covered
By Application, By Type, and By Region
Regions Covered
North America, Europe, Asia Pacific (APAC), Latin America, Middle East, and Africa (MEA)
Base Year
2022
Historical Year
2017 to 2021
Forecast Year
2023 - 2030
Customization Scope
Avail customized purchase options to meet your exact research needs. Request For Customization
Automatic Spraying Robot Market: Regional Analysis
Latin America to emerge as a significant player in the near future
The global automatic spraying robot market is projected to be led by Latin America during the forecast period. The growth trend will be a result of increasing agricultural application of automatic spraying robots along with higher consumption in the growing regional dairy farm sector. With the increasing investments in the regional market from the government as well as international companies, Latin America is expected to surpass other regions in terms of product adoption.
Europe will grow at a significant rate with the growing automotive industry. It is home to some of the largest and most dominant players in the global automotive industry. Global brands such as Volkswagen, BMW, Mercedes, Renault, and many more originate from Europe. These companies invest heavily in automation including the application of automatic spraying robots. In addition to this, the extensive farmland in Europe may also cause higher consumption as Europe witnesses the emergence of new agriculture-oriented solution providers. For instance, Switzerland-based ecorobotix provides smart spraying techniques for ultra-localized treatments of pastures, row crops, and lawns.
Automatic Spraying Robot Market: Competitive Analysis
The global automatic spraying robot market is led by players like:
Kawasaki Heavy Industries Ltd.
ABB Robotics
FANUC America Corporation
Nordson Corporation
Yaskawa Electric Corporation
Epson Robots
KUKA AG
SAMES KREMLIN
Durr Systems Inc.
Stäubli Robotics
Graco Inc.
Universal Robots
Eisenmann SE
Walther Pilot
The global automatic spraying robot market is segmented as follows:
By Application
Furniture Industry
Architecture
Machinery Industry
Power Industry
Agriculture
Automobile Industry
By Type
Teaching Input Type
Programming Input Type
By Region
North America
Europe

France
The UK
Spain
Germany
Italy
Rest of Europe

Asia Pacific

China
Japan
India
South Korea
Southeast Asia
Rest of Asia Pacific

Latin America

Brazil
Mexico
Rest of Latin America

Middle East & Africa

GCC
South Africa
Rest of Middle East & Africa