Global Automated External Defibrillator (AED) Market: Overview
The Automated External Defibrillator (AED) Market Size is set for rapid growth over the forecast period. In terms of revenue, the global AED market accounted for USD 1,519.05 Million in 2019 and is expected to reach USD 2,475.68 Million by 2026, growing at a CAGR of 7.23%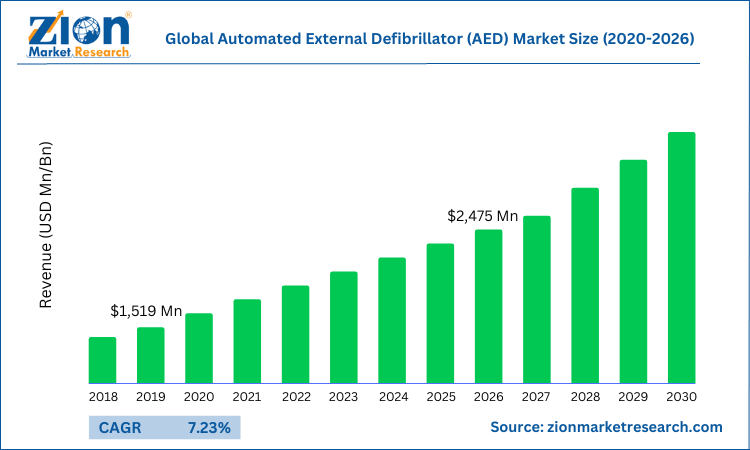 Request Free Sample
An automatic external defibrillator is a lightweight, compact system that delivers an electrical shock to the heart through the chest. An electrical shock will potentially interrupt an abnormal heartbeat and enable a normal rhythm to recover after a sudden cardiac arrest (SCA).
The tendency towards external implantable system defibrillators has increased manufacturers' focus on less costly and easy-to-operate devices that could be used in homes without any technological expertise. For example, Stryker Corporation introduced the LIFEPAK CR2 defibrillator in the United States in April 2019. The system has been equipped with a program manager for LIFELINKcentral AED that enables chest compressions to proceed during electrocardiogram (ECG) examination and improves hands-on time to minimize the longest cardiopulmonary resuscitation (CPR) delays, which can boost the outcome of survival. Trending and attracting buyers are the latest advances in the field of AED, thereby having a significant positive effect on the automated external defibrillator market.
Global AED Market: Growth Factors
The elderly population plays a key role worldwide in the rising demand for AEDs. After Japan and China, the United States has the third highest aging population. The overall number of Americans aged 65 years or older is projected to rise two-fold, from 2014 to 2060, according to the survey by the 2018 Population Reference Bureau. Older people tend to become more vulnerable to chronic diseases, primarily cardiovascular diseases, with increasing age.
According to the article published by the National Center for Biotechnology Information (NCBI). In 2013, unexpected cardiac arrest was a significant cause of death in the elderly in the United States, due to the high prevalence of systolic dysfunction, congestive heart failure, and coronary heart disease. The article also mentioned the link between sudden or unexpected cardiac arrest and the growing age. Therefore, this increasingly high aging population would lead to high adoption of different types of AED, which would further fuel the demand for automated external defibrillators.
Global AED Market Report Scope:
Report Attributes
Report Details
Report Name
Automated External Defibrillator (AED) Market Research Report
Market Size in 2019
USD 1,519.05 Million
Market Forecast in 2026
USD 2,475.68 Million
Compound Annual Growth Rate
CAGR of 7.23%
Number of Pages
110
Forecast Units
Value (USD Billion), and Volume (Units)
Key Companies Covered
Stryker Corporation, Koniklijke Philips N.V., ZOLL Medical Corporation, Nihon Kohden Corporation., Shenzhen Mindray Bio-Medical Electronics Co. Ltd., SCHILLER AG, Mediana Co. Ltd., CU Medical System Inc., and Opto Circuits Limited among others.
Segments Covered
By Type, By Technology, By End-User And By Region
Regions Covered
North America, Europe, Asia Pacific (APAC), Latin America, Middle East and Africa (MEA)
Countries Covered
North America: U.S and Canada
Europe: Germany, Italy, Russia, U.K, Spain, France, Rest of Europe
APAC: China, Australia, Japan, India, South Korea, South East Asia, Rest of Asia Pacific
Latin America: Brazil, Argentina, Chile
The Middle East And Africa: South Africa, GCC, Rest of MEA
Base Year
2021
Historical Year
2016 to 2020
Forecast Year
2022 - 2030
Customization Scope
Avail customized purchase options to meet your exact research needs. Request For Customization
Global AED Market: Segmentation
Based on the product type, the AED market in the non-wearable segment is expected to rise faster in the near future. This is due to the fact that non-wearable devices are user-friendly, easy to manage, and need less maintenance.
On the basis of technology, the fully automatic group held the largest market share for automated external defibrillators, with a significant share, in 2019. Fully automated AEDs are ideally suited for patients undergoing sudden cardiac arrest who need little or no technical details, minimize the time for shock recovery, and do not need any mechanical force while performing the procedure. All these factors are contributing to the market growth throughout the forecast period.
Homecare settings are anticipated to grow at the fastest rate, owing to rising awareness about the incidence of sudden cardiac arrests and the significance of AEDs to save a life after a cardiac arrest. This provides sufficient opportunity for the use of these technologies in home care settings.
Global AED Market: Regional Analysis
By Geography, the AED market is segmented into North America, Europe, Latin America, Asia Pacific, and the Middle East and Africa.
North America is expected to lead the AED market during the forecast period. The involvement of key players and the customer understanding of the safe use and benefits of AEDs are some of the key factors fueling the growth of the market in North America. In addition, better healthcare facilities and the emerging elderly population also play a vital role in the growth of the sector.
Due to the growing incidence of coronary artery diseases and a large proportion of sudden cardiac arrests, Europe is estimated to follow North America, with increasing investment by organizations operating in the region.
The APAC automated external defibrillator industry is forecasted to experience the fastest growth during the forecast period, mainly due to the development of healthcare infrastructure in the region and the rising emphasis of market players on corporate investment in developing economies such as China and India.
Global AED Market: Competitive Players
The major players in the global AED market include
Stryker Corporation
Koniklijke Philips N.V.
ZOLL Medical Corporation
Nihon Kohden Corporation.
Shenzhen Mindray Bio-Medical Electronics Co. Ltd.
SCHILLER AG
Mediana Co. Ltd.
CU Medical System Inc.
Opto Circuits Limited among others.
The report segment of the global AED market is as follows:
Global AED Market: Type Segment Analysis
Global AED Market: Technology Segment Analysis
Global AED Market: End-User Segment Analysis
Hospitals
Clinics and Cardiac Centers
Public Access & Homecare Settings
Others
Global AED Market: Regional Segment Analysis
North America

Europe

France
The UK
Spain
Germany
Italy
Rest of Europe

Asia Pacific

China
Japan
India
South Korea
Southeast Asia
Rest of Asia Pacific

Latin America

Brazil
Mexico
Rest of Latin America

Middle East & Africa

GCC
South Africa
Rest of The Middle East & Africa
.