Global Anthelmintic Drugs Market Size
The Global Anthelmintic drugs market is set for a rapid growth over the forecast period. In terms of revenue, the global Anthelmintic Drugs market accounted for USD 2,149.7 Million in 2019 and is expected to reach USD 3,142.7 Million by 2026, growing at a CAGR of 5.57%
Global Anthelmintic Drugs Market: Overview
Anthelmintics is a group of parasitic drugs that extract parasitic worms (helminths) and other internal parasites from the body either by stunning or destroying them and without causing any damage to the host. They can also be referred to as vermifuges or vermicides. Anthelmintics is used to treat people who are diagnosed with helminths, an infection called helminthiasis. These medications are also used for the treatment of infected animals. The parasites are of considerable significance for tropical human medicine and veterinary medicine.
The World Health Organization reports that 2 billion people carry parasitic worm infections that cause increased mortality and morbidity, whereas parasitic worms that infect livestock is a critical animal welfare problem and pose a massive economic strain on food production. Domestic pets are also vulnerable to parasitic worm infection, and it should be noted that the companion animal industry is a key economic concern for animal welfare firms involved in drug development programmes.
Global Anthelmintic Drugs Market: Growth Factors
Effective use of anthelmintics in children is of significant public health interest since the parasites involved are likely to infect more than 2 billion people, most of whom are particularly prevalent and harmful in children. Properly targeted drug delivery, especially through community chemotherapy, can dramatically reduce aggregate mortality and morbidity as well as boost growth rates, physical activity and fitness, cognitive and academic performance and social well-being.
There are a variety of anthelmintics available for the management of gastrointestinal nematodes in cattle. Ostertagia ostertagi, lung worm, Fasciola hepatica, and Cooperia spp., are likely to cause the greatest losses in production in North America. Clorsulon is a fresh, safe anthelmintic that offers good control of the fluke of the liver and thus fills a void in control of cattle helminths in North America. The accurate use of anthelmintics in conjunction with management based on knowledge of parasite epidemiology will ensure that cattle are not easily reinfected. In this way, the advantages of the use of anthelmintics can be very substantial and much higher than the control costs.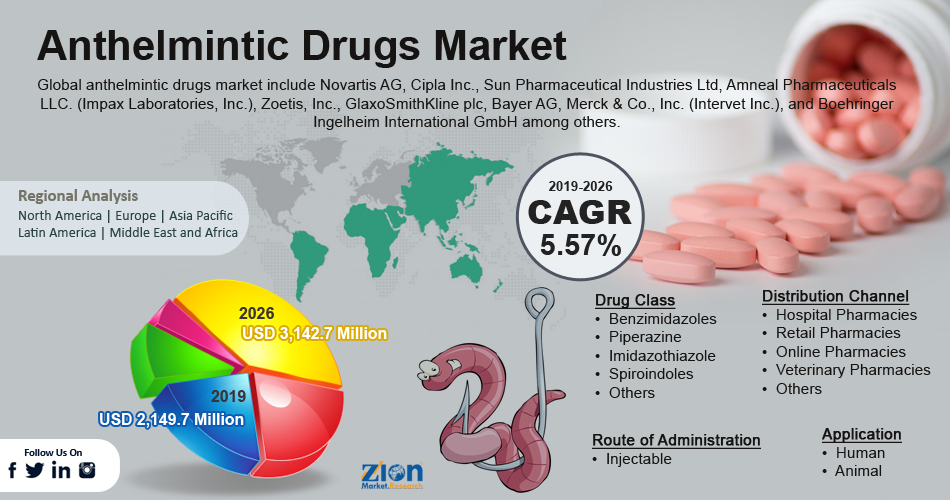 Request Free Sample
Impact due to the outbreak of COVID-19
The ongoing outbreak of COVID-19 (coronavirus) created an alarming situation for medicines that could fend off a novel infection. Thus, AI (Artificial Intelligence) Gero is gaining worldwide recognition for specializing in AI-driven drug development and validating the promising potential of anthelmintic drugs for the treatment of COVID-19. Niclosamide is known to be relatively useful in the treatment of coronavirus in patients and has been approved in the United States, France, Italy and few other places where there is an increasing incidence of active COVID-19 patients.
As a result of the approval of niclosamide, businesses in the anthelmintic drug industry are increasing their effectiveness in AI-driven drug discovery approaches to focus on revenue generation prospects. Companies in the anthelmintic drugs industry are making efforts to perform clinical trials of existing drugs that could be useful in coronavirus medication.
Global Anthelmintic Drugs Market: Segmentation
Piperazine belongs to the family of antihelminthic drug that effectively blocks the cholinergic neuromuscular receptors in worms. It is easily consumed, but has an extremely unstable half-life. In the treatment of ascariasis, the adult oral intake of 4 grams of piperazine hydrate has been widely used. In most developed countries, it has been discontinued, largely due to concerns about potential carcinogenicity and electroencephalographic changes.
Piperazine does not cause adverse effects in most patients. There may be mild gastrointestinal disturbances; neurotoxicity is uncommon. Lacrimation, eczematous skin reactions, rhinorrhea, productive cough, joint pains, and bronchospasm can develop following sensitization, particularly with occupational exposure.
Benzimidazole is a heterocyclic compound formed from a ring of benzene and imidazole containing oxygen sulphur, nitrogen and its derivatives are of broad interest, both in terms of their inhibitory activity and their favorable selectivity ratio, due to their diverse clinical applications and biological activity.
The identified nucleus is a vitamin-B12 constituent. Benzimidazoles are known to be a promising class of bioactive heterocyclic compounds with a number of biological activities, such as anti-viral, anti-microbial, anti-diabetic, anti-oxidant, anti-cancer, anti-parasitic, anti-proliferative, anti-helminthic, anti-viral, and anti-HIV among others. Benzimidazoles demonstrate substantial activity as potential antitumor agents, intestinal cystitis therapy, smooth cell proliferation inhibitors, and in a number of areas of chemistry.
Global Anthelmintic Drugs Market: Report Scope:
Report Attributes
Report Details
Report Name
Anthelmintic Drugs Market
Market Size in 2019
USD 2,149.7 Million
Market Forecast in 2026
USD 3,142.7 Million
Compound Annual Growth Rate
CAGR of 5.57%
Number of Pages
110
Forecast Units
Value (USD Million), and Volume (Units)
Key Companies Covered
Novartis AG, Cipla Inc., Sun Pharmaceutical Industries Ltd, Amneal Pharmaceuticals LLC. (Impax Laboratories, Inc.), Zoetis, Inc., GlaxoSmithKline plc, Bayer AG, Merck & Co., Inc. (Intervet Inc.), and Boehringer Ingelheim International GmbH among others.
Segments Covered
By Product, By Application, And By Region
Regions Covered
North America, Europe, Asia Pacific (APAC), Latian America, Middle East and Africa (MEA)
Countries Covered
North America: U.S and Canada
Europe: Germany, Italy, Russia, U.K, Spain, France, Rest of Europe
APAC: China, Australia, Japan, India, South Korea, South East Asia, Rest of Asia Pacific
Latin America: Brazil, Argentina, Chile
The Middle East And Africa: South Africa, GCC, Rest of MEA
Base Year
2019
Historical Year
2015 to 2019
Forecast Year
2020 - 2026
Customization Scope
Avail customized purchase options to meet your exact research needs. Request For Customization
Global Anthelmintic Drugs Market: Regional Analysis
By Geography, the anthelmintic drugs market is segmented into North America, Europe, Latin America, Asia Pacific, and Middle East and Africa.
Europe accounted for the largest market for anthelmintic drugs in 2019, followed by Asia Pacific. The number of pet animals in the region is growing at a higher rate than that of livestock, leading to an increase in pet ownership, thereby the involvement of key players supplying anthelmintic drugs is also progressing. This, in turn, is expected to improve the growth of anthelmintic drugs market in the region.
The demand for anthelmintic drugs in Asia Pacific is likely to grow to the highest CAGR from 2020 to 2026. The growth of the market in the region can be attributed to a wide veterinary sector in China, New Zealand and Australia. Growing expenditure on pet care; increasing demand for animal care; and rising demand for veterinary hospitals and clinics in India, China, South Korea, and Hong Kong are some of the factors boosting the demand for anthelmintic drugs in the region.
Global Anthelmintic Drugs Market: Competitive Players
The major players in the global anthelmintic drugs market include Novartis AG, Cipla Inc., Sun Pharmaceutical Industries Ltd, Amneal Pharmaceuticals LLC. (Impax Laboratories, Inc.), Zoetis, Inc., GlaxoSmithKline plc, Bayer AG, Merck & Co., Inc. (Intervet Inc.), and Boehringer Ingelheim International GmbH among others.
The report segment of global anthelmintic drugs market are as follows:
Global Anthelmintic Drugs Market: Drug Class Segment Analysis
Benzimidazoles
Piperazine
Imidazothiazole
Spiroindoles
Others
Global Anthelmintic Drugs Market: Route of Administration Segment Analysis
Global Anthelmintic Drugs Market: Application Segment Analysis
Global Anthelmintic Drugs Market: Distribution Channel Segment Analysis
Hospital Pharmacies
Retail Pharmacies
Online Pharmacies
Veterinary Pharmacies
Others
Global Anthelmintic Drugs Market: Regional Segment Analysis
North America
Europe

France
The UK
Spain
Germany
Italy
Rest of Europe

Asia Pacific

China
Japan
India
South Korea
Southeast Asia
Rest of Asia Pacific

Latin America

Brazil
Mexico
Rest of Latin America

Middle East & Africa

GCC
South Africa
Rest of Middle East & Africa