Market Overview
The global angiography devices market accounted for USD 10894.9 Million in 2020 and is expected to reach USD 18233.2 Million by 2028, growing at a CAGR of 6.7% from 2021 to 2028.
Angiography devices are used to conduct angiography, a medical imaging technique that allows doctors to see into the body's blood vessels and organs, particularly the arteries, veins, and heart chambers. It is conducted by injecting a dye that can be seen by X-rays into arteries or veins and examined using X-rays. The developed results are called angiograms.
Rising prevalence of cardiovascular diseases and a corresponding need for accurate diagnostics and can be expected to positively drive the growth of this market. One of the recent trends involves the development of innovative technologies that require lower doses of X-rays while preserving the image quality. Key vendors are also offering integrated transesophageal echo (TEE) with live fluoro imaging in order to display them in one view instead of conducting them separately.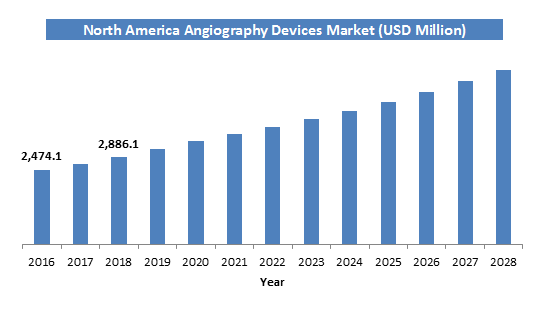 Request Free Sample
COVID-19 Impact Analysis
The Covid-19 pandemic has a negative impact on the angiography devices market, with cardiovascular operations being severely disrupted due to the postponement of non-essential elective surgeries and medical procedures in 2020 to conserve medical resources for Covid-19 patients at the outset of the pandemic. Furthermore, increased costs of treating Covid-19 patients and PPE resulted in reduced capital expenditure on imaging devices such as angiography devices.
Growth Factors
A rising demand for minimally invasive surgeries can boost the growth of this market, as angiograms conducted during the diagnosis phase give a detailed, clear, and accurate picture of the blood vessels in a patient's heart, obviating the need for costly invasive surgery. Surgeons are also opting for such procedures owing to the reduced risks and costs associated with it.
Moreover, factors such as the prevalence of cardiovascular problems, an ageing population, rising obesity rates due to lifestyle changes, and high consumption of fast food are likely to boost the global angiography devices market.
Report Scope: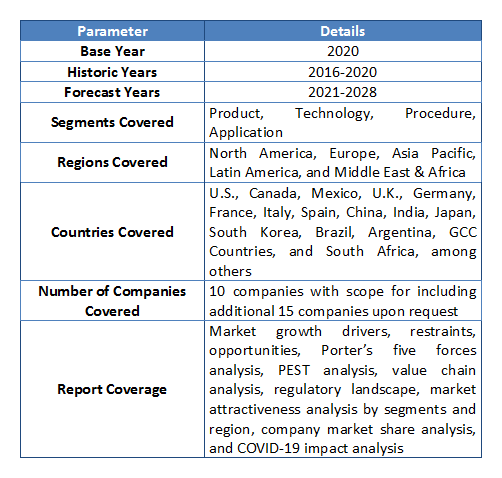 Request Free Sample
Product Segment Analysis Preview
Angiography systems segment held a share of around 28% in 2020. Factors such as technological developments in angiography devices, an increase in the number of patients with cardiovascular diseases and other chronic ailments, and an increase in the number of angiography procedures performed around the world are all contributing to the huge share.
Technology Segment Analysis Preview
MRI segment will grow at a CAGR of over 5.8% from 2021 to 2028. Owing to its advantage of less radiation exposure in the diagnosis of heart disease, MRI is predicted to be the fastest-growing technology. MRI can gather pictures in any anatomical plane with good soft tissue contrast in three dimensions.
Regional Analysis Preview
The North American region held a share of 31% in 2020. This is attributable to the presence of top companies such as GE Healthcare, Boston Scientific Corporation and Cordis Corporation among others. Moreover, the high rate of minimally invasive procedures adoption, easy reimbursements, growing geriatric population, and high medical equipment replacement rates are expected to generate huge demand for the market in this region.
The European region is projected to grow at a CAGR of around 6.2% over the forecast period. Increasing awareness of minimally invasive procedures, government investments, high prevalence of cardiovascular diseases are some of the factors causing the growth of the market in this region.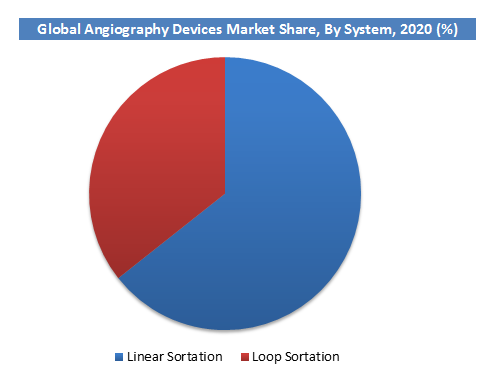 Request Free Sample
Key Market Players & Competitive Landscape
Some of key players in automated sortation system market are GE Healthcare, Koninklijke Philips N.V., Siemens Healthineers, Canon Corporation, Shimadzu Corporation, Boston Scientific Corporation, Cordis Corporation, Medtronic Inc., AngioDynamics and Abbott Laboratories, among others.
Top companies are investing in research and development to offer an innovative product portfolio. Shimadzu Corporation, for example, produced three variants of Trinias and a minimally invasive Bi-plane angiography system in 2018. Medtronic Inc. also added the DxTerity Diagnostic Angiography Catheter line to their current catheter line in 2017.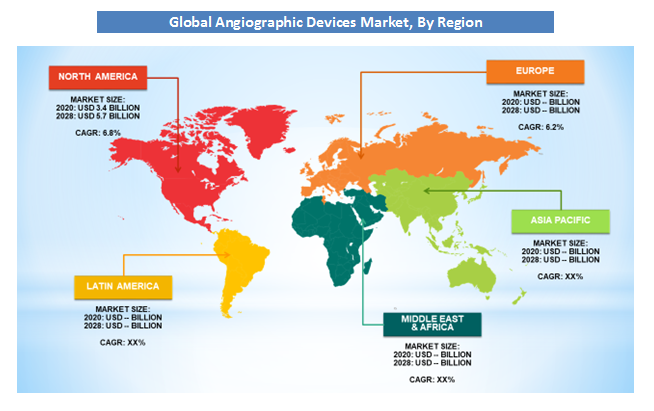 Request Free Sample
The global angiography devices market is segmented as follows:
By Product
Catheters
Guidewire
Balloons
Vascular Closure Devices
Angiography Accessories
By Technology
By Procedure
Coronary
Endovascular
Neuroangiography
Onco-angiography
Other
By Application
By Region
North America
Europe

France
The UK
Spain
Germany
Italy
Rest of Europe

Asia Pacific

China
Japan
India
South Korea
Southeast Asia
Rest of Asia Pacific

Latin America

Brazil
Mexico
Rest of Latin America

Middle East & Africa

GCC
South Africa
Rest of Middle East & Africa