According to the report published by Zion Market Research, global demand for Amphoteric Surfactant market was valued at approximately USD 3.49 Billion in 2019, and is expected to generate revenue of around USD 5.87 Billion by end of 2026, growing at a CAGR of around 6.7% between 2020 and 2026.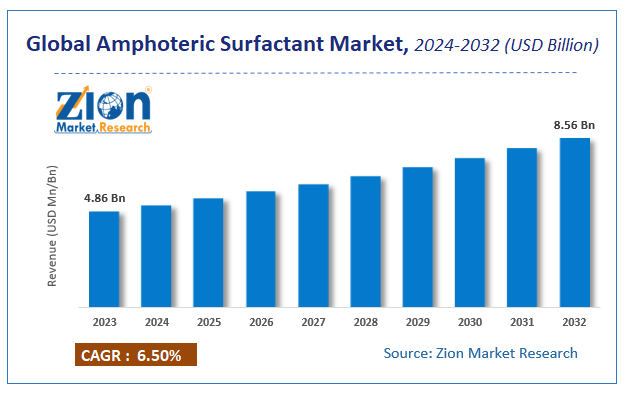 Request Free Sample
Global Amphoteric Surfactant Market: Overview
Surfactants are chemical compounds that reduce surface tension and increase cleaning efficiency. They may act as emulsifiers, dispersants, detergents, foaming agents, and wetting agents. Surfactants are manufactured with the help of two distinct feedstocks, namely, petrochemicals and natural vegetable oils. Amphoteric surfactants better perform in the hot and hard water. These surfactants possess some properties such as foaming properties, biodegradability, good detergency, conditioning properties, hard water compatibility, and mild behavior. Due to these properties, mild amphoteric surfactants are majorly used in secondary surfactants such as foam baths, shower gels, liquid soaps, and shampoos. They are used in personal care and household activities such as foaming, detergency, and emulsification. They cause less irritation to eyes and skin.
Global Amphoteric Surfactant Market: Growth Factors
Increasing demand for harmless and skin-friendly surfactants in home care and personal care industries may drive the global amphoteric surfactant market. Owing to this, it is capable of replacing conventional surfactants. Due to increasing applications, amphoteric surfactants are widely adopted in the household activities. Many manufacturers are spending a high amount on carrying research and development activities; this is a key factor responsible for the growth of global amphoteric surfactant market. Increasing awareness regarding the use of sulfur-free personal care products is anticipated to foster the global market growth in future. Rising demand for skin-friendly and affordable surfactants may influence the global market growth.
Global Amphoteric Surfactant Market: Segmentation
The global amphoteric surfactant market is fragmented based on applications are home care and agriculture adjuvants, personal care, and oil field chemicals. On the basis of types, the global market is classified as amphopropionates, betaines, amphoacetates, sultaines, and amine oxide.
Region-wise, the global market is segregated into North America, Europe, Asia Pacific, Latin America, and Middle East & Africa.
Global Amphoteric Surfactant Market: Regional Analysis
The European Amphoteric Surfactant market is projected to hold the largest share globally in the Asia Pacific is anticipated to emerge as a major market for amphoteric surfactant owing to significant demand from South Korea, China, and Japan. Increasing disposal income in Asia Pacific is expected to foster the amphoteric surfactant market growth in this region. In addition, changing consumer inclination for more skin-friendly surfactants in Vietnam, Thailand, Indonesia, and Malaysia may enhance the global market growth. North America is anticipated to follow the same trend; it contributes to the largest market share in the global market. Europe is growing at a significant rate, as it is emerging economy. On the other hand, escalating demand from South Africa, Brazil, Nigeria, Mexico, and Egypt also is also expected to boost the global amphoteric surfactant market.
Global Amphoteric Surfactant Market: Competitive Players
Some main participants of the Amphoteric Surfactant market BASF SE, Clariant Corporation, Evonik Industries AG, and Huntsman Corporation. Other players influencing the global market are Lonza Spa, Akzo Nobel N.V., Stepan Company, and Lubrizol Corporation., among others.
Amphoteric Surfactant Market: Regional Segment Analysis
North America
Europe

France
The UK
Spain
Germany
Italy
Rest of Europe

Asia Pacific

China
Japan
India
South Korea
Southeast Asia
Rest of Asia Pacific

Latin America

Brazil
Mexico
Rest of Latin America

Middle East & Africa

GCC
South Africa
Rest of Middle East & Africa