Global Alcohol Based Disinfectant Market Overview
The global Alcohol Based Disinfectant market accounted for USD 2.2 Billion in 2020 and is expected to reach USD 4.5 Billion by 2028, growing at a CAGR of around 9.3% between 2021 and 2028.
Alcohol-based disinfectants are antimicrobial agents that are added to a surface to destroy microorganisms and provide a sterile atmosphere. The term "alcohol-based disinfectant" refers to a concentrated solution of alcohol (mostly isopropyl alcohol) used for sanitation. Alcohol-based disinfectants are made up of a mixture of 60–90% alcohol and 10–30% distilled water. For cleansing and moisturizing purposes, alcohol-based disinfectants are added to glycerin soaps. Alcohol-based disinfectants are used in aerosol sprays used for coverage and adhesion on rough surfaces such as counter-tops, showers, and toilets. Alcohol is an excellent disinfectant since it evaporates quickly and leaves no traces. Alcohols can also dissolve liquids, making them effective against viral cells that are covered in liquid. Furthermore, they are low-cost and easy to use. Because of the increase in hospital-acquired infections, nearly all hospitals now use alcohol-based disinfectants in any operation.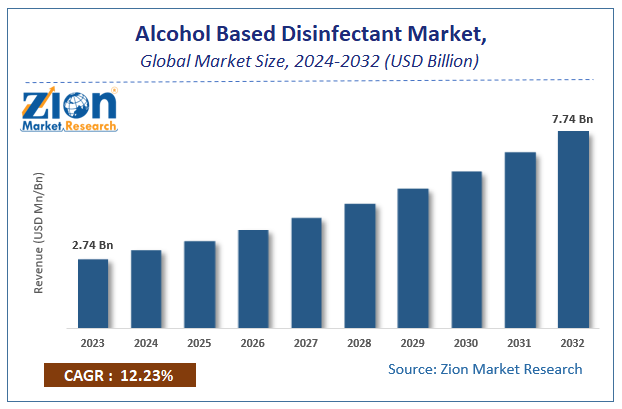 Request Free Sample
The global alcohol-based disinfectant industry has grown as people's understanding of hygiene has increased around the world. The global alcohol-based disinfectant market is expected to rise due to rising demand from the soap industry.
COVID-19 Impact Analysis
The worldwide lockdown of processing plants as a result of the Coronavirus pandemic has affected supply chains. However, new entrants in the manufacture of sanitizers and disinfectants have emerged to meet the growing demand for alcohol-based chemicals in the wake of an increase in COVID-19 cases around the world. Because of the growing use of these chemicals for disinfection purposes in clinics, laboratories, private offices, and households, government lockdowns and production halts have had no effect on this sector. The market would remain bullish in upcoming year.
The significant increase in the global Alcohol Based Disinfectant market size in 2020 is estimated on the basis of the COVID-19 outbreak and its positive impact on the economies and industries across the globe. Various scenarios have been analyzed on the basis of inputs from various secondary sources and the current data available about the situation.
Growth Factors
A variety of epidemics have been recorded in the last few years. From previous outbreaks of Nipah and Ebola to the current Coronavirus pandemic, these have prompted people to take greater precautions to protect themselves against potentially lethal viral infections. Alcohol-based disinfectants are also essential in the fight against COVID-19 which has boosted the market growth in last year. The demand for alcohol-based disinfectants and sanitizers has increased as people become more aware of the importance of sanitation and cleanliness in order to avoid contamination.
However, the increased use of non-alcoholic based disinfectants can suppress the growth of the alcoholic based disinfectant market in the coming years.
Global Alcohol Based Disinfectant Market: Report Scope:
Report Attributes
Report Details
Report Name
Alcohol Based Disinfectant Market
Market Size in 2020
USD 2.2 Billion
Market Forecast in 2028
USD 4.5 Billion
Compound Annual Growth Rate
CAGR of 9.3%
Number of Pages
155
Forecast Units
Value (USD Billion), and Volume (Units)
Key Companies Covered
3M Company, Bode Chemie, Ecolab Inc, Vaportek Inc., Reckitt Benckiser Plc, Kao Corporation, DuPont among other
Segments Covered
By Product Type, By Application, and By Region
Regions Covered
North America, Europe, Asia Pacific (APAC), Latian America, Middle East and Africa (MEA)
Countries Covered
North America: U.S and Canada
Europe: Germany, Italy, Russia, U.K, Spain, France, Rest of Europe
APAC: China, Australia, Japan, India, South Korea, South East Asia, Rest of Asia Pacific
Latin America: Brazil, Argentina, Chile
The Middle East And Africa: South Africa, GCC, Rest of MEA
Base Year
2020
Historical Year
2018 to 2020
Forecast Year
2021 - 2028
Customization Scope
Avail customized purchase options to meet your exact research needs. Request For Customization
Type Segment Analysis Preview
Based on types, the Alcohol Based Disinfectants market is divided as N-propyl alcohol, Methyl alcohol, Ethyl alcohol and Isopropyl alcohol. Ethyl alcohol contributes majorly in the type segment. Ethyl alcohol is commonly used in disinfectants at concentrations of 60–80% because it is an active virucidal agent that can inactivate all lipophilic viruses, including herpes, vaccinia, and other influenza viruses, as well as other hydrophilic viruses.
Application Segment Analysis Preview
Alcohol Based Disinfectants are used in Sanitizers, Clinical devices and Clinical surfaces. Hand sanitizers are in high demand, and this development is expected to continue in the coming years. The outstanding success is the result of increased public knowledge of diseases and pathogens spread by unclean hands.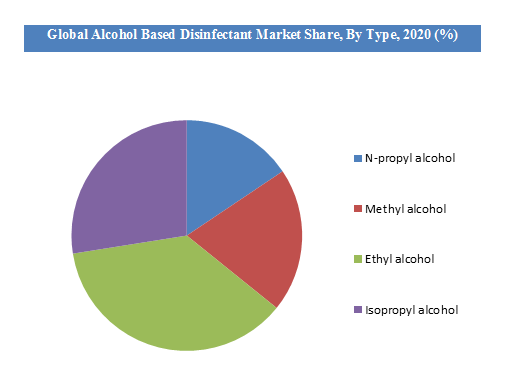 Request Free Sample
Key Market Players & Competitive Landscape
Some of the major players of global Alcohol Based Disinfectant market includes 3M Company, Bode Chemie, Ecolab Inc, Vaportek Inc., Reckitt Benckiser Plc, Kao Corporation, DuPont among other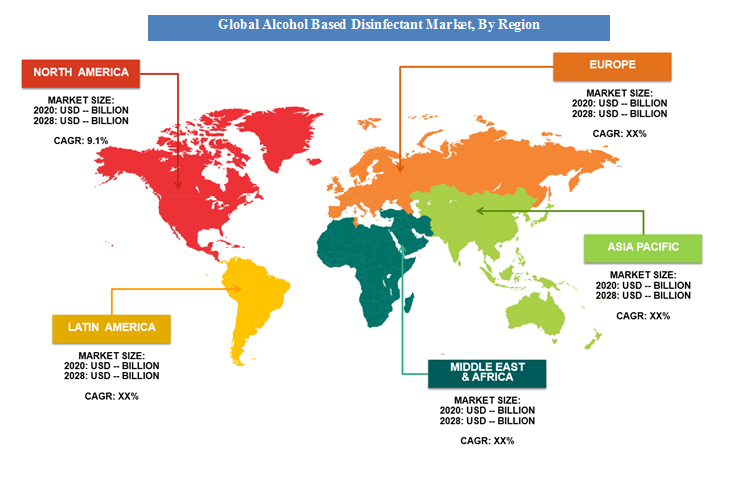 Request Free Sample
The global Alcohol Based Disinfectant Market is segmented as follows:
By Type
N-propyl alcohol
Methyl alcohol
Ethyl alcohol
Isopropyl alcohol
By Application
Sanitizers
Clinical devices
Clinical surfaces
By Region
North America
Europe

France
The UK
Spain
Germany
Italy
Rest of Europe

Asia Pacific

China
Japan
India
South Korea
Southeast Asia
Rest of Asia Pacific

Latin America

Brazil
Mexico
Rest of Latin America

Middle East & Africa

GCC
South Africa
Rest of Middle East & Africa