The global airport security market, which is was valued at approximately USD 10.71 Billion in 2019, and is expected to record revenue worth USD 17.43 Billion by 2026, is set to record the CAGR of nearly 7.2% over the period from 2020 to 2026.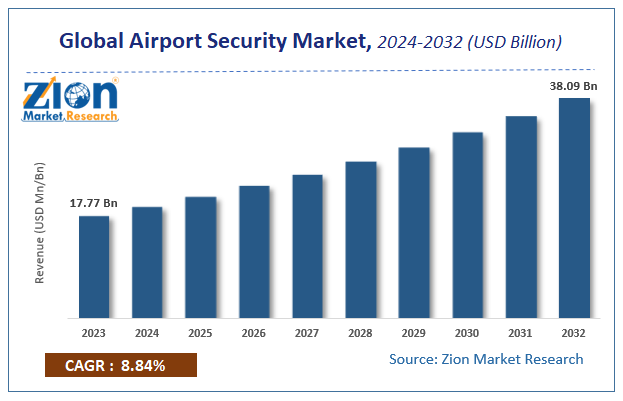 Request Free Sample
Global Airport Security Market: Overview
Airport security includes several methods and techniques used to protect staff, passengers, and planes from malicious and/or accidental harm, threats, and other crime. Airport security is together the combination of material resources and human to protect the civil aviation from illegal interference. Illegal interference includes acts of sabotage, terrorism, threat to property and life, communicating wrong threat, bombing, and so on.
Global Airport Security Market: Growth Factors
The need of providing proficient security along with increasing demand for air travel each year are anticipated to boost the global airport security market in the near future. Issues regarding goods smuggling, terrorist activities, and safeguarding of passengers are further expected to propel the growth of the global market in the coming years. The global market has witnessed considerable growth in the past years in spite of significant changes in demand; this is mainly owing to discrete economic conditions existing in various regions all around the world. Growing demand of air travel will in turn result in the increased need for safety and reduced time for security procedures. Strict government rules for goods and passengers safety is further anticipated to impact the global airport security market in a positive way. Several factors such as macroeconomic recessions, vague economic conditions, and military conflicts may hinder the global market growth to some extent.
Global Airport Security Market: Segmentation
The global airport security market is segmented on the basis of technology and region. Based on the technology, the global market is segmented as cybersecurity, perimeter security, screening, surveillance, and access control. On the basis of geography, the global airport market is categorized as Asia Pacific, North America, the Middle East and Africa, and Europe.
Global Airport Security Market: Regional Analysis
North America is anticipated to dominate the global airport security market in terms of revenue. This growth can be attributed mainly to the U.S. mainly due to presence of the key players, the growing infrastructural developments, and increasing volumes of passengers in this region. Furthermore, China is in plans to increase the number of airports in the future so as to enhance the economic development. Increasing disposable income, rising incidences of security breaches, and increasing new construction projects in Asia Pacific are further expected to boost the growth of the global market in this region. Moreover, in Middle East and Africa, the ISIS terror attacks have resulted in growing concerns between the operational regulatory bodies.
Global Airport Security Market: Competitive Players
Some of the major players in the global airport security market are L-3 Security & Detection, Safran Morpho, Smiths Detection, American Science & Engineering, and OSI Systems (Rapiscan). Other key players in the global market include Bosch Security Systems, AutoClear LLC, Lockheed Martin, and CEIA.
Global Airport Security Market: Regional Segment Analysis
North America
Europe
Asia Pacific
Latin America
The Middle East and Africa
What Report Provides
Full in-depth analysis of the parent market
Important changes in market dynamics
Segmentation details of the market
Former, on-going, and projected market analysis in terms of volume and value
Assessment of niche industry developments
Market share analysis
Key strategies of major players
Emerging segments and regional markets
Testimonials to companies in order to fortify their foothold in the market.