Aircraft Sleeping Pods Market Size
The global aircraft sleeping pods market size was worth around USD 65.30 million in 2021 and is estimated to grow to about USD 84.07 million by 2028, with a compound annual growth rate (CAGR) of approximately 4.30% over the forecast period. The report analyzes the aircraft sleeping pod drivers, restraints/challenges, and their effect on the demands during the projection period. In addition, the report explores emerging opportunities in aircraft sleeping pods.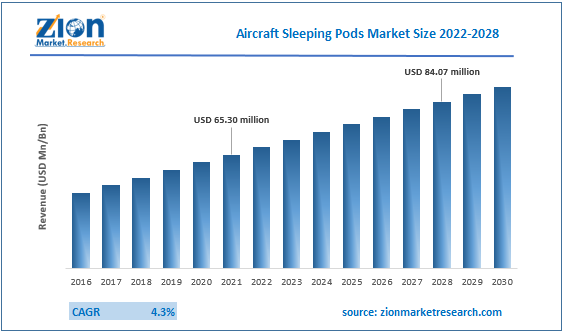 Request Free Sample
Aircraft Sleeping Pods Market: Overview
Aircraft sleeping pods are scaled-down pay-as-you-go sleeping areas or beds located in airports. Air travelers can nap in the airport sleeping pods in between flights. The needs of the passengers vary depending on the amenities and services provided at the airport and the schedule of their departure and arrival. These travelers need access to airport services like parking, transportation, check-in assistance, luggage processing, security checks, etc. To improve travelers' airport experiences, several airports worldwide offer an area where people can take a little nap. One of the main factors propelling the global market for airport sleeping pods is the increase in business travelers.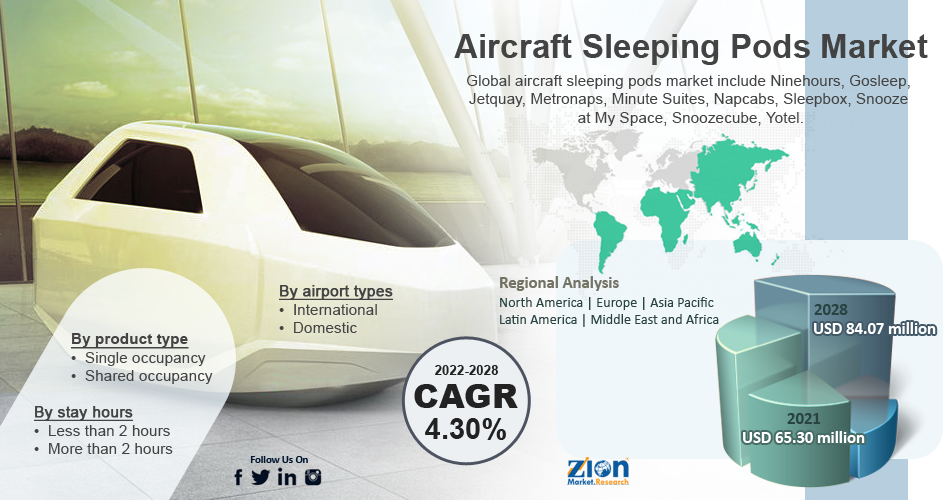 Request Free Sample
The time passengers on an airline spend in transit can range from a few hours to a whole day. A nice and improved airport experience is provided by airport facilities that can accommodate passenger demands like offering a place to take a quick nap, spa & massage services, and free shower facilities. Families traveling together can appreciate kid-friendly amenities so their youngsters can pass the time while waiting to board the airline. Additionally, amenities like microwaves, baby cribs, and dress-changing rooms are preferred by travelers. Additionally, travelers traveling on business may prefer a lounge with all the business amenities they can use at any time, including access to copier, scanning, and fax machines, among other amenities. One of the main factors propelling the global market for airport sleeping pods is the increase in air travelers.
COVID-19 Impact:
One of the main obstacles to the global aviation industry's viability has been the COVID-19 pandemic. Due to the disease's rapid spread, there has been a significant adjustment in airport operations and various other changes in how passengers are handled. In contrast to earlier regulations, the aviation business, particularly the airport sector, concentrates on offering the passenger a higher quality service. As a result of government-imposed cross-border travel restrictions intended to stop the virus's spread, there is a sharp decline in demand for air travel. The International Air Transport Association (IATA) and air carriers have taken numerous measures to stop the spread of COVID-19. IATA categorizes flights into three levels: (1) high-risk flights, (2) medium-risk flights, and (3) low-risk flights. After a thorough assessment of the epidemic in the location of the aircraft's origin, differentiated prevention and control measures are performed. To ensure that passengers have a safe and healthy flight, airport management must become more proactive and capable of implementing digital change. Because of COVID-19's effects, the global airport sleeping pods market has slowed down, but it will continue to expand due to changes and alterations in airport management brought about by the "new normal."
Key Insights
As per the analysis shared by our research analyst, the global aircraft sleeping pod market value will grow at a CAGR of 4.30% over the forecast period.
In terms of revenue, the global aircraft sleeping pod size was valued at around USD 65.30 million in 2021 and is projected to reach USD 84.07 million by 2028.
A rise in the concept of smart airports with passenger-friendly facilities and an increase in air passengers and transit flights are the major factors driving the market growth.
By product kind, the single occupancy sleeping pods segment is predicted to dominated the global market in 2021.
North America dominated the global aircraft sleeping pod market in 2021.
Aircraft Sleeping Pods Market: Growth Drivers
New product launches to flourish the market growth during forecast period
Air New Zealand will introduce the new sleeping pod prototype for economy travelers in 2020. Air New Zealand's three-year-long research and development project, the Economy Skynest, features six full-length, lie-flat sleeping pods. Passengers using Taoyuan International Airport in December 2019 can now enjoy a quick nap at the airport thanks to the opening of Taiwan's first airport capsule hotel. Additionally, 25 sleeping pods will be installed at Istanbul Airport in January 2020 for travelers who want to nap before, after, or in between flights. A brand-new Plaza Premium Lounge opened at Terminal 3 in 2020, which passengers flying Emirates from Dubai can visit. For families and other groups of tourists looking for seclusion, it offers 10-square-meter private suites. The largest and longest pay-to-use lounge is located at Dubai International Airport and is 1,260 meters long.
Aircraft Sleeping Pods Market: Restraints
The initial cost of installation is high to hamper market growth to certain extent
The market's expansion is being hampered by factors including the high initial installation expenses and ongoing maintenance of these pods. Airport sleeping pods are not offered at all airports because of too expensive maintenance and starting costs, which is one of the factors limiting the market's expansion.
Aircraft Sleeping Pods Market: Opportunities
Growing Aerotropolis idea and changing airline passengers' lifestyles to bring market growth prospects
It is predicted that the development of airport sleeping pods would open up new potential for growth in the global aircraft sleeping pods market in developing and less developed nations. Another chance for the expansion of the worldwide airport sleeping pod market is the expanding idea of an aerotropolis and the changing lifestyles of airline passengers. For those who prefer to nap at home, the International Airport Charlotte Douglas has installed sleeping pods with a sofa bed, TV, computer, and a shower. In the JFK New York City Airport terminal, JetBlue also unveiled JetNap power pods, futuristic-looking leaning chairs that play music, promote relaxation, and lessen distractions.
Aircraft Sleeping Pods Market: Challenges
Lack of awareness of functioning in consumer base to pose challenge for market growth
Globally, the sleeping pods market has challenges from a small number of manufacturers, expensive goods, a lack of knowledge about sleeping pods & their advantages, and strict laws governing the use of electrical equipment.
Aircraft Sleeping Pods Market: Segmentation
The market for aircraft sleeping pods is segmented by product type, stay hours, airport type, and region.
Based on the kind of product, the market is split into single occupancy and shared occupancy sectors. Due to the strong preference for single occupancy sleeping pods among air travelers around the world for leisure, the single occupancy sleeping pods segment is predicted to dominate the global market among product kinds.
Based on stay hours, the global airplane sleeping pods market is divided into less than two hours and more than two hours.
Depending on the kind of airport, the market is divided into international and domestic divisions. Due to the rising level of passenger services at international airports worldwide, the international airport type is anticipated to account for a significant portion of the revenue in the global market.
Recent Developments
Only a few major airports, like Charlotte Douglas International Airport, have sleeping pods because so few companies are developing this design.
At Dubai International (DXB) Terminal 3, "sleep n fly" sleep pods were set up by Dubai Airports in May 2017. At the terminal, there are a total of 27 pods and rooms, including 20 "igloo" sleep pods and seven luxury double cabins with pull-out kids' beds. In the sleeping fly pods, travelers can unwind with a quick power nap or spend the entire night dozing off.
Around 50 "sleep pods" were installed at Urumqi Diwopu International Airport in December 2018 in northwest China's Xinjiang Uygur Autonomous Region, giving travelers a more pleasant place to sleep. Users can lie flat on a comfortable sofa equipped with dimmable lighting, a micro USB port, and a noisy stereo in the sleep pod, which is 2 meters long, 1.1 meters broad, and 1.5 meters tall.
Aircraft Sleeping Pods Market: Report Scope
Report Attributes
Report Details
Report Name
Aircraft Sleeping Pods Market Research Report
Market Size in 2021
USD 65.30 Million
Market Forecast in 2028
USD 84.07 Million
Growth Rate
CAGR of 4.30%
Number of Pages
244
Forecast Units
Value (USD Billion), and Volume (Units)
Key Companies Covered
Ninehours, Gosleep, Jetquay, Metronaps, Minute Suites, Napcabs, Sleepbox, Snooze at My Space, Snoozecube, Yotel.
Segments Covered
By Product Type, By Stay Hours, By Airport Types, And By Region
Regions Covered
North America, Europe, Asia Pacific (APAC), Latin America, Middle East and Africa (MEA)
Countries Covered
North America: U.S and Canada
Europe: Germany, Italy, Russia, U.K, Spain, France, Rest of Europe
APAC: China, Australia, Japan, India, South Korea, South East Asia, Rest of Asia Pacific
Latin America: Brazil, Argentina, Chile
The Middle East And Africa: South Africa, GCC, Rest of MEA
Base Year
2020
Historical Year
2016 to 2020
Forecast Year
2022 - 2030
Customization Scope
Avail customized purchase options to meet your exact research needs. Request For Customization
Aircraft Sleeping Pods Market: Regional Landscape
North America dominated the global aircraft sleeping pod market in 2021
Regarding market share, North America led the world market for aircraft sleeping pods in 2021 and is predicted to maintain its lead throughout the forecast period. Additionally, the market for sleeping pods at airports worldwide is expected to rise as more people travel by air. An increase from 218 million passengers in 2016 to a projected 229 million passengers in 2017 is predicted by the Federal Aviation Administration's aerospace forecast. Additionally, a significant number of American airports have accelerated the deployment of this device. The United States Department of Transportation estimates that there were roughly 19,536 airports in the country in 2016.
India, China, and Japan are the three main growth economies in the Asia Pacific market, which is anticipated to develop at the greatest rate during the forecast period. Growing smart city initiatives and increasing air travel in emerging economies are two of the key drivers propelling the Asia Pacific market's expansion.
Aircraft Sleeping Pods Market: Competitive Landscape
Key players functioning in the global aircraft sleeping pods market include Ninehours, Gosleep, Jetquay, Metronaps, Minute Suites, Napcabs, Sleepbox, Snooze at My Space, Snoozecube, Yotel.
The global Aircraft Sleeping Pods Market is segmented as follows:
By Product Type
Single occupancy
Shared occupancy
By Stay Hours
Less than 2 hours
More than 2 hours
By Airport Types
By Region
North America
Europe

France
The UK
Spain
Germany
Italy
Rest of Europe

Asia Pacific

China
Japan
India
South Korea
Southeast Asia
Rest of Asia Pacific

Latin America

Brazil
Mexico
Rest of Latin America

Middle East & Africa

GCC
South Africa
Rest of Middle East & Africa