Abstract
The advanced ceramics market size accounted for around USD 8.59 Billion in 2018, growing at a CAGR of 6.4% during the forecast period.
Advanced ceramics are produced with highly purified and refined powders that are produced synthetically using chemical reactions or high temperatures. Once formed and sintered properly these powders result into products that are very strong, resistant to abrasion and chemicals are known to be very stable. Advanced ceramics are used in technical applications. Advanced ceramics are also known as technical ceramics, high-performance ceramics, and high-tech ceramics in various parts of the world. Advanced ceramics materials include silicon nitride, zirconia, alumina, and silicon carbide, among others.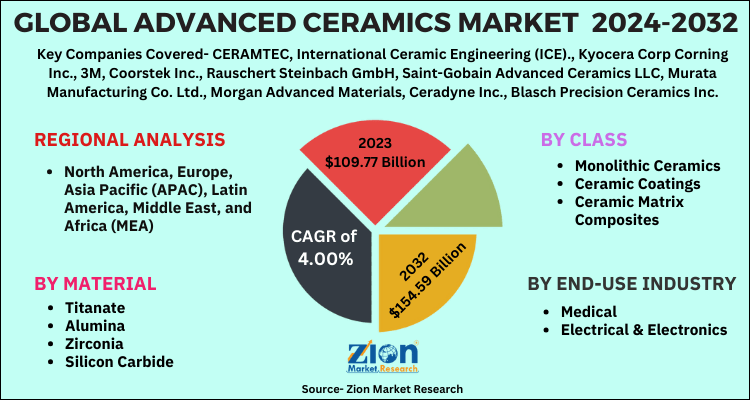 Increasing demand for advanced ceramics from various industries which includes automotive, electronics, heavy machinery, cutting tools, energy, and defense is one of the major factors expected to drive the global advanced ceramics market growth over the forecast period. Advanced ceramics also have application in the medical sector. It is used to manufacture dental procedure and joint implantation. The growth is mostly attributed to its properties such as damage tolerance, high-temperature resistance, and resistance to corrosion.
Advanced ceramics are widely used in aerospace, construction, and housing applications, in the form of ceramics titles, ceramic abrasive, bricks, pipe, and tiles. Rising need for customization of various applications is predicted to fuel the global advanced ceramics market growth in the coming years. Furthermore, the corrosion resistance properties associated with advanced ceramics aid to decrease maintenance cost of products in various industries such as electronics, transportation, and defense which is expected to positively impact advanced ceramics market growth over the forecast timeline.
Rising application of advanced ceramics as a substitute for plastics and metal due to its consistent properties and eco-friendly nature is expected to further drive industry growth in the future. Increasing demand for electronic goods coupled with rapidly growing electronics industry is expected to provide potential growth opportunities for advanced ceramics.
Some of the key players operating in the global advanced ceramics include CERAMTEC, International Ceramic Engineering (ICE)., Kyocera Corp Corning Inc., 3M, Coorstek Inc., Rauschert Steinbach GmbH, Saint-Gobain Advanced Ceramics LLC, Murata Manufacturing Co. Ltd., Morgan Advanced Materials, Ceradyne Inc., Blasch Precision Ceramics Inc., Coors Tek, Materion Corporation. and COI Ceramics, Inc., among others.
Global Advanced Ceramics Market: Material Segment Analysis
Titanate
Alumina
Zirconia
Silicon Carbide
Global Advanced Ceramics Market: Class Segment Analysis
Monolithic Ceramics
Ceramic Coatings
Ceramic Matrix Composites
Global Advanced Ceramics Market: End-Use Industry Segment Analysis
Medical
Electrical & Electronics
Global Advanced Ceramics Market: Regional Segment Analysis
North America
Europe
Asia Pacific
Latin America
Middle East and Africa