Abstract
The report of acrylic emulsions market provides a comprehensive glance at global and regional levels. The study provides historical data from 2015 to 2017 along with a forecast from 2018 to 2024 based revenue and volume. The study includes major driving forces and restraints for the acrylic emulsions market along with the impact they have on the demand over the forecast period. Furthermore, the study also provides the major avenues of global acrylic emulsions market.
The global acrylic emulsions market study also comprises the detailed value chain analysis for providing a comprehensive view of the market. Moreover, the study also includes Porter's Five Forces model for acrylic emulsions, to understand the competitive landscape of the global market. The study includes a market attractiveness analysis of all the segments related to the market.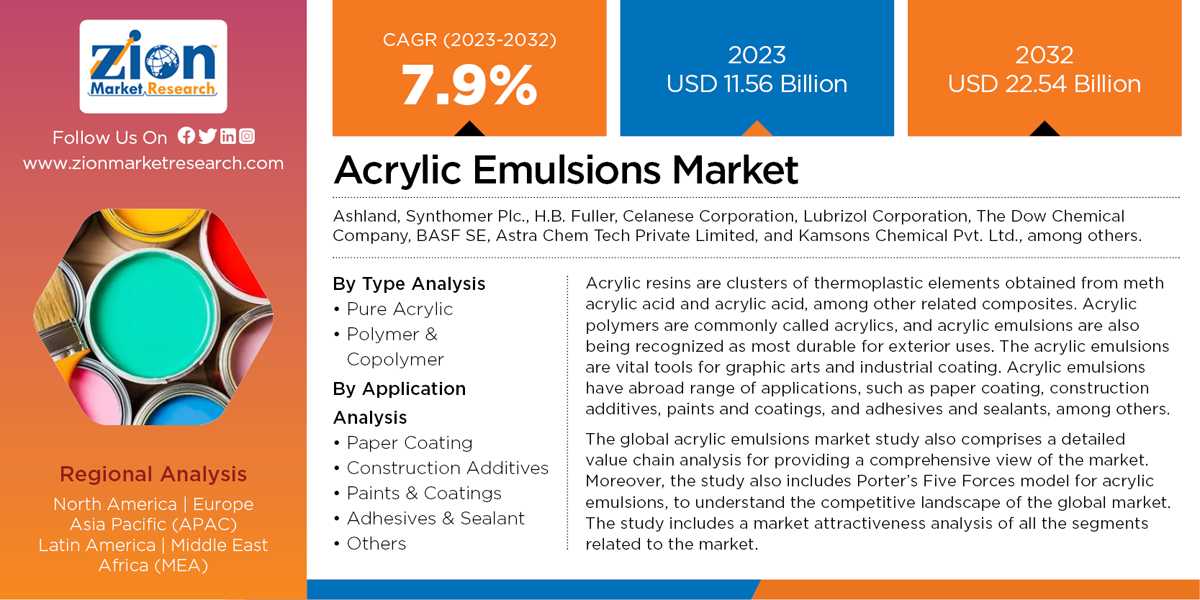 The study provides a significant view of the global acrylic emulsions market by classifying it into type, application, and region segments. These segments have been estimated and forecasted with the future and past trends. Based on the type, the global acrylic emulsions market is mainly divided into pure acrylic and polymer and copolymer. Based on applications, the global acrylic emulsions market is mainly segmented into paper coating, construction additives, paints & coatings, adhesives and sealant, and others. The regional segmentation includes North America, Europe, Asia Pacific, Latin America, and the Middle East and Africa. Furthermore, it is divided into major countries, such as the U.S., India, Germany, France, UK, China, Japan, and Brazil.
Major vendors of the global acrylic emulsions market include Ashland, Synthomer Plc., H.B. Fuller, Celanese Corporation, Lubrizol Corporation, The Dow Chemical Company, BASF SE, Astra Chem Tech Private Limited, and Kamsons Chemical Pvt. Ltd., among others.
This report segments the global acrylic emulsions market as follows:
Global Acrylic Emulsions Market: Type Analysis
Pure Acrylic
Polymer & Copolymer
Global Acrylic Emulsions Market: Application Analysis
Paper Coating
Construction Additives
Paints & Coatings
Adhesives & Sealant
Others
Global Acrylic Emulsions Market: Regional Analysis
North America
Europe
Asia Pacific
Latin America
The Middle East and Africa